As we noted last week, the price of WTI crude oil broke a series of lower highs recently and traded to its highest levels of the year. While crude oil prices are elevated, though, gasoline prices have remained contained. So does that mean gasoline prices are poised to surge?
While the direction of crude oil prices and gasoline are generally considered to have a positive correlation, it is important to remember which crude oil is most closely correlated to gasoline. The chart below compares prices of WTI (U.S. benchmark) and Brent (global benchmark) crude oil over the last six months. As shown in the chart, both Brent and WTI crude oil prices have been rising in recent weeks, but the rate of increase in Brent crude oil has been much more contained than the rise in WTI. For example, while WTI crude is trading right near its highs for the year, Brent is down 10% from its highs.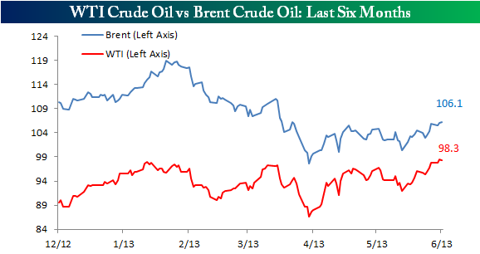 To illustrate this another way, the chart below shows the spread between Brent and WTI crude oil prices over the last six months. Back in December the spread between the two was over $20, and it remained there through February. Since then, though, the spread has rapidly narrowed and it is currently below $8, which is near its lowest levels since early 2011. While rising crude oil prices are ultimately not good for gas prices, the fact that the Brent-WTI spread is narrowing helps to cushion the blow.