ETF Spotlight on the Global X Top Guru Holdings Index ETF (NYSEARCA:GURU), part of an ongoing series.
Assets: $53.4 million.
Objective: The Global X Top Guru Holdings Index ETF tries to reflect the performance of the Top Guru Holdings Index, which is comprised of the top U.S. listed equity positions taken from hedge fund quarterly Form 13F reports and equal weights the component holdings.
Holdings: Top holdings include Diamondback Energy 2.2%, T-Mobile U.S. 2.2%, Magnachip Semiconductors 2.2%, Vivus Incorporated 2.1% and Pioneer Natural Resources 2.1%.
What You Should Know:
Global X sponsors the fund.
GURU has a 0.75% expense ratio.
The fund has 52 holdings and the top 10 make up 20.9% of the overall portfolio.
Sector allocations include financials 16.5%, industrials 15.1%, energy 8.1%, healthcare 7.5%, information technology 7.4%, consumer discretionary 15.2%, technology 5.6%, social media 5.4%, telecom services 3.6% and basic materials 3.4%.
Market capitalization include mega-caps 19.1%, large-caps 28.4%, mid-caps 28.0%, small-caps 20.6% and micro-caps 3.9%.
Regional breakdowns include North America 86.8%, Latin America 3.5%, U.K. 5.9% and developed Europe 3.9%.
The fund is down 2.7% over the past week, up 7.1% over the last three months, up 20.6% year-to-date, up 44.1% over the past year.
Guru basis its holdings on hedge fund 13F filings.
Hedge funds are required to publish their holdings in a publicly available document called the 13F.
Since the 13F filing is from the previous quarter, there is a time lag component and investors should know that the original stock picks may no longer apply to the hedge fund industry.
The Latest News:
GURU has been outperforming the broader S&P 500 over the past year.
GURU is up 20.6% year-to-date and up 44% over the last year, compared to the 16.1% gain in the S&P 500 index and 24.8% rise over the last year.
The hedge fund industry have considered changing their business model to a more diversified alternative asset managers.
"Developing into a large and diversified manager has the potential for huge value creation, but it won't happen without heavy investment into and synergy across a number of areas, specifically the investment engine, the product portfolio, distribution capabilities, infrastructure and culture," Louis Molinari, Head of Capital Solutions at Barclays, said in a MarketWatch article.
Global X Top Guru Holdings Index ETF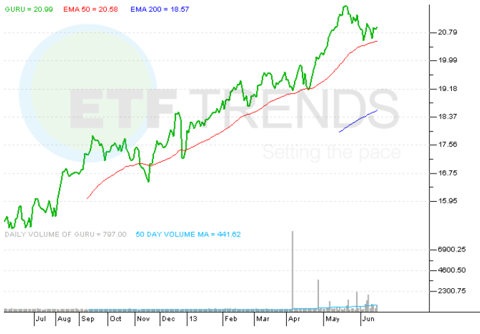 Max Chen contributed to this article.
Disclosure: I have no positions in any stocks mentioned, and no plans to initiate any positions within the next 72 hours. I wrote this article myself, and it expresses my own opinions. I am not receiving compensation for it. I have no business relationship with any company whose stock is mentioned in this article.