The first article of the series has introduced the Carbonate Triangle of the renowned Canadian oil sands. The region is the world's third largest oil reserve with its rich carbonate-hosted bitumen deposit located in northern Alberta's deep underground. Precisely, the Carbonate Triangle is situated between three major bitumen areas - Athabasca, Cold Lake and Peace River.
In today's investment guide on the Carbonate Triangle, I will present a quick recap of the main characteristics of the Peace River area to have a better assessment of its potential. Then, I will introduce a small-cap oil producer involved in that specific play.
So far, I examined the following producers involved in Peace River in past articles:
An analysis of the current operations of the company will be examined with the objective to give the most complete information available to potential investors before deciding to seize the opportunity that the 54,132 square miles of the Carbonate Triangle has to offer. Let's start by introducing Peace River, the northern door to the vast wilderness of Alberta.
The Peace River Region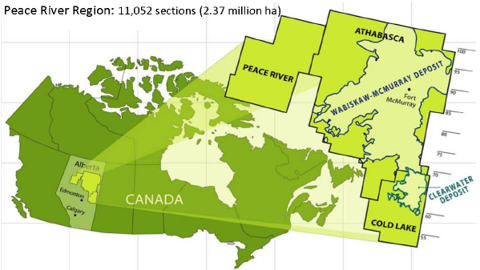 Source: ERCB
According to the September 1999 Bulletin of Canadian Petroleum Geology, exploitable bitumen reserves at Peace River are contained predominantly within the 49-65 feet thick estuarine sands of the Bluesky formation. Where combined with underlying fluviatile sands of the Ostracode Zone, net pay can reach up to 98 feet in thickness. These sands are penetrated at an average depth of 1804 feet and production of the bitumen relies on non conventional recovery methods.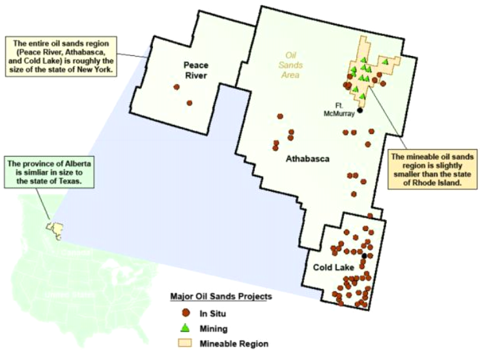 Source: ERCB
Heavy oil total reserve in-place is estimated at more than 90 billion barrels, with the potential to gather more than 7 billion barrels of oil with today's technology.
Discovered in the 1950s, the Peace River oil sands deposit is located exclusively within the subsurface, the total area of the deposit spanning about 11,052 sections or 2.37 million hectares. Notably, the Red Earth Highlands effectively separates the Peace River and Wabasca oil sands deposits. Pilot projects initiated by Shell Canada in the 1970s and early 1980s led to commercial production of bitumen in 1986 using CSS and SAGD methods.
Notably, as of January 2011, the operating capacity amongst current existing and proposed bitumen producers, Peace River produced 13,500 barrels per day out of a total of 1,787,300 barrels per day, which accounted for less than 1% of current operations at the time. Now that we have explored Peace River, let me introduce a small-cap junior producer that owns nearly 52,480 acres or approximately 87 sections in the Peace River region.
Petrobank Energy And Resources (PBEGF.PK)
Petrobank, incorporated in 1983, is a Calgary-based heavy oil exploration and production company with operations in Western Canada. Petrobank is focused on creating value for its shareholders by acquiring assets at an early stage, using innovative technology to develop and produce the assets and distributing business units to shareholders to realize full value.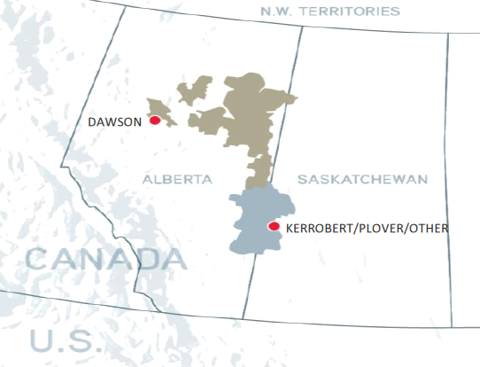 Source: Petrobank's March 2013 Corporate Presentation
The company's structure consists of its heavy oil business unit with Whitesands, its wholly owned operating company dedicated to develop Petrobank's oil assets using THAI, a patented technology among others owned by Archon, a wholly owned technology subsidiary of Petrobank with the objective of seeking to license the use of these patented technologies worldwide.
Furthermore, Petrobank has built its asset base for over a decade, acquiring a revolutionary technology for in-situ heavy oil and bitumen production, and more than 70,000 acres of heavy oil and oil sands leases in western Canada.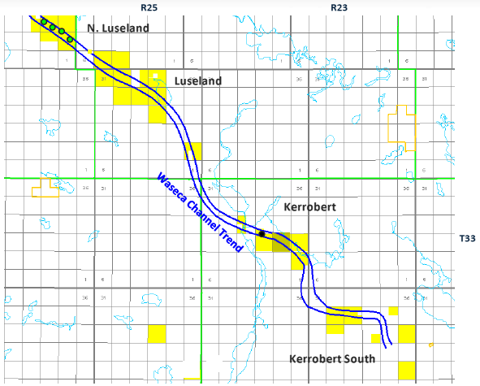 Source: Petrobank's March 2013 Corporate Presentation
Notably, the producer's Kerrobert project is designed to be the first commercial application of Petrobank's patented THAI heavy oil in-situ recovery process.
Archon Technologies
Archon is at the forefront of in-situ combustion research and development. In an effort to protect, extend the life and commercialize its THAI and CAPRI patents, Petrobank entrusted Archon to accomplish this important mission.
According to Archon, THAI for Toe-to-Heel-Air-Injection, is an evolutionary in-situ combustion technology that combines horizontal production wells with vertical air injection wells to efficiently produce upgraded oil from bitumen and heavy oil resources. CAPRI is a complimentary technology to THAI that further upgrades the produced oil in-situ by gravel-packing a refinery catalyst around the horizontal production wells.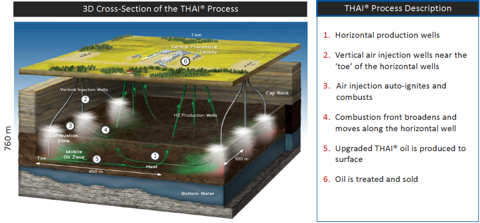 Source: Petrobank's March 2013 Corporate Presentation
With significant heavy oil and bitumen resources located throughout the world, Archon is positioned to expand globally as it possess a leading-edge, thermal production technology in THAI. Archon stated that this technology has the ability to recover more resources, produce a higher quality oil, has superior economics and less environmental impact due to a smaller surface footprint and no use of natural gas and water compared to typical extraction techniques such as CSS and SAGD used in heavy oil and bitumen resources today. Long-term vision and innovation has resulted in the development of THAI to be a step-change advance in the world of heavy oil and bitumen production.
Kerrobert Project In Saskatchewan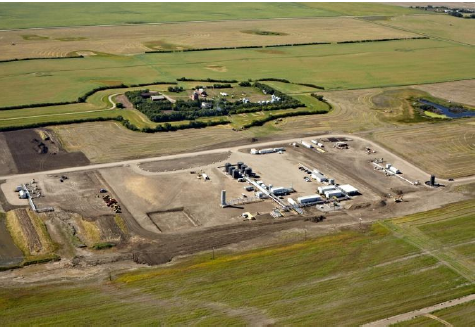 Source: Petrobank Energy and Resources
The Kerrobert project originated as a two well-pair demonstration project commissioned in September 2009 to prove how efficiently and successfully THAI operations can be implemented in a heavy oil field. Since then, Petrobank has continued to make operational adjustments at Kerrobert to improve on-stream time and increase production. In August 2010, the producer received approval for the expansion of its Kerrobert project.
At the end of 2010, production at the two Kerrobert wells were at levels considered commercially economic, leading to the assignment of formal THAI reserves at Kerrobert. This was an important milestone for the company as well as for its THAI technology.
Therefore, Petrobank has since expanded the Kerrobert project by an additional 10 well-pairs for a full-field development. The wells have been put on air injection and are in the early stage of the production cycle.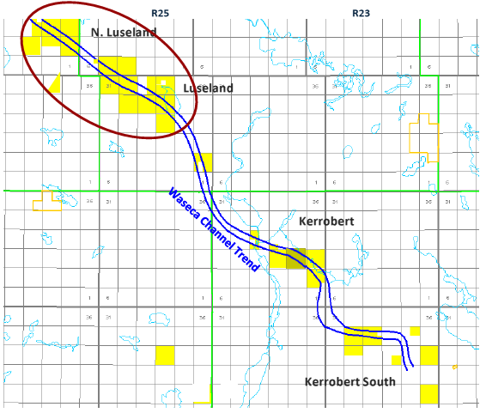 Source: Petrobank's March 2013 Corporate Presentation
The Kerrobert asset has proved, probable plus possible THAI reserves of 5.4 million barrels. Furthermore, 67.5 million barrels of exploitable oil are estimated in place along Petrobank's Waseca channel trend lands. Finally, the best estimate contingent resources for Luseland is about 20.6 million barrels.
Dawson Project In Peace River
In November 2010, the company received final regulatory approval for its Dawson demonstration project. Dawson is located in the Peace River area, situated on a large Bluesky formation of heavy oil fairway. It contains an estimated resource potential of 30 million barrels of exploitable oil-in-place in the upper portions of the main producing zone.
According to Petrobank, Dawson has very similar characteristics and will be developed much the same way as its Kerrobert project. In fact, the surface facility used for the first two well-pairs at Kerrobert will be re-used on the Dawson demonstration project. In Q4 2011, the producer drilled one well-pair consisting of an expected 10,000Bls/d. Phase 2 will add another well-pair to the project but start-up has not been determined yet.
Therefore, Dawson will initially consist of two THAI well-pairs with the potential to increase the size of the project to an estimated 20,000Bls/d on the 31.5 sections of Petrobank's existing land.
Source: Petrobank's March 2013 Corporate Presentation
The wells produced at a combined rate of approximately 22Bls/d for Q1 of 2013. Best estimate contingent resources are at 58.3Mmbls on non-channel lands while exploitable bitumen in place are estimated at 436.2Mmbls on all lands.
Financial Facts
Average production at Kerrobert project was 205Bls/d for Q1 2013, a small increase over 193Bls/d of Q1 2012. Kerrobert production averaged 200Bls/d in April 2013 based on field estimates. The operating focus for the producer is to continue to significantly increase air injection and optimize operations for higher production at lower per barrel costs. Since beginning to increase air injection in Q4 2012, it increased the field air injection rate to up to 25% of design capacity.
The company sold its May River property on February 2012, including the Conklin demonstration project, for cash proceeds of approximately $225 million, net of closing adjustments, and concurrently cancelled its credit facility.
According to its Q1 2013 earnings release, the company sustained a $3 million net loss compared to its $46.3 million net income of Q1 2012. However, $8.4 million was spent on capex during the quarter. By March 31st, 2013, Petrobank had cash and cash equivalents of $38.5 million, investments in marketable securities of $47.7 million and a net working capital surplus (including cash and marketable securities) of $79.2 million. Petrobank has a long-term debt ratio of 1.21 which is very low compared to its peers.
The company allowed its 2013 capital plan of $23 million as follows:
$15 million on Kerrobert THAI, evaluation of Kerrobert trend lands and cold production opportunities on these lands
$7 million investment on land and seismic for future THAI projects and Archon R&D
$1 million at Dawson for cold production to pre-condition reservoir for THAI demonstration project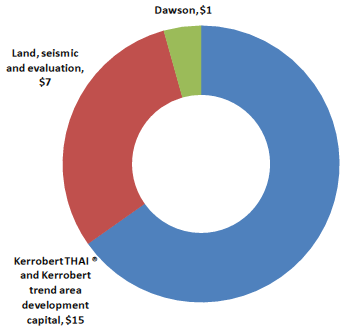 Source: Petrobank's March 2013 Corporate Presentation
The company currently expects to fund its future working capital requirements and asset expenditure programs with available cash and cash equivalents, and cash from future oil sales. Its current capital resources are expected to be more than adequate for its planned 2013 expenditures while providing financial flexibility to pursue future THAI developments and acquisition opportunities.
Petrobank completed a merger with Petrobakken Energy on December 31st, 2013, from which it was holding 57% of PetroBakken's shares prior to the reorganization.
Petrobank activity for the remainder of 2013 will focus on increasing Kerrobert production and bringing the project to commercial possibility. Along the Kerrobert channel trend, it will continue to evaluate the lands by drilling up to 12 vertical wells for stratigraphic evaluation and potential conventional heavy oil production.
At Dawson, the producer will continue to operate its two THAI well pairs in order to pre-condition the reservoir prior to the start-up of the THAI demonstration project. Additionally, it plans to strategically increase its land base for future developments.
Besides its assets, the company owns a global intellectual property portfolio with patents and patents pending in 32 countries with its THAI, CAPRI, Novel H2S removal and CO2 recovery process and Direct Oxidation technologies. Currently, Archon issued and filed 12 patents focused on enhancing and protecting THAI. Ongoing business development and discussions with third parties are under way to license these technologies, from which Petrobank will generate some appreciable cash flow for future operations.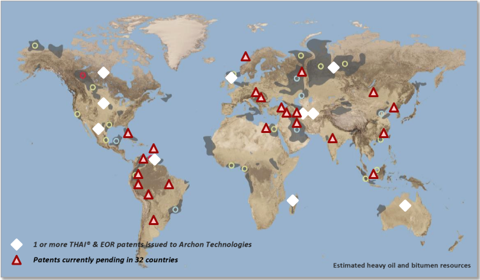 Source: Petrobank's March 2013 Corporate Presentation
Bottom Line
Petrobank is a well-capitalized junior heavy oil exploration and production company which owns more than 70,000 acres of heavy oil and oil sands leases in western Canada, including two promising projects that will drive significant cash flow. Here's the upsides to consider before investing:
7.2 million barrels of proved and probable reserves and 78.9 million barrels of best estimate contingent resource
Estimated resource potential of 30 million barrels of exploitable oil-in-place in Peace River land leases
Unique patented technologies with worldwide licensing possibilities
Long-term debt at very low level
Strategically-focused management on two promising plays
Disclosure: I have no positions in any stocks mentioned, and no plans to initiate any positions within the next 72 hours. I wrote this article myself, and it expresses my own opinions. I am not receiving compensation for it (other than from Seeking Alpha). I have no business relationship with any company whose stock is mentioned in this article.