Ralph Lauren (NYSE:RL) has been one of the hottest retailers since the recession hit. So why is it a Zacks Rank No. 5 (Strong Sell)?
Ralph Lauren Corporation owns some of the most recognizable brands in retail, including Polo by Ralph Lauren, Ralph Lauren Collection, Black Label, Blue Label, Lauren by Ralph Lauren, Denim & Supply Ralph Lauren, Chaps, and Club Monaco. The company operates 388 stores itself, including 116 Ralph Lauren stores, 59 Club Monaco stores, and 213 Polo factory stores. It also has international licensing partners to operate stores overseas.
Ralph Lauren Beat in the Fiscal Fourth Quarter of 2013
On May 23, Ralph Lauren reported fiscal fourth-quarter and full-year 2013 results, beating the Zacks Consensus once again. It has an amazing earnings surprise track record, beating every quarter for the last five years. Only one "meet" in 2011 keeps it from having a perfect track record.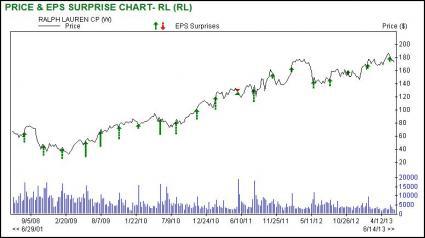 Fourth-quarter revenue rose 1% to $1.6 billion, with retail sales growing 7% to $804 million. The full-year saw record revenue that also rose just 1% to $6.9 billion. It discontinued the American Living line in Fiscal 2013 and closed stores in Greater China as it retools its strategy there. It will be opening up a flagship Ralph Lauren in Asia in fiscal 2014.
So Why Is It a Zacks Rank No. 5?
With all this good news, why is the stock a Zacks Rank No. 5 (Strong Sell)? The company gave disappointing guidance. Full-year revenue guidance was for an increase of 4% to 7% when analysts were looking for over 8%. Margins are also expected to contract as the company invests in e-commerce and new retail stores this year. While the longer-term story still looks solid, fiscal 2014 will be a tough comparison with the record-setting fiscal 2013.
Eight estimates out of 11 have been cut in the last 30 days for fiscal 2014. That has sent the Zacks Consensus tumbling to $8.75 from $9.30 just 30 days ago. That is earnings growth of just 7.8%. With so many of the analysts in agreement that 2014 could be rocky -- and sharply cutting their estimates -- the stock has fallen to a Strong Sell.
If you're looking for a luxury retailer without Ralph Lauren's issues, take a look at Michael Kors (KORS). It is a Zacks Rank No. 2 (Buy). It is expected to grow earnings 30% this fiscal year.
Michael Kors: Free Stock Analysis Report (email registration required)
Ralph Lauren: Free Stock Analysis Report (email registration required)