WellCare Health Plans (NYSE:WCG) has posted some extremely positive financials of late - with anticipation of continuing to do so throughout 2013 and beyond. This Tampa, Florida, based entity provides managed care services for government-sponsored healthcare programs throughout the U.S. And while WellCare continues to see healthy profits, the company's future growth plans - although seemingly aggressive (especially after the 2% federal budget sequestration cut in Medicare) - are likely quite doable. One reason for this is the fact that WellCare is well positioned to execute on its growth potential - the company possesses a long history of serving Medicare, Medicaid and dual eligible programs. In addition, due in large part to its experienced management team, WellCare's operating platform is likely to continue driving effective execution of its forward moving momentum and fulfill estimated revenue growth of 23.2% this year and 14% next year.
I believe WellCare remains undervalued at current price levels (~$53.00) and represents an asymmetric risk/reward with 25% upside potential. And while the stock has remained unchanged over the past six months, hitting its 2013 targets could be a welcome reward for both WellCare itself and the company's shareholders.
Going Over WellCare's Company Check-up
The company's Medicaid plans - which include healthcare plans for those who are beneficiaries of TANF (Temporary Assistance for Needy Families), ABD (Aged Blind and Disabled) plans and SSI (Supplemental Security Income) plans - today serve nearly 2.7 million members.
Since its founding in 1985, WellCare has added to its list of services prescription drug plans that comprise the Medicare Part D program, and that also provides national in-network prescription drug coverage to those beneficiaries who are Medicare-eligible. Due primarily to its steady focus, WellCare has amassed a market cap of $2.24 billion since its beginning.
By being able to both leverage and cross-sell its current product offerings with additional services, WellCare has continued to add new members at a rapid rate - and this is due in large part to its "3 product strategy" that includes Medicare Advantage, Medicaid and Medicare PDP.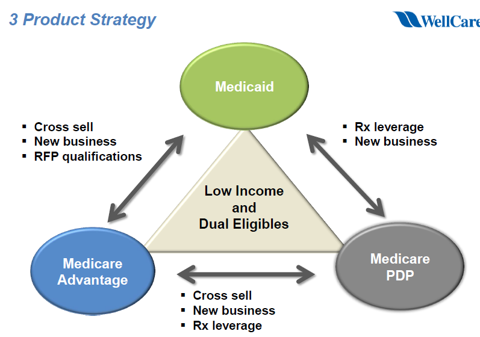 WellCare attributes much of the company's success to staying the course on its key focus - reducing cost and improving quality and access for government health programs. The company has successfully accomplished this by remaining dedicated to complementary government health programs such as Medicare and Medicaid, as well as with focusing on both the lower-income and dually-eligible population (those individuals who are eligible for benefits from Medicare and Medicaid).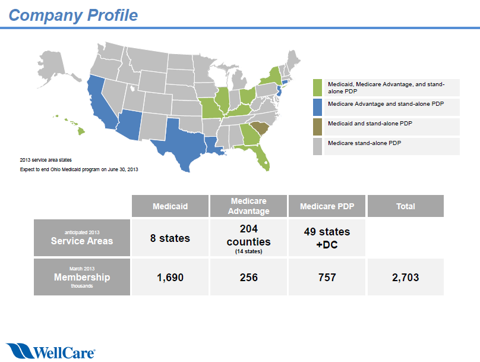 Currently, WellCare Medicaid possesses 1.7 million members across its overall spectrum of eligible groups - with the largest concentration of the company's revenue coming from Florida, Georgia, Hawaii and Kentucky.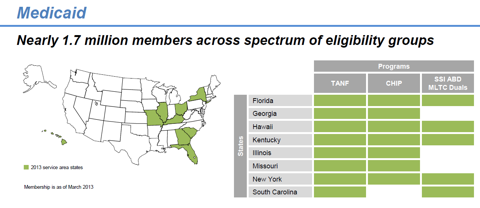 Recently, WellCare has seen a number of growth areas throughout the company. One such example is the stabilization of the company's Medicaid program in Kentucky. This has not only brought membership figures there to approximately 220,000 - including 22,000 dual eligibles - but it has also helped in ensuring a higher level of both quality and cost effective care.
These changes have also strengthened the company's long-term outlook, with a rate increase of 7% (effective in January 2013) and an additional accelerated 3% increase to July of this year. In this same area, WellCare has focused on three key initiatives that should help in the continuing performance improvement. These include better management of provider networks, enhancement of care management and continuing to address various policy matters. In addition, with the introduction of Medicare Advantage in 10 Kentucky counties in 2013, WellCare anticipates additional AEP sales of roughly 1,300 members by year-end.
WellCare's South Carolina and Missouri regions - both picked up as the result of acquisitions - have also seen positives in terms of enrollment growth. The company has plans to launch a Medicare Advantage plan in its South Carolina demographic, while Missouri has already posted approximately 3,000 WellCare Medicare Advantage members - along with 13,000 WellCare PDP members. In total, WellCare reports a total of 256,000 Medicare Advantage members across 14 states. The company estimates 2013 AEP membership growth to be strong at 15%.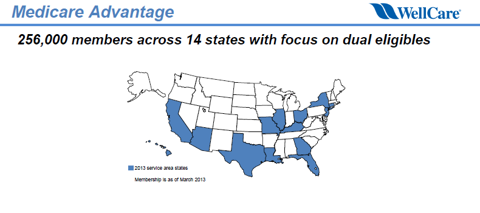 The Medicare Advantage segment has also seen success on the west coast, with growth in California being driven primarily by attractive benefit designs that help in not just increasing initial sales, but also in member retention. Currently, WellCare serves 11 California counties, with more than 3 million Medicare eligibles.
The story in Arizona is also positive for WellCare where the company presently reports 4,000 Medicare Advantage members, 13,000 WellCare PDP members, and a strong foothold for additional expansion in the future.
WellCare's prescription drug plan segment has also reported some very positive figures - with approximately 750,000 total members across 49 states and the District of Columbia. Membership has grown exponentially just since year end 2012, with 58% of eligible members choosing a WellCare PDP plan in December 2012, and more than 75% doing so in March 2013.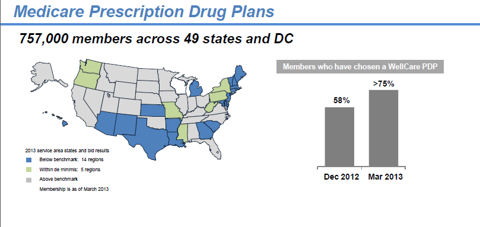 Overall, for fiscal year 2012, WellCare's premium revenue totaled $7.3 billion. This broke down to $4.4 billion from Medicaid, $1.9 billion for Medicare Advantage, and $1.0 billion in the area of Medicare PDP.
The first-quarter of 2013 also resulted in the continued expansion of the company as well as further diversification of its overall portfolio. With premium revenue up by 26% year-over-year, WellCare has continued to pick up momentum.
Membership in the company's Medicare Advantage HMO plans increased by 71% year-over-year, with the company anticipating additional forward moving progress throughout the year of 2013.
Between year-end 2011 and year-end 2012, WellCare decreased its long term debt from $152 million to $138 million, while increasing stockholders' equity from $1,117 million to $1,323 million. Debt to total capital also decreased within this same time period from 12% to 9.4%.
For the first-quarter of 2013, WellCare attained a 50% year-over-year increase in quality expenditures. The company anticipates sustaining this level of investment throughout the balance of the year - especially as the ensuring of a competitive cost structure has been reflected in the company's overall positive financial performance.
Another positive on the financial side is the election of WellCare's new Chairman of the Board, David Gallitano, whose operational experience and financial expertise have helped in shaping WellCare's strategies for delivering qualify and cost-effective healthcare solutions to its members.
Moving Forward With Continued Growth
In looking ahead, WellCare plans to continue the company's service over the full spectrum of those groups who are eligible for its plans, as well as to enter into new geographic areas that are likely to provide attractive opportunities.
"Prudent profitable growth" is one of WellCare's top priorities for 2013 and beyond. The company anticipates some of its more recent acquisitions - namely South Carolina and Missouri - to add at least an additional $500 million in annual premium revenue to its Medicaid segment alone.
In addition, WellCare also plans to leverage the company's presence - as well as its infrastructure - in order to expand the company's footprint and/or its product mix to those individuals and families who qualify. One example includes WellCare's capabilities to integrate medical, pharmacy and behavioral services.
The company entered into the year 2013 with the most diversified portfolio of revenue and earnings streams in the company's 28-year history. While WellCare collected $5.4 billion in premiums in 2010, the company estimates that it will bring in between $8.8 and $8.9 billion in premiums throughout 2013.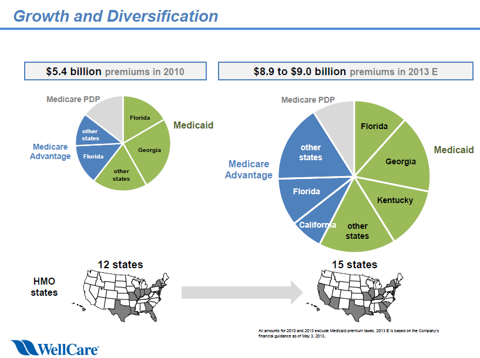 Each of WellCare's specific segments has specific growth goals for the current year, including an increase of between 14% and 16% in the Medicaid sector, and an increase of approximately 50% for Medicare Advantage. The only area where WellCare anticipates a possible decrease is in the Medicare PDP component, which will be primarily due to a reduction in membership assigned by the Centers for Medicare & Medicaid Services or CMS to the WellCare's plans in the future, offset in part by growth in the company's enhanced PDP.
Some of the company's strategies for achieving these goals include expanding its Medicaid procurements and programs, as well as by expanding sales of its Medicare Advantage and PDP plans. WellCare also plans to move forward in acquiring business from various competitors in the field.
Another catalyst that could play a big role in the continued - and rapid - future growth of WellCare is the passage of the Affordable Care Act. A primary key to the success of this legislation depends in large part on President Obama's success in coaxing at least 2.6 million young and healthy people to apply for health insurance.
As approximately one-third of the target enrollees for this initiative reside in Florida, California and Texas, WellCare is already well positioned to take advantage of the opportunity that this issue presents. In this vein, nearly 2.6 million California residents will likely qualify for tax credits that will - in many instances - reduce these individuals' health insurance premiums by a substantial amount.
Also, as WellCare looks to 2014 and beyond, the company plans to work closely with its various state customers on plans for potential Medicaid expansions - primarily as a part of the implementing of the Affordable Care Act. These programs are expected to continue in providing opportunity for growth over the long term.
The company also anticipates a much greater scale of success in its Medicare Advantage area. Regarding movement into the year 2014, WellCare is evaluating the impact of the final Medicare Advantage premium rates on its products and markets. The only negative here, however, could be the impact of a new risk adjustment model.
What Does It Mean for WCG Stock?
I expect WellCare's earnings to grow at a compound annual rate of 8% during the next five years and the stock sports an attractive forward P/E ratio of 9.2, which is a discount of 28% against the industry. I expect revenue to grow 23% in FY'13, which values the company at 0.25x Price/FY'13 revenue versus its peer group of nearly 0.33x. At my price target of $66, the stock would be valued at 12.2x FY'14 $5.39 EPS estimate and 0.28x Price/FY'14 revenue still at or below the TTM ratios of 12.5x and 0.28x, respectively. However, at $66 the stock would be valued at 4.1x EV/FY'14 EBITDA, which would take it to the high end of 3 and 5-year averages of 4.2x/3.3x.
Disclosure: I have no positions in any stocks mentioned, and no plans to initiate any positions within the next 72 hours. I wrote this article myself, and it expresses my own opinions. I am not receiving compensation for it (other than from Seeking Alpha). I have no business relationship with any company whose stock is mentioned in this article.