The USD Index sits on a knife edge! At 79.00 it is a mere 50pts above support at 78.50. Once it breaks this level then we think it will quickly fall to the next level of support which is at 72.00. We will put our heads out and say that it will at least trade at the 72 level before year end. We don't want to have preconceived ideas but now that the financial crisis is over (perhaps we are sticking our heads out again) it appears that the USD is in the process of resuming its bear trend that started way back in 2002. We don't think that the efforts of the US treasury or the FED over the last 12 months has done anything to improve the competitiveness of the US economy and fundamental outlook for the USD.
Looking to the markets it appears that it is destiny in motion for the greenback. Across the board most currencies are on the brink of breaking to multi-week highs against the USD and some, like the Brazilian Real and South African Rand, have already moved to multi-week highs. We think that the USD Index will follow the lead set by the Real and Rand, we certainly are.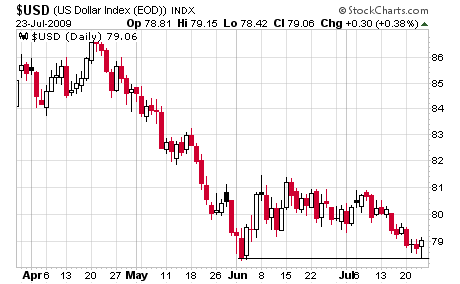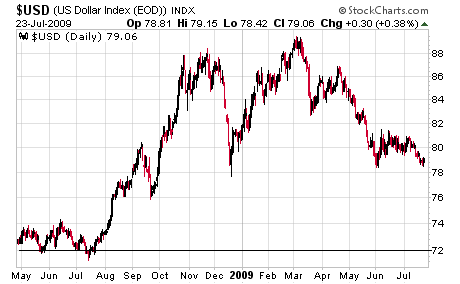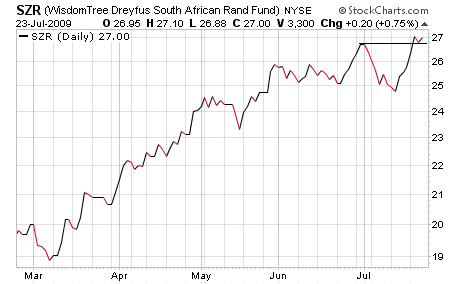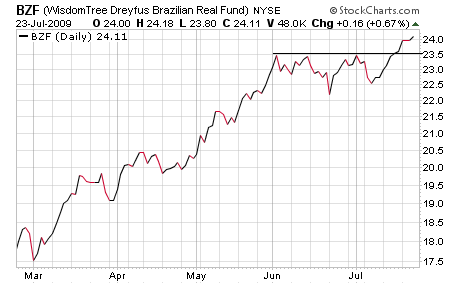 But wait there is more! The global bond market continues to suggest that the USD is heading lower. Wednesday, the global government bond ETF "BWX" moved higher against its US equivalent "IEF".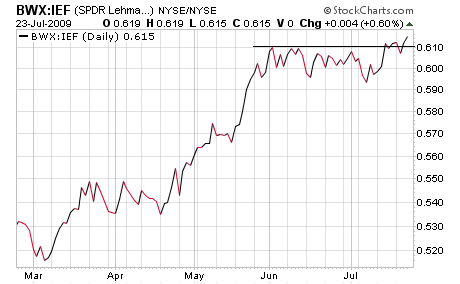 It is only a matter of time before our favorite FXA and FXC positions move to a multi-week high against the USD and get to parity.
We are aware that there is a lot of bearish sentiment towards the USD but is it real? By that we mean if you are bearish on the USD by definition you have to be bullish on something else. So perhaps one should refrase the question: are you bullish on the Rand, the Real, Ruble, Peso, or Pound? I doubt that when the crunch came many would want to own Rands, Rubles, or Pounds. I certainly don't see many supporters of a stronger Rand, Ruble or Pound........thus by default there may not actually be many genuine USD bears out there.
Subscribers to our paid service are privy to our portfolio, sector weightings, and trade history.
Disclosure: Long UDN, FXA, BZF, SZR