While equity markets in weak developed markets with little growth have performed well, Latin American equities have taken a large hit. The reasons for their fall can be traced back to bad Brazilian government policy, unrest driven by protests, low commodity prices, and weak US growth concerns. All of these factors have driven a massive sell-off in Brazilian equities. One of the best buying opportunities here is Ambev (ABV).
Ambev is the leading beverage company in Latin America. They own the distribution rights for Pepsi in all of South America and the rights to Anheuser-Busch/Inbev's brands in Canada and Latin America. Ambev also has its own in house brands, of which Brahma and Antarctica are the two most popular beers in Brazil. As Brazil's lower classes grow richer, they will be more prone to consume additional amounts of soft drinks and beer. Alcohol is a relatively cheap luxury so it is extremely attainable even on a Brazilian's average income of $10,000 per year. Increased tourism to Brazil for the World Cup, Olympics, and awareness to the country drawn by these events will also be a bullish catalyst to for Ambev.
The financial profile for Ambev is favorable. The company is well managed with a 31% return on investment capital, and highly profitable with 32% net profit margins. A ten percent debt to equity ratio indicates that solvency is not a concern. Ambev also pays a 3.35% dividend yield which will likely increase with profitability.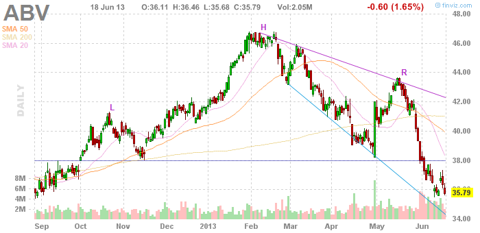 Technically, the picture looks bad, so we are holding on before buying. Last week, the stock broke through the neck line of a six month head and shoulders pattern and the next level of support below is below $35 per share. Momentum as measured from the mac-d, stochastics, and relative strength divergences are also bearish. Look to buy the stock once the dip finishes and early signs of technical turnaround emerge. For now, keep Ambev on your watch list
Disclosure: I have no positions in any stocks mentioned, but may initiate a long position in ABV over the next 72 hours. I wrote this article myself, and it expresses my own opinions. I am not receiving compensation for it (other than from Seeking Alpha). I have no business relationship with any company whose stock is mentioned in this article.