Right now the news is that Tesla (NASDAQ:TSLA) is recalling its 1228 Model S due to a manufacturing flaw. These cars were made between May 10 and June 8. The recall itself is not that important and the market is treating it just that way, by not caring.
However, there are other implications
It's rare for us to get data in mid-quarter, but this recall does just that. It tells us that from May 10 to June 8 Tesla produced and delivered 1228 Model S cars. These were built over 20 work days, so stretching this out to the average monthly 22 work days we'd get a run-rate of 1350 Model S per month. Now, with 3 months to a quarter, that would give us a 4050 Model S run-rate for the quarter.
And therein lies the problem. Testa had guidance as follows for the present quarter:

So a run-rate of builds and deliveries in the 4050 range as implied by the recall translates into a run-rate somewhat below guidance.
This is consistent with my thesis
I have shown, from several perspectives, that Tesla might have already seen the peak of U.S. demand for the Model S. These included:
Tesla predicted 4,500 U.S. deliveries for Q2 2013. This is down from more than 4,900 delivered in Q1 2013. Although Tesla is putting this down to units being sent to Europe (but not yet recognized in the quarter), it's clearly weird that with Tesla having expanded production, it still won't be able to exceed the U.S. deliveries from Q1. This points towards U.S. demand having plateaued already;

Tesla did not recognize the full deliveries during Q1 2013, as it states in its PR. This means that the Q2 lower delivery number is even more relevant as it will include some deliveries not recognized in Q1;

Tesla stopped giving information on reservations. While Tesla indicates that it changed and simplified the reservation process, it seems quite obvious that giving no data at all is indicative that the data is no longer favorable. This, too, indicates plateauing demand.

Finally, with Tesla delivering 4900 Model S in Q1 2013 and predicting 4500 deliveries in Q2 2013, it's weird that CEO Elon Musk would put total U.S. demand over 2013 at around 15000 units.
Now, we received additional data in this recall, confirming the same thesis. While some alternative explanation might yet come up, the likelihood is that this data point is confirming the same thesis - that demand for the Model S in the U.S. has peaked.
On the plus side
Not everything is bad. There are anecdotal reports of Consumer Reports favorable opinion having had a positive impact on demand for the Model S.
Also, when checking Google Trends, we can see that the Tesla Model S interest kept on increasing until May, and with June not yet complete it might still be trending upwards: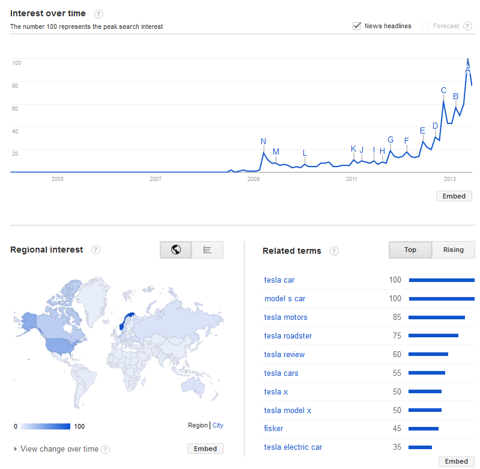 Conclusion
The hard data from Tesla's recall seems to imply that Tesla is tracking slightly below guidance during this quarter, which would be consistent with the thesis that demand for the Model S is peaking in the U.S.
On the other hand, Consumer Reports and Google Trends are still reasons to believe that demand might yet be rekindled. Still, caution is advised as demand might indeed have peaked.
Disclosure: I have no positions in any stocks mentioned, and no plans to initiate any positions within the next 72 hours. I wrote this article myself, and it expresses my own opinions. I am not receiving compensation for it (other than from Seeking Alpha). I have no business relationship with any company whose stock is mentioned in this article.