Over the past few quarters I have been warning investors to stay away from shares of Vera Bradley (NASDAQ:VRA). In my opinion, the management team in place over that time period has lacked credibility and earnings quality has been weak. With each earnings announcement, it appears Vera Bradley is implementing new shenanigans to boost up earnings and sales. A few I have noticed are forcing product to indirect retailers in order to book revenue early, extending credit at the end of the quarter to meet sales goals, over-ordering inventory, or consistently lowering financial guidance. All the while investors have been painted a rosy picture by management while the financial statements have told otherwise.
You can review my previous articles at the end of this piece to gain a greater insight behind Vera Bradley's tactics. However, for the first time in a long time I am changing my outlook for this company to one of optimism. There are a number of changes taking place inside the Fort Wayne, Indiana headquarters and given the selling pressure over the past few quarters, now appears an opportune time to look at adding this stock to your portfolio. Throughout this article I will highlight some of the major changes taking place which I believe can be catalysts to push this company back into the growth stock category.
Management Shakeup
During the past six months, two of the top executives at Vera Bradley have announced their resignation. The first came on January 11th when CFO Jeffrey Blade stepped down to "pursue other opportunities". While I am not going to speculate as to why Mr. Blade left, when a company which exhibits the negative attributes I listed above sees its CFO depart, it immediately throws up red flags in my mind.
On June 5th, CEO Michael Ray informed the board of his plan to retire. I would first like to commend Mr. Ray for helping to grow this company to where it is today and nearly doubling annual revenues during his tenure to $541 million. I believe that this resignation was one of humility and acceptance that managing Vera Bradley's current size is beyond his expertise. Mr. Ray stated, "I believe it is the right time for the company to pursue a new leader who has the extensive retail and brand management experience that Vera Bradley needs to advance into its next phase of growth and success."
While no permanent replacements have been selected to fill the empty spots, the board of directors is actively looking to bring on someone with a proven track record and retail experience. Typically when top level management is shaken up, a transition phase begins. We tend to see a rough few quarters as the new team begins to "clean house". Since new management is not responsible for poor decisions made in the past, investors tend to forgive these "one time" items and instead focus on the future. The big obstacle for Vera Bradley to overcome is the massive inventory position.
Inventory
Vera Bradley changes its designs and patterns on a seasonal basis and since its products are not selling for a premium, consumers tend to update their style regularly. If inventory ordering is done correctly, this can be a very lucrative business (keep the consumer coming back for more). However, management has struggled to accurately forecast demand and even announced during fiscal Q3 earnings that the company over-ordered inventory. Inventory on the balance sheet currently sits at $139 million (mainly comprised of finished goods). Although management will not provide a breakdown of finished goods inventory, they continually tell investors it is the top selling styles. In the first chart below you can see the growth rate of inventory over the past few quarters. We are sitting at record levels of inventory at a time when sales are slowing. The second table below illustrates how inventory growth has far outpaced revenue growth.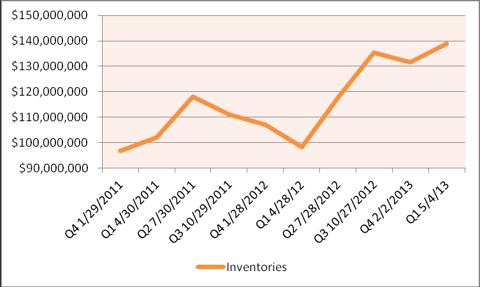 Source: Vera Bradley SEC Filings
| | | | | |
| --- | --- | --- | --- | --- |
| | FY10 | FY11 | FY12 | FY13 |
| Revenue | $288,940,000 | $366,057,000 | $460,843,000 | $541,148,000 |
| Revenue Growth Rate | 21.11% | 26.69% | 25.89% | 17.43% |
| Inventory | $66,535,000 | $96,717,000 | $106,967,000 | $131,562,000 |
| Inventory Growth Rate | | 45.36% | 10.60% | 22.99% |
Source: Vera Bradley SEC Filings
I struggle to believe management's comments regarding inventory being comprised of "highly demanded products", my expectations for the remainder of fiscal year '14 (current year) is heavy discounting of inventory and increased promotional activity. This will likely lead to lower gross margins and possibly negative year over year earnings per share growth. A new management team may be able to spin this as a positive development for the company.
If a new management team comes on board, the back half of the current fiscal year should prove to be interesting. Admitting to past wrongs, bringing down the inventory balance and laying out a blueprint for the future are likely scenarios that investors may see in the coming quarters. Rather than sell shares because of lowered earnings expectations, I would anticipate investors bidding up the share price as a result of future growth opportunities.
E-commerce
Another major opportunity for Vera Bradley to begin growing sales is the e-commerce channel. During the first fiscal quarter, 23% of revenues were generated from this division. Like many retailers, this is becoming a major opportunity for future growth. Online sales have substantially lower costs associated with them, leading to higher margins and the ability to reach more consumers. The United States Census Bureau publishes quarterly data showing the percentage of retail sales which are done online. As you can see in the chart below, this has grown substantially over the past decade and the trend is likely to continue.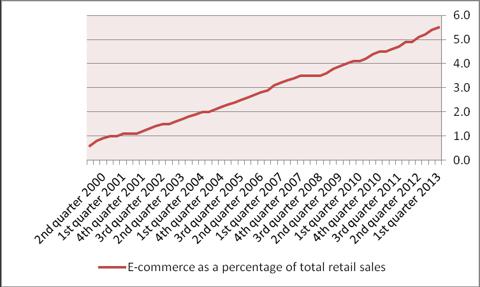 Source: United States Census
The company is looking to expand its brick-and-mortar business not only domestically, but in Japan as well. Since the company only has 76 company branded stores across the United States, the ability for management to promote the Vera Bradley brand online is going to have a dramatic impact on how consumers perceive this company (keep in mind that the company also sells products through numerous indirect retailers). I again go back to my first point of past management not having the skills to excel this company to the next stage of growth, hopefully the new management team will have a background in online retail sales.
Future Estimates
There are a number of "what-if" scenarios which could play a part in projecting the income statement for Vera Bradley over the next few years. For that reason it is challenging to project earnings past two years. My estimates below assume FY14 to be a transition year and FY15 to be a year of continued growth. A few noteworthy assumptions that I factor into my estimates are:
Management is providing revenue guidance of $570 million to $575 million. Although I think this will be challenging to achieve, the use of promotional activity to clear out inventory and boost sales is likely. I anticipate management's low end guidance for the full year.

Management is expecting gross margins to decline by 20 basis points. Given my assumption of heavy discounting during the back half of the year, I am estimating roughly 50 basis points of gross margin compression.

Lower interest expense due to repayment of debt.

Management is expecting diluted EPS of $1.74 to $1.78, slightly above my estimate of $1.73.
Please note that the estimates below are not guaranteeing any of the results will be met. These estimates are strictly based upon management's guidance, the company's SEC filings, press releases, historical data, and my estimates.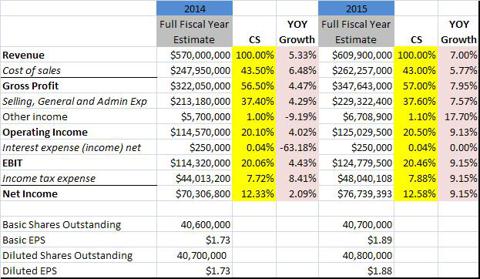 Source: Vera Bradley SEC Filings, Vera Bradley Management Guidance, and my estimates based upon historical data and future expectations. Estimates given above are no guarantee of future results, please evaluate the company in greater detail before making investment decisions.
Valuation
Given the tremendous market rally year-to-date, it is challenging to find stocks which trade at reasonable valuation levels. Given Vera Bradley's recent struggles, prospective shareholders now have a very attractive risk/reward scenario. In the chart below you can see the trailing quarterly twelve month price-to-earnings (red line, left hand scale), price-to-book (green line, left hand scale), and price-to-sales (blue line, right hand scale) ratios. All three ratios trade at historically low levels for this company.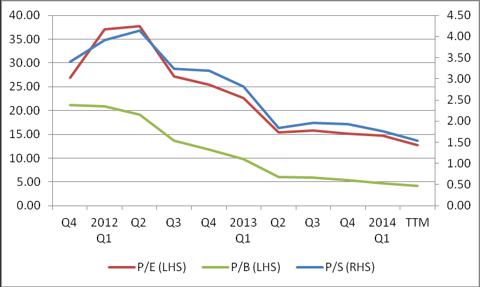 Source: Vera Bradley SEC Filings
Assuming my projections above are correct and during the back half of the current fiscal year we see a new management team take place and provide a plan to get this company back to growing, the current TTM P/E of 12.8x seems quite low for a company with the earnings potential Vera Bradley can deliver. Assuming the market awards shares a 15x TTM P/E multiple, shares would trade at $25.95, roughly 25% higher from current levels.
Another way of valuing shares of VRA is using a benchmark price-to-sales ratio. The three closest fit competitors would be Coach (COH), Michael Kors (NYSE:KORS), and Fifth and Pacific (FNP). Although not competing in the exact same market, this gives us an idea of how the market is pricing handbag and accessories makers. Taking a simple average of the three competitors gives us a TTM P/S of 3.76x. Since the three companies are more geared towards luxury goods (which VRA is not), I would price Vera Bradley a discount from the three. If we cut this average in half to 1.88x and assumed Vera Bradley earned management's low end guidance of $570 million in revenue, shares would be worth roughly $26.32 at the end of the fiscal year.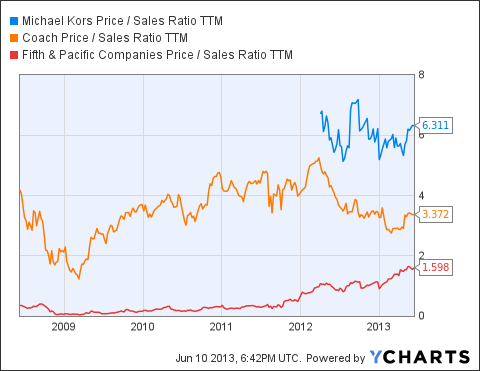 KORS Price / Sales Ratio TTM data by YCharts
Concluding Remarks
While a number of issues need to be dealt with, I think Vera Bradley is positioned to grow substantially over the next few years. The company is actively pursuing the next opportunity. Whether expanding into Japan, partnering with Disney (NYSE:DIS), or placing product in Dillard's (NYSE:DDS), the opportunity to grow exists. With the proper management team in place, Vera Bradley could become a great cash flow-generating company.
With the recent reduction of debt, the company is now in a net cash position. If sales begin to pick up we may see Vera Bradley access the debt market to continue growing its brand. Additionally, cash flow from operations has been more than enough to cover capital expenditures in the past and we may see a portion of this cash flow returned to shareholders through share repurchases or dividend payments. Given the incredibly low price multiples, tapping the debt markets at such low rates makes share repurchases look very attractive at these levels.
Consider your investment goals and objectives before initiating a position in Vera Bradley and please remember that the value of investments in equity securities, like VRA, will fluctuate in response to general economic conditions and to changes in the prospects of particular companies and/or sectors in the economy. Since I attempt to tailor my estimates above conservatively, any upside surprises would be beneficial. Given the current valuation levels and growth opportunities for this company, in my opinion shares offer very nice upside potential.
Prior Articles:
Reasons To Be Cautious On Vera Bradley Remain
Vera Bradley Struggles To Impress Shareholders
What Is Going On With Vera Bradley?
Note: All data reported and graphed is pulled directly from Vera Bradley's SEC Filings, Press Releases and Investor Presentations.
Disclosure: I have no positions in any stocks mentioned, and no plans to initiate any positions within the next 72 hours. I wrote this article myself, and it expresses my own opinions. I am not receiving compensation for it (other than from Seeking Alpha). I have no business relationship with any company whose stock is mentioned in this article.