SolarCity (SCTY), the newly public, fast-growing installer and financier of distributed energy, is having a breakout 2013. The company just raised its 2013 guidance to 270 megawatts deployed, up from its mid-May guidance of 250 megawatts.
This makes sense given the recent ascendance of the residential solar market in the U.S., spurred on by third-party ownership structures and the plummeting cost of solar modules.
SolarCity was the number-one-ranked residential solar installer in 2012 in California, Arizona, Massachusetts and Maryland in 2012.
As GTM VP of Research Shayle Kann notes in a recent article, "In the first quarter of this year, there were 71.3 megawatts of residential solar installed in California's three investor-owned utility territories, according to our just-released U.S. Solar Market Insight report. Of that total, 13.2 megawatts (18.5 percent) were installed without the support of rebates from the California Solar Initiative or any other state-level program.
That line is worth repeating: "13.2 megawatts (18.5 percent) were installed without the support of rebates from the California Solar Initiative or any other state-level program."
Solar, competitive with the grid, without state and local subsidies could be a watershed moment in the solar power story. (Note that the federal 30 percent Investment Tax Credit is still in effect through 2016.)
The company has had other recent positive news:
The firm just announced a $175 million offering of senior convertible notes, the proceeds to be used "for general corporate purposes, which includes working capital, capital expenditures, potential acquisitions and strategic transactions."
Last week, the firm garnered a $100 million loan from Credit Suisse Securities, ING Capital LLC and Rabobank to finance more solar installations.
A month ago, the company struck a $500 million financing deal with Goldman Sachs. SolarCity specifically mentions the goal of opening up solar to consumers with lower credit scores in this release. Jimmy Chuang, SolarCity's VP of structured finance, said, "We expect to be able to expand our offering to a broader customer base by lowering the credit requirements even further in future financings," according to a statement.
On a non-solar note, SolarCity has begun installing grid-tied residential and small-commercial energy storage-solar system hybrids.
Here's a history of SolarCity's revenues: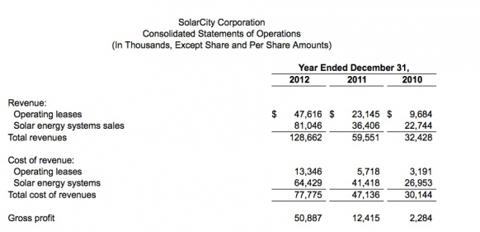 But losses also surged to $91.5 million in 2012.

SolarCity Installations by Market Segment and Relative Market Shares, 2012-2013E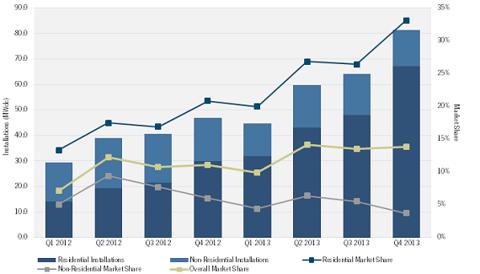 GTM's Kann names the risks to growth in U.S. residential solar:
"First and foremost, net metering. There are a wide variety of potential outcomes for the net metering debates in California and elsewhere, and a number of them could cripple near-term growth. Second, rate design. We at GTM Research have been on a tear recently harping on the importance of rate design in the economics of distributed solar. Solar-unfriendly rates can be just as harmful as net metering caps. Third, the ITC, which is currently in place until 2016, but could at any time be revised or removed by Congress, assuming an omnibus tax bill breaks through congressional gridlock. Finally, project finance. We estimate that the U.S. residential and commercial solar markets will require roughly $54 billion in project finance between 2013 and 2017. That's a big number for a market valued at $7.3 billion in 2012."
According to Kann, we are on the cusp of an unprecedented shift in the U.S. solar market, and, by extension, the entire electricity market.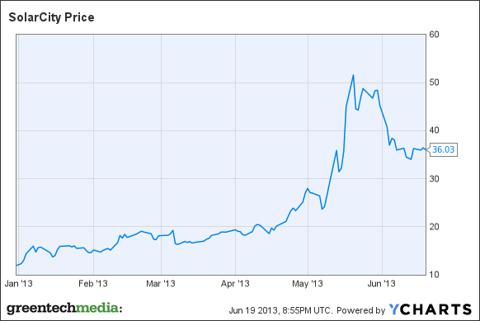 Disclosure: I have no positions in any stocks mentioned, and no plans to initiate any positions within the next 72 hours. I wrote this article myself, and it expresses my own opinions. I am not receiving compensation for it. I have no business relationship with any company whose stock is mentioned in this article.