There is unrest in the Middle East and quite literally at Europe's doorstep, unrest in Brazil, and unrest in financial markets. Everywhere one looks there is unrest to be found, but maybe none greater than in the precious metals arena this morning as the bears pile on to one of their few winning trades and strong hands become weak hands there.
The gold ETFs are under pressure and the physical gold ETFs are having to sell gold at a rapid pace. This might very well be the shakedown we have been looking for and a general market correction may be taking place to give us cover to move in with little competition (as other market participants look elsewhere for value).
Chart of the Day:
The sell-off started yesterday after the Fed's decision and the selling continued as Asia opened. China really sent us lower and this morning we are safely at three day lows.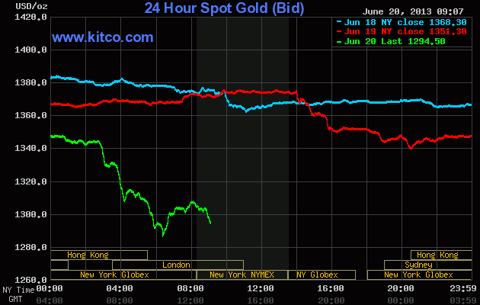 Chart courtesy of Kitco.com
Commodity prices this morning are as follows:
Gold: $1302.90/ounce, down by $71.10/ounce
Silver: $20.14/ounce, down by $1.483/ounce
Oil: $96.69/barrel, down by $1.55/barrel
RBOB Gas: $2.8447/gallon, down by $0.0477/gallon
Natural Gas: $3.913/MMbtu, down by $0.05/MMbtu
Copper: $3.088/pound, down by $0.053/pound
Platinum: $1402.90/ounce, down by $21.00/ounce
Oil & Natural Gas
Whereas commodity markets are experiencing unrest, so too is Brazil. The country had some demonstrations as citizens were upset by price increases set to go into effect for services offered by the government. In order to appease the citizenry these price increases were put off for the time being. Either way you look at it this is bad news for a name such as Petroleo Brasileiro (NYSE:PBR) as social unrest in its own country does it little good and a government looking for money is nearly as bad. Shares finished the session down over 4% and volume was 23.1 million, above the three month daily average. The World Cup and Olympics are set to be hosted here, so this will be an interesting story to keep track of.
Sticking with the unrest theme, Leon Cooperman of Omega sure nailed it yesterday when he alluded to it on CNBC about big news coming as it pertained to SandRidge Energy (NYSE:SD). He probably thought there was a bit more time to it, but the shares shot up immediately and after the close the company announced that CEO Tom Ward had been ousted. This was not as big of news as his buddy Aubrey McClendon being ousted, but still significant. Look for volume to be heavy again today but for gains to be muted as the commodity complex is under extreme duress as fund managers lower risk. We view this as bullish long-term and think this might work out best for all parties involved, as Ward could now team with buddy McClendon in raising capital for his new venture which could return with cash to help the company develop their huge landholdings.
Rosetta Resources (NASDAQ:ROSE) has our eye this morning as yesterday the shares fell over a buck to close at $46.63/share. It bounced off of the $45/share level rather than heading lower when we highlighted it last time so it never got into our buy zone, but with current market conditions and the movements taking place in physical commodities this morning it sure appears to us that we will test the $45/share level soon and possibly head below it in the coming sessions. Keep your gun powder dry and ready because this has been one of our more successful channel trades and something we will look to reenter so long as the price is right.
This has been a great trade for short-term channel trading and if we are correct again investors and readers may see a new buying opportunity in the coming sessions.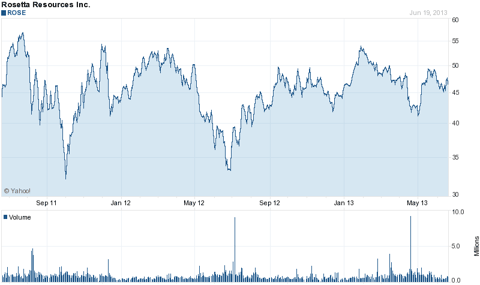 Chart courtesy of Yahoo Finance.
Precious Metals
Looking at the commodity price data above it will be no surprise to readers that Barrick Gold (NYSE:ABX) and Silver Wheaton (SLW) head lower today. It seems 52-week lows are to be tested, taken out and new support found for not only these two names but also the entire industry. We are not buyers today, or tomorrow or even this week but we are watchers. Sometimes it is necessary to watch the birds before hunting the birds and with that said we want to pay particular attention to whether these names sell off all day, hold steady around the open (which will be lower) or actually move off of the lows set in the morning. Strength on down days usually indicates future strength, and that is something which would interest us.
It has been a rough past year for shareholders here, but it shall get worse today.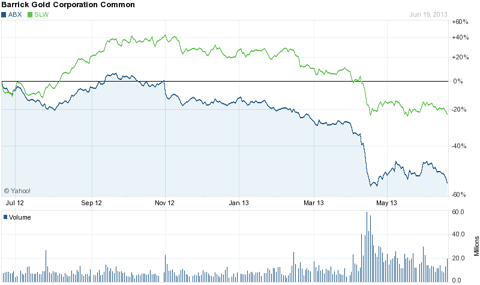 Chart courtesy of Yahoo Finance.
Moves like this on the physical metals in premarket hardly ever get corrected and when one sees that this is one of the very few areas where bears have had any success over the past few months it becomes apparent just how bad things could get. The narrative in the precious metals market has been adjusted to the extent that everyone believes that interest rates are the sole reason to invest here. That is not true, but with the moves by many producers to unhedge their production the sector is now at the mercy of the markets as they have little to fall back on in terms of certainty of cash flows. Maybe that marks the high water mark and pinnacle of this bull run, but one also has to remember that precious metals can also be industrial metals and a store of value...there is the possibility that they do well in good times and bad. The pendulum is always swinging from side to side, right now it simply favors the bears. Eventually it will favor the bulls again, it always happens.
Disclosure: I have no positions in any stocks mentioned, and no plans to initiate any positions within the next 72 hours. I wrote this article myself, and it expresses my own opinions. I am not receiving compensation for it (other than from Seeking Alpha). I have no business relationship with any company whose stock is mentioned in this article.