Realizing assays up to 10.1 grams per ton gold, U.S. Winnemucca, Nevada based exploration and mining development company; Paramount Gold and Silver Corp (NYSEMKT:PZG) is gearing up for success.
The company owns advanced-stage, multi-million ounce precious metals projects in mining friendly jurisdictions in Nevada (Sleeper Project) and northern Mexico (San Miguel Project).
Paramount's fully funded exploration and engineering programs at two primary projects delivering great results are continuing to create increased value for shareholders. Showing serious promise, this miner could go boom within the mid-term.
Continuing their drilling program to expand known resources at the south end of the Sleeper pit, the company is also extending the "Facilities Deposit" to the north into the recently discovered "Pad Zone". Grade results, all-promising reveal cuts from 0.94 grams per ton gold (0.94 g/t Au) and 3.14 grams per ton silver (3.14 g/t Ag) in the "West Wood Zone" with spots containing a remarkable 10.1 grams per ton gold (10.1 g/t Au).
Drill hole PGC-13-030 cross section image: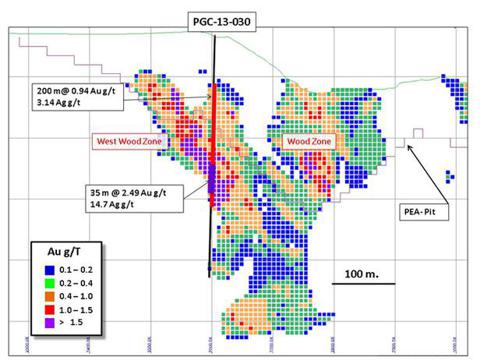 Courtesy Paramount Gold and Silver
The 100% company owned Sleeper project located 25 miles north of Winnemucca in Humbolt County, Nevada has an existing high-grade open pit mine acquired by Paramount in 2010 after having been operated by Amax Gold from 1986 through 1996. During the Amax years the mine produced 1.66 million gold ounces (1.66M oz. Au), and 2.3 million silver ounces (2.3M oz. Ag). Production records indicate that less than half of the gold mined at Sleeper by Amax was recovered.
Today's aggregate numbers show the Sleeper Project boasting resources Measured & Indicated (M&I) of 3,479,000 gold ounces (3,479,000M oz. Au) at a cut of 0.33 grams per ton (0.33 g/t Au) and 40,606,000 silver ounces (40,606,000M oz. Ag) at a cut of 3.86 grams per ton (3.86 g/t Ag) - and additional inferred resources of 1,972,000 gold ounces and 24,459,000 silver ounces.
Impressively the Sleeper Project shows mineralized veins measuring from one inch to 20 feet thick.
In advancing the company's agenda, Paramount Gold and Silver Corp adheres to the "Paramount Formula" which creates value and reduces risk. The impetus for their specific strategy is to acquire and expand known PM deposits in large-scale geological environments in North America only.
The company feels North America is the premier location because of security tenure, known and workable permitting requirements, ease of access and deep employee talent pools. For these reasons, they feel, North American deposits command premium valuations.
Large land packages provide room to grow and to apply what has already been learned. In many cases thorough databases exist.
Paramount acquired such land packages in Nevada and northern Mexico that have previously hosted discovered deposits. They see the upside of working with known deposits to substantially reduce discovery risks and significantly increase efficiency and the effectiveness of exploration.
Shares closed on the NYSE $1.44 at time of this writing, comfortably above the 52 week low, and gaining. Trading on average volume of 755,800, Paramount Gold and Silver Corp's market cap sits north of $210M.
Additionally, the company's 2013 balance sheet shows Current Total Assets of US$74,171,179 against Current Total Liabilities of US$684,681.
PZG's Preliminary Economic Assessments (PEAs) and National Instrument 43-101s (NI 43-101) have been completed for each primary project and define clear economic paths. The reports show significant resource expansion, positive metallurgical test results, critical engineering insight and economic analysis which combined, will move those (M&I) resources into the Proven & Probable Reserves (P&P) category creating higher valuation for the company.
The Sleeper PEA, prepared by Metal Mining Consultants of Denver, Colorado specifies a development scenario that consists of a large-scale open pit mining operation with a heap leach processing plant handling both oxide and sulphide material, producing a gold-silver dore.
The base case scenario incorporates an 81,000 tons per day operation (approximately 30 million tons per year throughput), resulting in a projected 17 year operation with average annual production of 172,000 gold ounces and 263,000 silver ounces.
Projected life-of-mine average cash operating costs are US$767 per ounce of recovered gold equivalent. Start-up capital costs for this project are estimated to be US$346 million. Sustained capital costs over the project's life are estimated at an additional $278 million. Total capital cost contingencies over the project life are estimated at an additional $64 million, bringing the total life of mine capital costs to $688 million.
The total cost of equivalent gold production (including cash operating costs and total capital and contingency costs over the life of the mine) is estimated to be US$996 per ounce according to the company's web site.
The entire Sleeper property includes staked and purchased lands totaling 2,570 claims covering nearly 45,700 acres reaching south (down trend) to Newmont Mining's (NYSE:NEM) Sandman project, and includes PZG's Dunes Project and Mimi Claims.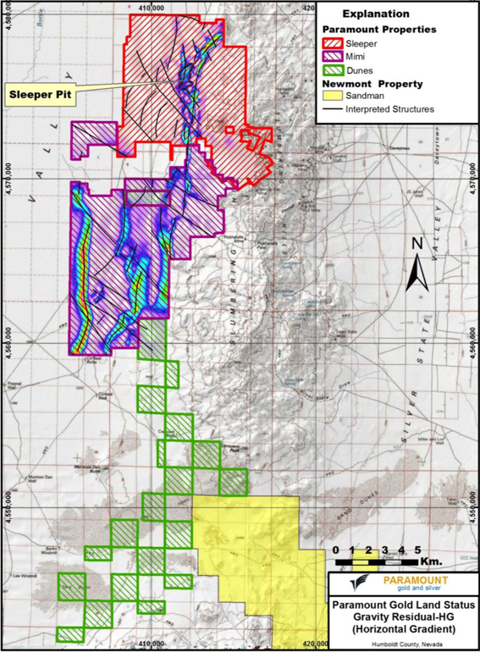 Courtesy Paramount Gold and Silver
In the pipeline: Paramount also owns two early stage gold and silver projects in Nevada - Mill Creek and Spring Valley, located approximately 35 miles southeast of the Sleeper Project.
Christopher Crupi is Paramount Gold and Silver's Chief Executive Officer since 2004. He is Paramount's co-founder, and is responsible for building and financing the company.
Mr. Crupi leads a very capable and broadly experienced team who all agree the greatest asset of their company is its reputation, and that its value relies on the character of its people. To protect this most important asset, the company has zero tolerance for unethical behavior.
For this investor, ethics play as important a role as other key factors when considering where to invest hard earned money.
Conclusion: First and foremost Paramount's immediate plans are to continue its permitting process, metallurgical testing, and evaluation of recovery methods on Sleeper's high grade West Wood Zone. This will continue to increase shareholder value and lead closer to the all-important production start-up date.
Language within Paramount Gold and Silver Corp's National Instrument 43-101 states the "Sleeper gold-silver deposit represents a project with a great deal of potential for being an important gold producer in Nevada once again".
For Another Look at Paramount Gold and Silver Click Here

Disclosure: I have no positions in any stocks mentioned, but may initiate a long position in PZG over the next 72 hours. I wrote this article myself, and it expresses my own opinions. I am not receiving compensation for it (other than from Seeking Alpha). I have no business relationship with any company whose stock is mentioned in this article.
Additional disclosure: (The purpose of this article is to examine Paramount Gold and Silver Corp. and its Nevada assets specifically. We will examine the San Miguel project (Mexico) in detail, in a subsequent article.)