I recommended America Movil (NYSE:AMX) on April 7, when it was trading at $29 because I postulated that favorable forex would drive earnings. The company had been killed by the weak peso. I predicted that the real and peso would strengthen over the U.S. dollar bringing in great earnings for the company. After all, the fundamentals of the company were sound: a growing base of mobile subscribers and an excellent balance sheet. It was the "geography" of the company, the unfavorable forex, that was harming its profits. AMX reported a strong quarter two days ago largely on the basis of the resurgence of the peso bringing in an extra 4.8 billion pesos, or $362 million. The stock is now trading at $43.90.
Below is a synopsis of how the three currencies: the real, peso, and dollar have traded.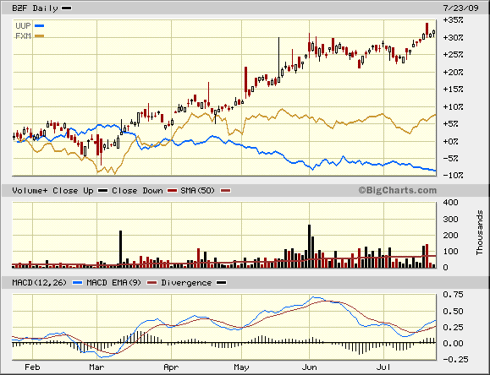 The real is presented because the company does a ton of business in Brazil. The profits from Brazil get exchanged into ever greater numbers of pesos. Pesos, in turn, build higher ADR pricing.
The company over the last six months has taken advantage of the weakening dollar by paying off a large amount of its U.S. denominated debt with its newly strengthened pesos.
I expect the dollar to weaken further against the real and peso. AMX's next quarters should be even stronger.