After Tempur-Pedic International acquired its fellow mattress maker Sealy Corp, the combined company renamed itself to Tempur Sealy International (TPX). The changed name was officially announced last month on May 23, and it follows the completed acquisition of Sealy Corp in March of this year. Together, the newly consolidated company brings forth the world's largest bedding provider. The company now maintains the strongest brand portfolio in its industry and offers one of the most comprehensive suites of bedding products available to the market.
A Rich Market Valuation
But beyond the impressive brand lies a company filled with much more uncertainty in the present than the market appears willing to factor into the company's stock. Now priced at $44.72 as of June 19, Tempur Sealy sports a market capitalization of $2.70 billion. The company trades at a forward price-to-earnings ratio of 13.35 based on analyst estimates of $3.35 for 2014. Additionally, the company trades at an alarming price-to-book ratio of 100.62.
With the last figure, herein lies one of my largest concerns behind the company. As of March 30, Tempur Sealy only carried a book value per share of $0.458. Shown in the chart below, the historical trend also proves that this has been slowly declining over time. When contrasted against the rising stock price, the divergence between the two methods of valuation is made abundantly clear.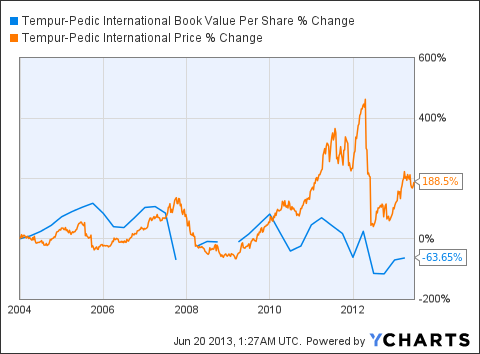 TPX Book Value Per Share data by YCharts
This further emphasizes the idea that Tempur Sealy has been finding stronger support from the market on the basis of its growth potential. The company now trades at a price/earnings-to-growth ratio of an average 1.30. This is not abundantly high and may actually indicate somewhat of a fair valuation on that metric alone. Yet this valuation technique may prove misleading if the company fails to live up to its earnings growth expectations.
Growth Remains Far From Assured
In regard to these expectations, the trend of late has not been too positive for the Tempur-Pedic side of the company's combined operations. Seen in the chart below, Tempur-Pedic's margins have slowly been decelerating over the past few years. According to the company's latest quarterly earnings report, Tempur-Pedic's gross margin decreased to 51.7% from 53.6%. The company stated that among other things, the decline was primarily due to product mix and increased promotions and discounts.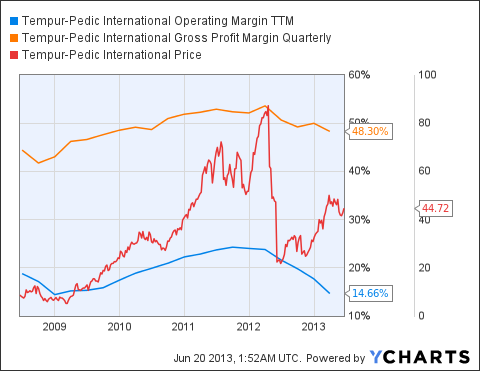 TPX Operating Margin TTM data by YCharts
Yet a bump in the margins can easily be dismissed if they can stabilize. However, there remains the risk that margins may continue to fall in light of the ongoing integration between the two companies. Likewise, there is even reason to believe that the perception of falling margins may soon be imminent. According to the company's earnings call transcript found here, CFO Dale Williams had the following to say:
"There are 2 key points that investors will need to consider on the combined gross margin in the business going forward: One, Sealy traditionally operates at a lower gross margin than Tempur; and two, Sealy historically recorded freight in SG&A, while Tempur has recorded it in COGS. As a result, by conforming to Tempur's accounting, Sealy's historical gross margin would be lower."
Recall that the bulk of Sealy's normalized operations have not been fully shown on the company's financials to date. As a result, this will likely lower margins going forward when they are revealed. The effect of Sealy's lowering margins may further generate the appearance of poorer performance and could catch investors off guard. Yet even if the perception of falling margins fails to materialize, the actuality of weakening sales has already come from Tempur-Pedic. Taken from the same earnings call, Williams also had the following to say pertaining to Tempur-Pedic's sales performance:
"Tempur-Pedic sales for the first quarter were $343 million, a decline of 11%. Tempur North American sales were down 16% and international net sales up 2%. On a constant currency basis, international sales were up 3%. By product, bedding net sales for Tempur North America decreased 16% to $204.6 million on a unit decline of 10%. Tempur International bedding net sales were essentially unchanged at $89.3 million on a unit increase of 10%. Net sales of other products for Tempur North America decreased 13% to $21.3 million due to a decrease in pillow sales during the quarter."
As Tempur-Pedic and Tempur North American sales have slowed, the consolidated company was only buoyed by the addition of Sealy's partial revenues following the acquisition. Although the acquisition's near-term effects are sure to increase the face amount of total revenues going forward, the decline in same division sales remains an unhealthy indicator for a company reliant on its capacity for growth. Additionally, any setback in future growth would be easier to endure if Tempur Sealy was backed by a strong balance sheet. Yet it clearly is not.
A Deteriorating Balance Sheet
As of March 30, the company had a respectable $760.3 million in total current assets but only $91.5 million in cash. This is $42.5 million less than the same quarter of the prior year. On the other hand, the company held $1.96 billion in long-term debt as of March 30. This is a 247% increase from the prior year's long-term debt of $565 million. More importantly, total current liabilities have also increased from $166.59 million in 2012 to $412.90 million in 2013.
In light of the rising debt and meager cash on hand, this coerces the company to become ever more reliant on the cash flows it brings in. As a result, this should significantly raise the risk profile of the company as it may become more susceptible to the ill-effects of a possible business slow down. In particular, shareholders should not discount the chart shown below of Tempur-Pedic's diminishing operating cash flows.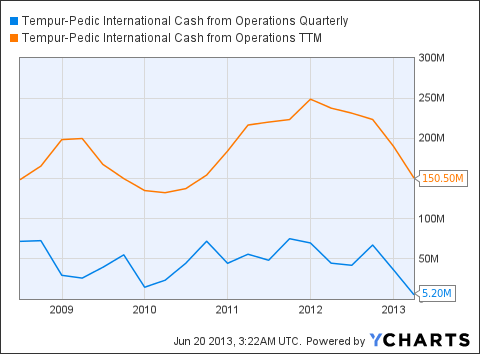 TPX Cash from Operations Quarterly data by YCharts
Conclusion
While Tempur Sealy remains the clear champion of its business in terms of branding, it remains premature to conclude that the company has justified its current market valuation. Indeed, the company has significantly increased its risk profile in order to acquire its former rival. This comes at a time in which consumer spending has remained favorably elevated in light of a slowly growing economy. Yet should this situation turn, the effect may prove to be more daunting than the consolidated company originally anticipated.
This is especially so as the company appears more reliant now on its cash flows than it was in the past. Yet at the same time, its net receivables have grown far larger than its actual cash reserves. Additionally, the bulk of the company's assets now rest in its goodwill and intangible assets which collectively account for $1.54 billion of the company's $2.83 billion in total assets. These two categories are typically the first and easiest to be impaired should the business take a turn for the worst.
Now trading at a very high premium to book value, Tempur Sealy inherently stays off of my wish list for stocks to own in the present. The company may appear to carry a fair valuation in terms of its earnings growth, but the market appears unwilling to recognize the increased risk that it has taken on in order to accomplish this outlook.
Investors should remain alert over the company's decreasing margins in the coming quarters. While this has been explained by management, it could also provide excellent cover for hiding any setbacks with the ongoing integration of the two companies. Overall, it remains ideal to stay cautious when it comes to investing in Tempur Sealy.
Disclosure: I have no positions in any stocks mentioned, and no plans to initiate any positions within the next 72 hours. I wrote this article myself, and it expresses my own opinions. I am not receiving compensation for it (other than from Seeking Alpha). I have no business relationship with any company whose stock is mentioned in this article.