One of the cheapest midstream stocks out there is Enbridge Energy Management (NYSE:EEQ). The company has a unique structure in which it pays out its dividend in the form of additional shares instead of cash. The stock dividends are of a similar value to the cash distributions paid out by the MLP Enbridge Energy Partners (NYSE:EEP). These stock dividends result in Enbridge Management's stock being substantially more IRA friendly than units in the MLP. The current yield for Enbridge Management is about 7.20%.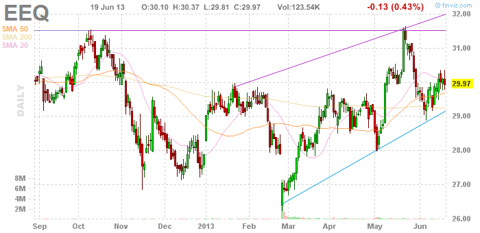 Ownership Structure
Enbridge Management is a limited liability company that was formed to manage and control the business and affairs of Enbridge Partners. Enbridge Management's only assets are its 16.6% limited partner interest in Enbridge Partners, thus its success is solely dependent on the partnership's performance. Enbridge Energy Company (NYSE:ENB) is the general partner of Enbridge Partners and holds an approximate 13.5% interest in Enbridge Management and 17% interest in the partnership.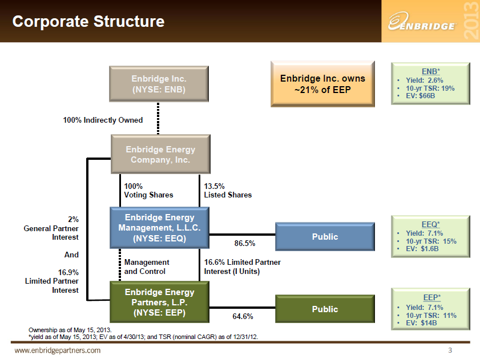 Overview
Since Enbridge Management does not own any other assets other than units in Enbridge Partners, it is vital to look at the partnership to determine if Enbridge Management is a worthwhile investment. Note that from now on, when I refer to either Enbridge Partners or Enbridge Management I am essentially speaking about the same company as their economic interests are deeply intertwined.
Enbridge Partners has some of the most strategically positioned midstream assets out there. It is the largest transporter of crude oil from Western Canada to the US and the largest pipeline transporter of crude oil from the Bakken. The company has over 6,500 miles of liquids pipeline and over 11,400 miles of natural gas pipelines. Enbridge Partners' systems currently transport about 2.2 MMB/D of liquids and 2.5 BCF/D of natural gas. These assets provide Enbridge Partners with a solid base of low commodity risk and fee-based cash flow, often under low-term contracts.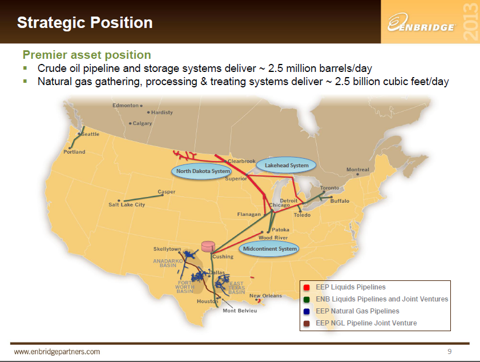 The vast majority of Enbridge Partners' income is either fee-based or under long-term contracts. Enbridge Partners has very low commodity price risk, at only about 20% of its income. when factoring in hedges, this risk almost disappears, as 70% of its exposure is hedged. Note that the vast majority of the commodity exposure is from natural gas gathering operations. By 2016, this exposure is expected to drop to about 12%, when factoring in current oil projects.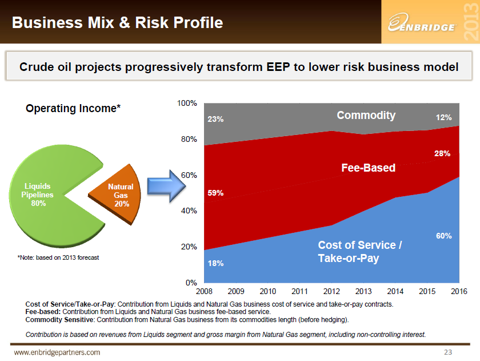 Strong Demand for Enbridge Partners' Services
An MLP is only as strong as the demand for its pipeline capacity. Luckily for Enbridge Partners, demand is robust thanks to the massive production growth in the Bakken and expanding Canadian oil sands production. There are already massive transportation bottlenecks for both sources and as a result these sources of crude trade at large discounts to WTI. Western Canadian Select, which is a heavy blend of crude from Alberta, trades at a massive $22 per BBL discount to Maya (a heavy blend from Mexico). While recently narrowing significantly, Bakken light oil is still trading for about a $4 per BBL discount to WTI.
These transportation issues are only expected to increase as production rises. Crude oil production in Western Canada is expected to increase by 1.5 MMB/D by 2020, while production in the Bakken is expected to increase by about 0.5 MMB/D. As pipelines are by far the cheapest option for transporting crude oil over long distances, it is pretty safe to say that demand for Enbridge Partners capacity will remain strong.
Sandpiper Pipeline
One of the more exciting capital projects underway for Enbridge Partners is its expansion of pipelines in the Bakken. However, this project has suffered a setback. In March, the FERC rejected a proposed extension of Enbridge Partners' $2.5B Sandpiper pipeline, noting that the rate structure was not supported by existing regulations. This was a major setback for the company, as this pipeline is its main capital project. During the Q1 2013 conference call, Enbridge's Vice President of liquids pipelines Stephen John Wuori noted that the company sensed that it was "very close to having a successful application". However, Enbridge Partners may need to make some "tweaks" when it refiles. Below is the full quote from the conference call:
Stephen John Wuori - Executive Vice President of Liquids Pipelines

Yes. Ted, you mentioned contracts. But actually this isn't a contract pipeline, it's a common carrier add-on to the North Dakota common carrier system. So what we're doing is analyzing what the FERC came back with when they denied the petition for a declaratory order and we're going to address those things and refile. I think Mark mentioned that there certainly were strong letters of shipper support. There were 15 letters that were submitted in support of the project, but there were 5 that were submitted in opposition or expressing concerns. And I think the FERC took that into account, so we'll be working on those folks and working with them. And generally, just looking at what the sensitivities may have been around their decision, the sense we have is that we were very close to having a successful application, however, there is some tweaks that need to be made when we refile. But we'll still refile it as a common carrier addition to the North Dakota system.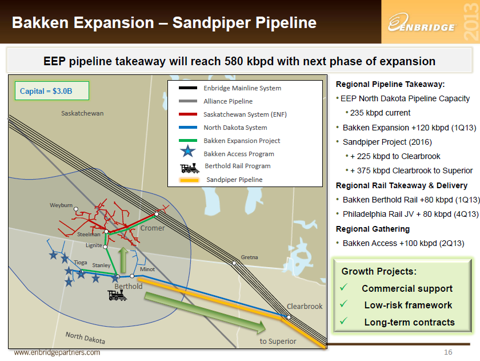 Other Projects
While the delay for the Sandpiper pipeline is unfortunate, Enbridge Partners does have several other smaller projects online. During Q1, Enbridge Partners completed several Bakken liquids projects which are shown above on the map. These projects include a $300M pipeline expansion with a 10-year ship-or-pay commitment and a 7X EBITDA multiple, and a $145M Bakken Berthold railroad project with a 3-year ship-or-pay commitment and a 4X EBITDA multiple. During the rest of the year, Enbridge Partners or its JV partners should complete several other projects totaling about $715M.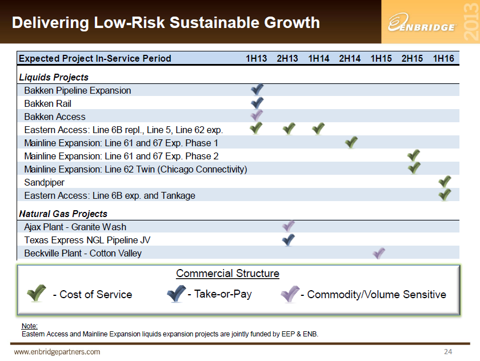 Risk Factors
While Enbridge Partners does have many positives, the stock does carry substantial risk. Enbridge Partners' Q1 2013 coverage ratio was only 0.79X. In fact, Enbridge Partners has not been able to cover its distribution since 2010. The company has been using debt to fund part of its distribution - which is clearly not sustainable. Assuming the full benefit from its current capital projects, Enbridge Partners' coverage ratio would only improve to 1.25X by 2016. Enbridge Partners is probably spending more on capex than it should. It is therefore vital that these projects are completed on time and on budget.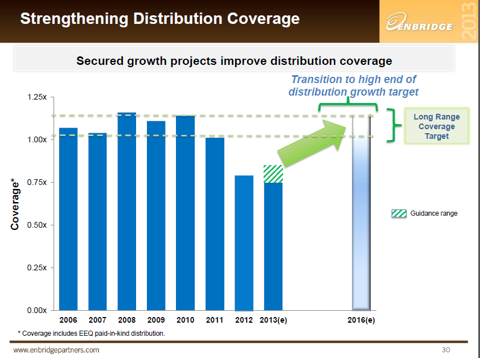 Another major negative for Enbridge Partners are the costs associated with its 2010 Michigan oil spill. The total estimated costs of this disaster recently increased by $175M in Q1 2013 to over $1B. This event will continue to hound Enbridge Partners until the cleanup efforts are complete. Insurance payments have not been enough to cover Enbridge Partners expenses and therefore the company has had to spend a large amount to cover the costs. Enbridge Partners was also unable to raises tolls to recover these costs.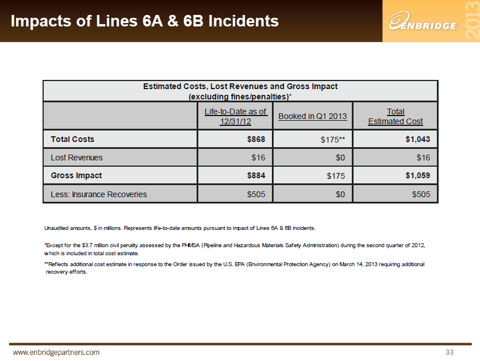 General Partner to the Rescue?
On May 8, Enbridge announced that it will invest $1.2B into Enbridge Partners via preferred units issued by the MLP. These units will yield 7.5% and have a $25 par value. However, Enbridge Partners will not have to pay distributions on these units for the first 8 quarters. Instead, they will be added to redemption value. In addition, on or after June 1, 2016, Enbridge can convert the preferred units into 43.2M common units. The terms of the offering seem to offer Enbridge Partners a manner to get cash without having to pay interest or dividends in the short term. This cash influx from the general partner to the MLP seems very odd. Normally, MLP's are a source of cash for their sponsor, usually via dropdowns. It is clear that Enbridge committed this capital only to ease concerns about the MLP's capex funding.
Alternative Funding Measures?
It seems that Enbridge Partners may be looking to other sources of funding apart from equity issuances and debt. On June 11, the company announced plans for an IPO of 40% of its natural gas and NGL midstream assets. Total proceeds would range from $400M to $500M. Enbridge Partners plans to use these funds towards its liquids pipelines capex. It is unclear what effect this divestiture will have on its DCF or coverage ratio.
Conclusion
One of my main concerns with the company is its lackluster distribution/dividend growth. Enbridge Partners has only managed to increase its payout between 2.1% to 4.2% since 2007. This includes one year (2009) without any increases. Through 2016, Enbridge Partners' CAGR is expected to only range from 2% to 5%, which is one of the lowest of the MLPs I follow.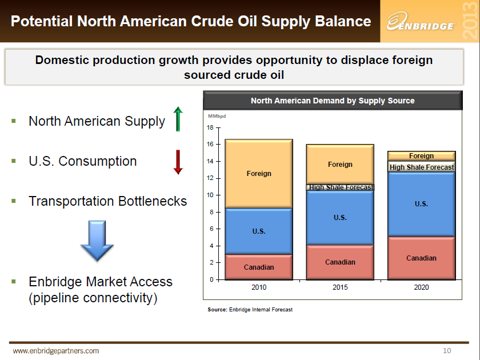 That Enbridge needed to provide Enbridge Partners with $1.2B should also raise a red flag. Why couldn't the MLP issue more equity via a unit offering? If they did not want to have to pay cash distributions, they could have issued Enbridge Management shares. Is Enbridge Partners' access to the credit/equity markets that weak?
Considering Enbridge Partners' other issues, such as its weak coverage ratio and oil spill expenses, I cannot recommend the stock as a long-term investment. Enbridge Partners and Enbridge Management are cheap stocks, but the risks currently outweigh the rewards for both.
Disclaimer: The opinions in this article are for informational purposes only and should not be construed as a recommendation to buy or sell the stocks mentioned. Please do your own due diligence before making any investment decision.
Disclosure: I have no positions in any stocks mentioned, and no plans to initiate any positions within the next 72 hours. I wrote this article myself, and it expresses my own opinions. I am not receiving compensation for it (other than from Seeking Alpha). I have no business relationship with any company whose stock is mentioned in this article.