I recently put out an article about Five Below (NASDAQ:FIVE) where I highlighted some of the concerns I noticed with the company's current valuation and growth potential. I do however fully understand the bold plans management has laid out and see how some may feel the inflated valuations is justifiable. Up to this, I have been tempted to short the stock but have been scared away by the high short interest as of late.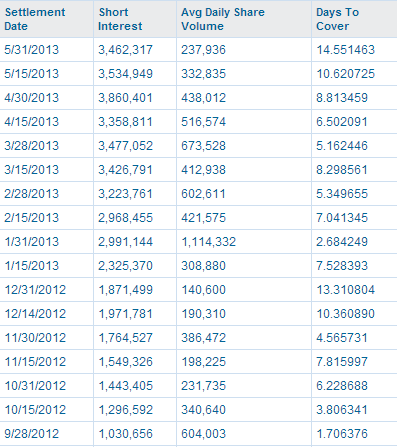 While the above data is slightly delayed, we can still see the consistent trend over the last 9 months. Yesterday after the close the company announced the launch of a secondary offering which will allow insiders the ability to sell roughly 9.85 million shares of the company. After the announcement shares extended their move to the downside by an additional $1 or 2.53%. Prior to the secondary, there will be 32.83 million shares floated, of which 3.46 million are sold short. At this time that equates to 10.53% of the float. When you account for the 30% increase in floated shares, the new short interest as a percent of float drops 2.36% to 8.17%. While this drop may not be huge, it does minimize the potential of short squeeze. Along same lines, the rising float may allow more shorts the ability to enter a position, thus putting pressure on the stock.
I want to thank Nasdaq and Yahoo Finance for the financial data I used in my calculations.
Disclosure: I have no positions in any stocks mentioned, and no plans to initiate any positions within the next 72 hours. I wrote this article myself, and it expresses my own opinions. I am not receiving compensation for it (other than from Seeking Alpha). I have no business relationship with any company whose stock is mentioned in this article.