Oncothyreon, Inc. (ONTY) is a biotechnology company headquartered in Seattle, WA that is working on treatments for cancer. Its objectives are compassionate; however, a detached viewpoint is necessary to consider its worth for investors. It is not financially self-sustaining, and even though the stock is only priced at $1.77, it is particularly risky. The company's valuation is tied to its development of medical treatments, and though years of testing are required, the odds are against an individual product's approval for commercial use. However, it has several candidates, which increases the probability of one getting through. Further, for those who are willing to write options, costs of being a shareholder may be substantially lowered.
Oncothyreon's web site includes a graphical description of its pipeline - that could benefit from updating. Six clinical trials are shown as underway, with ONT-701 in a preclinical stage. It does have one product that has made it to Stage 3, a vaccine intended to treat lung cancer, L-BLP25, that is being developed by Merck KGaA of Germany (OTCPK:MKGAY), also referred to as Serono.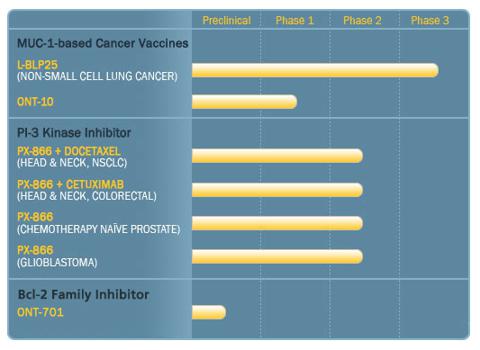 MUC-1-based Cancer Vaccines
Phase 3 products can be exciting because submission to the FDA for approval is more likely. A reference to a chart inclusive of December 2012, before L-BLP25 failed to meet its primary endpoint in trials, shows shares of ONTY trading at $4.50 and then plummeting. L-BLP25 has since had another setback. Merck is carrying on further studies, however.
During the June 5 Jeffries Global Healthcare Conference, Oncothyreon President and CEO, Dr. Robert Kirkman provides an overview. Formerly known as Stimulax, L-BLP25 is intended for stage 3 lung cancer that is too large for surgery, so that patients are usually treated with chemotherapy and radiation. There have been notable results for an 806 patient subgroup, the "largest trial that has ever been conducted in Phase 3 lung cancer," including a ten month survival benefit. Merck is in the process of discussing data with regulatory authorities in US and Europe and is making a determination about what they are going to do next, if anything. A Phase 3 trial in Asia is being modified; and a Phase 2 study is anticipated in Japan late next year at the earliest.
The Phase 1, second-generation candidate for the product is designated ONT-10. It is fully owned by Oncothyreon. Its trial's:
Primary endpoint is safety;
Secondary endpoint is immunogenicity (antibody response, based on animal data, which is not a prevalent part of L-BLP25; and T-cell response). Kirkman "Thinks close to the end of this year we should be able to report…data."
PX-866
The bulk of the pipeline graphic shows Phase 2 studies of PX-866, described on Oncothyreon's web site as
An oral, irreversible, pan-isoform inhibitor of the PI-3-kinase/PTEN/AKT signaling pathway that is implicated in many types of human cancers including breast, glioma, colon, ovarian, prostate, melanoma, lung, and head and neck cancers.
The first two trials, involving Docetaxel and Cetuximab, respectively, have completed Phase 1 and are currently enrolling patients for Phase 2. The Conference presentation includes little regarding RPX66. Head and neck cancer data is "Expected to read out close to the end of this year." Phase 2 studies for the bottom two treatments are currently underway.
The web site provides an overview, including discussion of a Phase 1 / 2 trial, that is enrolling, evaluating PX-866 in combination with vemurafinib.
ARRY-380
The company has recently raised $9.8M through a secondary offering of 5M units, each including a share and a warrant to purchase another for $5. Thus, the share count can increase by as much as 10M. It has simultaneously announced a partnership with Array BioPharma Inc. (NASDAQ:ARRY) to develop ARRY-380, which has completed Phase 1 trials, incurring an "Upfront fee" of $10M that is being partially funded by the offering.
My impression is that the most excitement actually seems to surround the new collaboration. According to Kirkman, ARRY-380 is perhaps
The small molecule of choice for combination therapy and breast cancer…CNS activity may prove to be very important. In preclinical studies…[It] has demonstrated significantly improved activity compared to other HER2 targeting in getting into the brain and treating metastatic disease in that area.
Further, ARRY-380 is "The only selective HER2 inhibitor in clinical development…" and "has the potential to prevent...brain metastases."
Survival is reported as "Significantly superior" in comparison to Neratinib and Lapatinib, and there is "Superior" therapeutic benefit, in mice. Important aspects of the new partnership include:
Oncothyreon and Array sharing in development after proof of concept studies.
Array is responsible for worldwide commercialization.
Oncothyreon can recoup cost through asymmetric sharing in Phase 3.
Oncothyreon has a 50% promote right in the US with 50/50 profit share.
Designed for 50/50 profit sharing outside the US.
First trials very late this year, or early in 2014.
Market Perception
The story thus far has described a risky company characterized by dashing hopes and destroying wealth. What gets my attention is what the options market is saying. Even though implied volatility ("IV") has fallen pursuant to Oncothreon's May 16th announcements about three of its trials, it is elevated at 107%. Here is a chart showing the options market's changing perspectives on how imminently the stock could bolt higher or lower: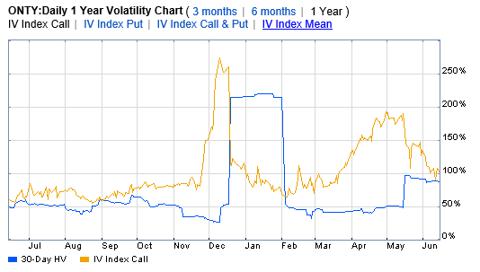 There are many ways to trade volatility. In this situation, my preference is write covered calls, whenever their exercise should result in profit, in order to lower the cost for owning the equity of a corporation that has estimable goals.
A call that expires July 22nd should bring in $0.15 per share, or $15 per contract. If the stock is purchased for $1.75, and has risen above $2 at expiration, it would be called away at a [$2-$1.75-$.15 =] $40 profit, minus commissions and assignment fees. If not, the cost for 100 shares would be lowered $15 to $165. Some people classify covered call writing as a conservative strategy. There is a consideration that should not be glossed over: if the bottom somehow falls out of the share price, a sizable amount of capital is lost. Risk may be weighed against potential gains of $15/$175 = 8.57% within two months. There is a chance the process can then be repeated for most of 2013.
The low stock price offers liquidity, and a retail investor might choose to purchase a higher multiple of shares than would normally be allocated to a speculative stock. He or she may then decide whether or not to write calls on every number divisible by 100, or a fraction of thereof. For example, if holding 300 shares, it may make sense to write two covered calls at a time. If the company is acquired, or market vagaries bring the stock price above $2, profits would be uncapped on 100 of them.
Financial Condition
Oncothyreon's finances are not a strength. They are not immediately worrying, either. According to the CEO, as of June 5, 2013, the company is "On track with guidance as of Q1 to spend about $30 - $33M this year." The far left column in chart below shows cash alone is not adequate to keep up.

A YoY comparison suggests relative fiscal health. An at the money agreement has been in place with Cowen and Company, so that up to $50M worth of common stock can be sold, since May 2012. Preferred stock can also be issued, pursuant to an authorization for up to 10M shares.
Stock Valuation
In consideration of data surrounding products, the stock's price does not appear inflated. It may actually reflect a fairly valued pipeline. Phase 2 products have better odds of approval than Phase 1, and there is some worth; that may be offset by the upfront expense of Phase 1 ARRY-380.
The stock is technically within a range, with support at $1.73 and resistance at $1.95. While there does not appear to be any hurry to buy shares, I like the current prices. Short-term or swing trading might make sense, too.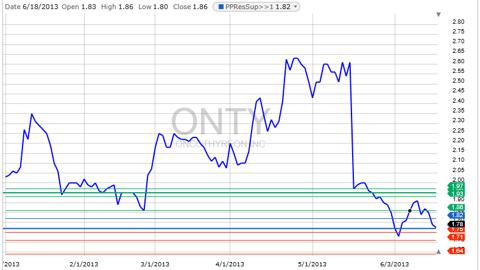 Conclusion
There is not near-term data anticipated to affect the products that determine Oncothyreon's value. For anyone who likes its risky stock, a buying opportunity may be at hand. One scenario is that a shareholder can repeatedly obtain over 8% monthly, with no news being good news.
Disclosure: I have no positions in any stocks mentioned, but may initiate a long position in ONTY over the next 72 hours. I wrote this article myself, and it expresses my own opinions. I am not receiving compensation for it (other than from Seeking Alpha). I have no business relationship with any company whose stock is mentioned in this article.
Additional disclosure: Any shares acquired pursuant to submission of this article may be actively traded.