The Men's Wearhouse, Inc. (MW) is a highly successful business. The company has a loyal customer base and offers quality products and services to maintain that loyalty. The company has several competitive advantages such as fashionable clothes, lower prices, and high-class customer service. The company has done a good job of preserving its competitive advantages over the years. In addition, the company offers good financials, including a relatively cheap stock.
Business Model
Men's Wearhouse is one of the largest specialty retailers of men's suits and the largest provider of tuxedo rentals in the United States and Canada. The stores offer a broad selection of exclusive and non-exclusive men's business attire, including items such as basic suits, navy blazers and tuxedos. The company also earns a large amount of revenue from its tuxedo rental business. Apart from its flagship Men's Wearhouse stores, the company owns 'Moores', one of Canada's leading specialty retailers, and 'K&G stores' that cater to the price sensitive customers.
The company's key competitive advantage is in its ability to provide a broad selection of merchandise brands along with superior customer service. As regards customer service, the company adopts a "do whatever it takes" attitude. The sales people are encouraged to promote customer satisfaction and loyalty and provide an overall superior experience. In addition, Men's Wearhouse offers great depth in its merchandise by providing an assortment of styles and a broad selection of fabrics and colors. Such breadth of products and high customer service allows Men's Wearhouse to set a high standard and inspire loyalty amongst customers.
The company's growth plans include opening more retail segment stores in new and existing markets. For instance, the company believes it can increase the number of traditional Men's Wearhouse stores in the U.S., from the current 638 to 750 in a couple of years. The company also sees growth in its tuxedo rental business. The company hopes to grow its business through new products such as the exclusively offered "Black by Vera Wang" tuxedo.
Another important competitive advantage at Men's Wearhouse is its ability to closely follow fashion trends. For instance, due to a recent change in fashion, the company has started to offer trimmer fitting merchandise. These products help the company attract younger customers and all others that would be influenced by such trend. Another big sign that the company is serious about offering quality products is the hiring of Joseph Abboud in early 2013 as Chief Creative Director. He will be responsible for creating exclusive brands and products and helping the company maintain its appeal.
Cash Reserves
The current ratio at the company is impressive, at 2.9. Clearly, the company has done a good job of managing its working capital. This is very important since the company may need to make acquisitions in the near future, to expand its business.
The company has no long-term debt. This too is an excellent factor in making the company a safe bet for the long-term investors. Long-term investors always prefer companies that are self-sustainable and would not get into trouble during credit crises.
Stock Price
The company sells for a relatively low PE ratio (ttm) of 13.82. This seems extremely cheap in view of the competitive advantages the business offers. In addition, retail spending has not picked up as much as some other sectors of the economy. An increase in consumer spending would certainly increase the revenues of the company by a significant margin.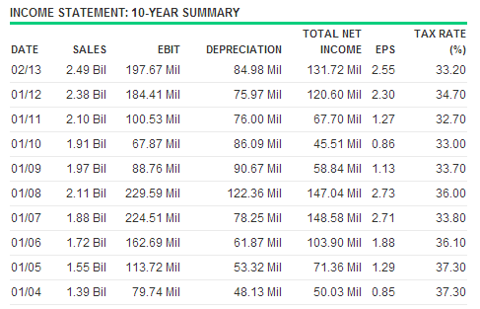 Major Risks
The biggest risk the company faces is the loss of its competitive advantages. For instance, the company is known for its fashionable, yet cheap products. A loss of that image could cost the company dearly. In addition, the company must find and focus on sustainable and reliable growth opportunities. Due to its large size, expansion opportunities within the U.S. are limited.
Conclusion
Men's Wearhouse does offer several competitive advantages. The most important of those competitive advantages is its focus on high quality customer service. The employees make every effort to earn the customer's confidence and create a professional relationship that will continue beyond the initial visit. In addition, Men's Wearhouse offers fashionable clothes at discounted prices. The company also sells at a low PE ratio (ttm), thus offering a great opportunity to bargain hunters.
Disclosure: I have no positions in any stocks mentioned, and no plans to initiate any positions within the next 72 hours. I wrote this article myself, and it expresses my own opinions. I am not receiving compensation for it (other than from Seeking Alpha). I have no business relationship with any company whose stock is mentioned in this article.