Recently some reports said Samsung (OTC:SSNLF) has surpassed Apple in the smartphone market.
In this article, I'm going to outline the main differences between these companies and why I believe Samsung's quality standard is low, which is likely to pose a problem for its relationship with clients over the long term. That makes market share losses less important as they are likely to be short-term losses, especially in the medium- to high-end market.
Thesis
I previously wrote about the quality difference between Apple and other competitors. Recently more surveys became available for the full year of 2012 from PC world (desktops and laptops) and TechHive (smartphones, tablets). The results were:
-Apple still has the best smartphone. While Samsung overall client satisfaction is decent against Apple, it trails significantly in the reliability and customer support categories.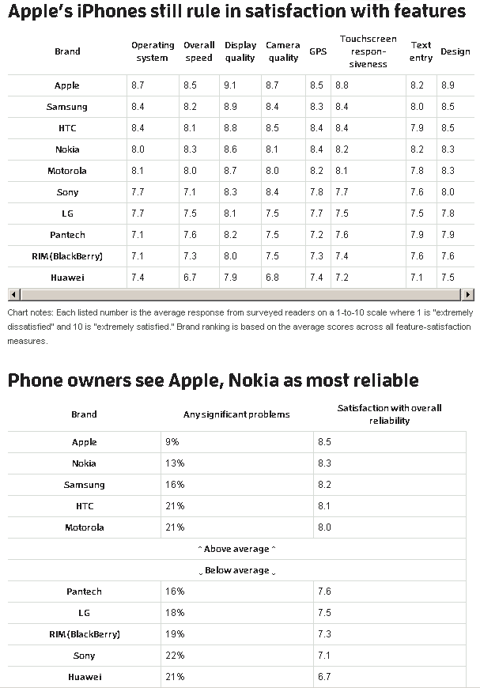 -Samsung only does well against Apple in the tablet space, and even there it loses to Apple in almost every category but one ("available ports," the lack of micro USB and SD cart port in the iPad are the main reasons for this).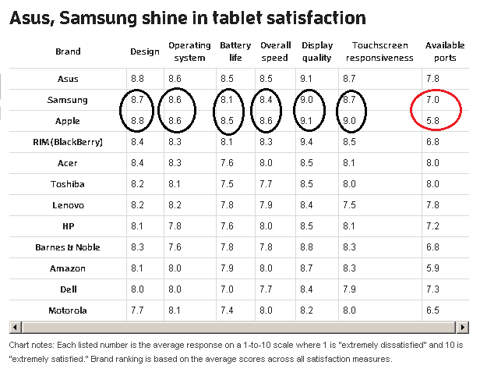 -Samsung trails significantly in the laptop market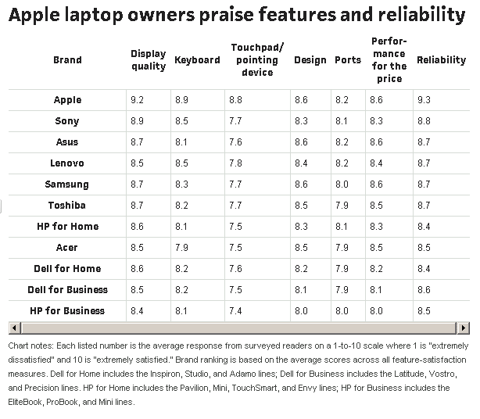 -Apple has more reliable products than the competition in almost every category.
-Apple's support is the best both in laptops but also in the smartphone market while Samsung does poorly especially on smartphones:
Laptops: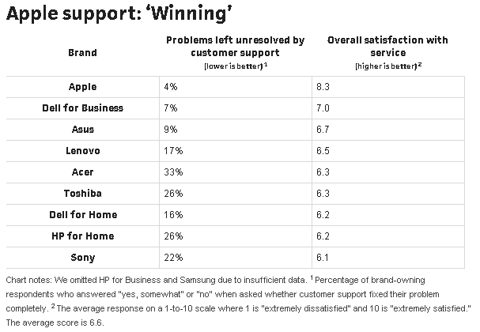 Phones: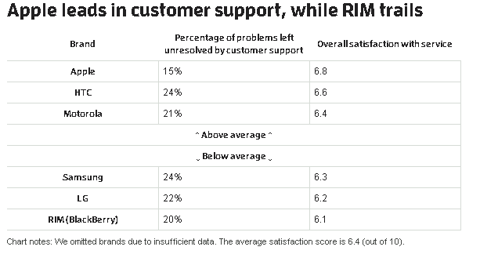 -Apple still has the easiest to use devices and leads the market in this category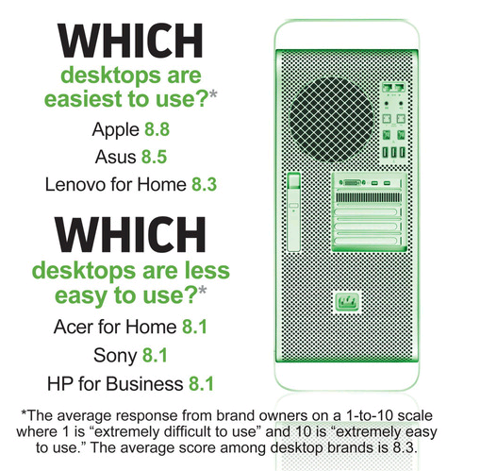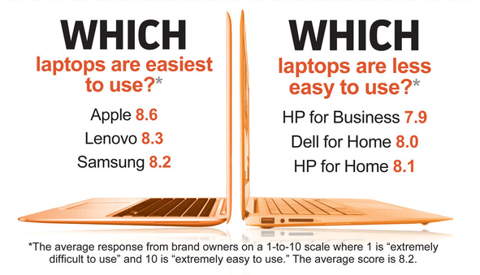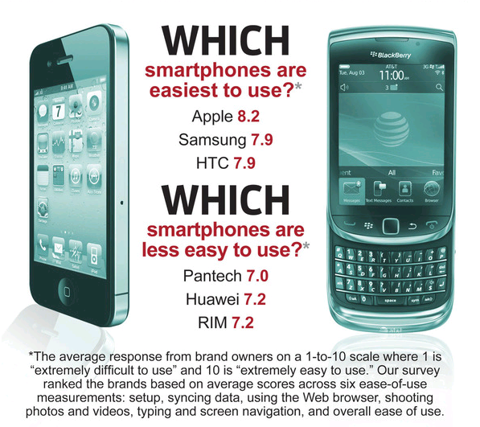 -Its clients frequently recommend the products to other people
-Samsung only leads the printer market, which Apple does not compete in.
In a lot of ways, Samsung seems to be a marketing machine more so than a true quality company.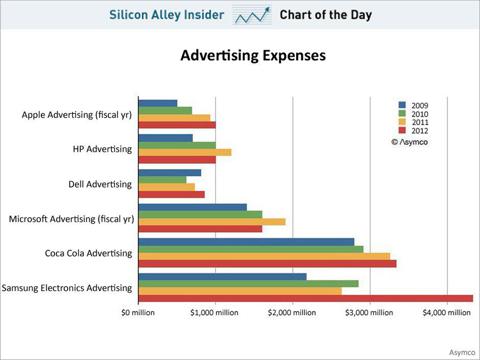 Samsung produces less net income than Apple even though it spends more than four times in advertising.
A key give away in the quality standard of these two companies is the fact that Apple has not produced an iPhone with a larger screen because it simply did not think it would produce something of quality due to trade-offs. Samsung had no problems making those sacrifices and ended up taking quite a bit of market share even though that frustrated a lot of clients who had to deal with less battery life, less durability of the screen, inferior display (326 dpi for the iPhone compared with 306 dpi for the Galaxy S3), among other issues. These types of issues hurt your reputation with your clients in the long term.
With the Samsung Galaxy S4 the company seems to be trying another set of tricks to achieve even more market share. It designed the device to be four cores rather than the usual dual-core setup. It is unlikely the vast majority of clients will need a four-core setup as most programs are not written to extract all the performance that they can from all the cores. As a matter of fact even in PC Gaming (one of the most hardware intensive activities) there is not a significant difference between dual cores and several-core computers in terms of performance. If these are the results for gaming one can only imagine them for the mundane activities most people engage in like web browsing, email, social media, GPS and light gaming. Even though it's unlikely people will need it, it will make it look better than the iPhone 5 in the spec to spec comparison. Other reputable SA contributors like Ashraf Eassa agree that this is marketing hype.
Another trick is the Air Gesture technology for the S4; it doesn't add anything material to the customer experience that is not already available in the multi-touch technology (the whole idea is that you do the same things, just without touching the screen) but it does make you cooler in ads.
The latest data indicates S4 sales have fallen short of expectations, so it looks like clients aren't falling for these tricks anymore.
Apple doesn't usually try these tricks; it set a level of quality standards higher and put the priority in customer satisfaction. (I say that even though I'm not much of an Apple customer other than owning a cheap iPod Nano.) The result of Apple's quality standard are repurchase intentions from clients that are above anything else in the industry:

This would not be possible if Apple was using tricks and a lot of marketing to induce clients to buy, then disappointing them later as the device broke, was hard to use and Apple offered bad customer support for the client to solve these issues.
I'm not concerned that Apple has not released a product in quite a while; the company is working on a quality product as it usually does. Even if Apple (NASDAQ:AAPL) is a little slow in getting things out (like the iWatch or iTV) it is more important to get something of quality out later than to get something of low quality out fast. If the company were to rush an iWatch to the market and it came full of bugs, clients would remember that and would be less likely to buy again from Apple. Client-company relationships tend to be similar to a lending transaction where the reputation of the company plays a role when people decide if they will trust it again. If you ruin your reputation it's hard to build it back.
Furthermore, the company is now playing in the mobile tech world, which is different compared with desktops where market shares tended to be sticky due the network effect (everybody had to buy Windows and MS Office because everybody else had Windows and MS Office). In Mobile computing this effect is less powerful. You have to deliver something good or clients walk away from you (which happened to BlackBerry). Being the first to take many clients is not as valuable as it was in the past. In a lot of ways Samsung seems to be trying the Microsoft strategy of the '90s of taking as much as market share as possible in a short period of time. Microsoft was fortunate that the network effect created a quasi monopoly for its systems, and it was able to continue to reign even though the company didn't produce software of good quality. This is unlikely in mobile computing as the transition of one OS device to another is much easier.
For the second half of 2013, the outlook for Apple looks good as it has a few products in the pipeline for the Fall and that is likely to support the stock. My outlook for the general stock market is bearish but I believe the stock will outperform the general averages.
Conclusion
I believe AAPL will deliver far more value to clients in this new mobile world than competitors like Samsung, who are trying hard to win short-term market share numbers instead of delivering better quality. I expect more and more people to realize this (especially given that social media "gets the word out" faster than in the past) and Apple to continue to win clients (especially in the middle- to high-end markets). Furthermore these clients are more likely to be long-term clients who will trust in the brand and continue to buy. I expect Samsung to have difficulty retaining clients frustrated with its customer support, reliability and overall products over the long term. I remain long AAPL stock.
Disclosure: I am long AAPL. I wrote this article myself, and it expresses my own opinions. I am not receiving compensation for it (other than from Seeking Alpha). I have no business relationship with any company whose stock is mentioned in this article.
Additional disclosure: I am not a registered investment advisor and do not provide specific investment advice. The information contained herein is for informational purposes only and I can't guarantee the accuracy of all the information presented in this article. Nothing in this article should be taken as a solicitation to purchase or sell securities. Before buying or selling any stock you should do your own research and reach your own conclusion. It is up to investors to make the correct decision after necessary research. Investing and trading includes risks, including loss of principal.