Surprising the market with the speed of separation of its animal health business, Zoetis (NYSE:ZTS), Pfizer announced a tax-free split-off via exchange offer (~80.2% stake in ZTS) on May 22, 2013, which was before the 180-day lockup period since the IPO of ZTS. Unlike in a regular spinoff, investors here will have to part ways with their PFE stock if they opt for the exchange offer.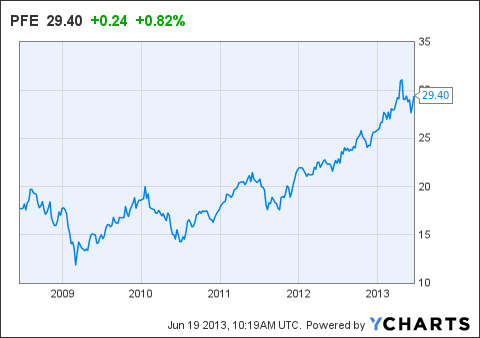 In the exchange offer, PFE shareholders can exchange all, some or none of their shares of PFE common stock for shares of ZTS common stock owned by PFE. To make the exchange offer enticing enough, PFE is offering a discount of 7% to the ZTS share price, subject to an upper limit of 0.9898 shares of ZTS stock per share of PFE stock. In simple words, for each $100 of shares of PFE common stock accepted in the exchange offer, shareholders will receive approximately $107.52 of ZTS common stock based on the average of daily VWAP of PFE and ZTS during the three consecutive days (which are expected to be June 17, June 18 and June 19, 2013). The final day for tendering PFE shares is June 19, 2013
Zoetis, Inc.
ZTS is a market leader in the animal health pharmaceuticals business. Its operations range from drug discovery and development to product manufacturing and commercialization of products such as anti-infectives (29%), vaccines (26%), parasiticides (16%), medicated feed additives (9%), other pharmaceutical products (17%) and non-pharma (3%). They focus on both livestock species such as cattle, swine, poultry, sheep and fish (65%) as well as companion animal species of dogs, cats and horses (35%).
ZTS has been part of PFE for more than 60 years and recently carried out an IPO of its Class A common stock, representing 19.8% of total shares outstanding. In connection with the IPO, ZTS completed a $3.65bn senior notes offering and were transferred assets and liabilities of the animal health business by PFE. With the split-off, PFE plans to sell its remaining 80% stake in ZTS.
Pfizer, Inc.
PFE is a research-based, global biopharmaceutical company. After the separation of ZTS it will operate into three segments: Innovative core, Value core and Consumer healthcare. Innovative core will constitute Primary Care, Specialty Care and Oncology while value core will constitute established products and emerging Markets. PFE sold its nutrition business to Nestle SA for $11.8bn in 2011.
PFE: Bigger picture awaits for patient investors in terms of a larger spinoff in 2016
Post Split-off of its non-core animal healthcare business; PFE will become a focussed global biopharmaceutical company with an innovative core business and a value core business. The exchange ratio will be EPS accretive for PFE as the reduction in number of shares will be more than offset the loss of ZTS (3.4% of FY12 EBIT). Under the strong leadership of CEO Ian Read (appointed in 2010 and got his stock awards compensation tripled in 2011), PFE has been taking bold strategic decisions to enhance shareholders return through a complete revamp of its portfolio (selloff of the nutrition business to Nestle SA for $11.8bn and now the separation of ZTS). We like PFE as it offers an attractive mix of 1) inexpensive valuations (13.1x FY13 PE which is at 21% discount to peers), 2) solid dividend yield of 3.3% and cash flow yield of 9.1%, 3) potential for positive pipeline news, 4) limited earnings risk, and 5) a probable spinoff of its innovative and value core businesses in 2016, which will unlock significant value for shareholders (similar to Abbott (NYSE:ABT) and its spinoff, AbbVie (NYSE:ABBV)).
Split-off via exchange to be value accretive for Pfizer (ex ZTS)
The exchange offer will deliver value to PFE's shareholders by reducing the number of its outstanding shares (by ~ 3%) in a cashless share buyback, which is tax-efficient, thereby being EPS accretive for PFE in spite of the separation from ZTS. At the same time, this transaction will favorably position PFE to focus on its core business as an innovative biopharmaceutical company post separation from its non-core animal healthcare business.
Given that ZTS has significantly lower margins than the rest of PFE (ZTS FY12 operating margin ~19% vs. 41% for combined PFE, net margin ~12% vs. 28% for PFE as a whole), we estimate that the Split-off will improve PFE's operating margins by roughly 170 basis points. Additionally, the transfer of $3.6bn of debt to ZTS will help PFE evolve into a much better leveraged P&L. Summing up, PFE shareholders will benefit from PFE (post Split-off) as it will have an operating margin that is roughly 170 bps higher, which means roughly 3% fewer shares outstanding in spite of a revenue base that is about 7% lower.
Strong product pipeline post generic erosion with potential upside surprises
With the major product expiries behind it (including its biggest blockbuster drug Lipitor), we believe that PFE has a potential of replacing the dried-up pipeline with a new promising product pipeline, which is currently in the development stage. We believe that continued strength in the Lyrica muscle pain therapy (now PFE's largest-selling drug) helped by new indications and greater market penetration, especially in emerging markets, along with volume gains in newer oncology agents such as Sutent and Inlyta, as well as the recent launches of Xeljanz and Eliquis should help offset generic erosion in off-patent drugs - Lipitor, Detrol and Xalatan.
A potential breakup in 2016 to add Real value for shareholders
While the split-off of ZTS (contributed just ~7.4% to FY12 combined revenue and 3.4% to FY12 combined EBIT) was considered to be just a small pie and a non-core business for PFE, we believe that investors opting to stay invested in PFE will be rewarded with a much bigger and true spinoff of PFE somewhere between 2015 and 2016. CEO, Ian Read, has already given enough indications (latest being in 1QFY13 results) about his plans to separate the functioning of PFE's Value and Innovative business segments while just stopping short of mentioning spinoff. We believe that a spinoff of PFE's Value and Innovative segments will be very much in-line with the success of Abbott's spinoff of AbbVie .
Strong management under the leadership of Ian Read
We believe the current CEO, Ian Read, a veteran with over 35 years in the business, has lived up to the expectations since his appointment in 2010, in the wake of the forced resignation of PFE's previous CEO Kindler. His appointment has seen the stock price of PFE jump by +69.1% vs S&P500 at +31.8%. As compared to his predecessor Kindler, the stock price of PFE declined 35.9% vs S&P 500 decline of 4.2%.
Bull Case: We anticipate a spinoff of value core business from Innovative core business and apply a multiple of 18.7x to innovative (similar to ABT) and 14x to value core (similar to ABBV) and discount it back to arrive at a target price of 34.31, implying an upside of 18.0% from the current price.
ZTS: Margin re-rating story; potential index inclusion a positive
Post IPO, ZTS has transformed into a pure-play animal healthcare listed entity with a market leadership position (~20% global share) in an industry growing at 7% annually. With a strong franchise build-up in the emerging markets (~26% of FY12 revenue) and a well-diversified revenue model, we believe that ZTS has a room for margin expansion as in spite of being the market leader it lags its peers in operating margin with FY12 margins at 19% as against closest peers having margins in the range of 25%-31%. Hence, we like this growth story, which would lead to EPS CAGR of 24.6% during FY12-14. However, the current PE multiple of 22.3x limits the upside till the company is able to show margin expansion. Our Base case target price of $35.29 implies an upside of 13.2% from the current levels. If purchased at a 7% discount, the upside through exchange offer the upside would be 21.7%.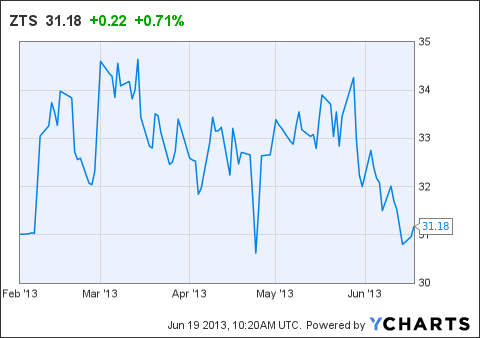 Pure-Play market leader in growing animal health market
ZTS is a market leader in the $22bn global animal healthcare industry with over $4bn in FY12 sales. It enjoys a dominant market share across all geographies, and holds the #1 position in North America, Latin America and Asia and the #2 position across Europe. It is also among the top 3 players in every relevant sub-sector of the industry. The animal health market is itself a growing market with roughly 7% annual growth in real terms over the last decade. With favorable macro trends such as the improved standard of living of the global middle class leading to higher consumption of meat-based protein and dairy as well as higher pet ownership and pet spending levels, the industry is likely to grow at a CAGR of 5.7% during FY11-16 as per Vetnosis, an animal health consulting firm. Given the size of ZTS within the animal health industry, we believe it too is favorably placed to register a mid single-digit top-line growth (in-line with the industry growth), driven by a mix of volume and price increases as well as new product introductions.
Significant presence in the emerging markets
ZTS has over the years made significant inroads into the emerging markets, which now constitute a substantial 26% of its FY12 sales. Apart from this, a significant 60% of its sales were generated from outside the US in FY12.
Well-diversified revenue mix
ZTS is diversified not just in geographic locations but also from a product line, species and therapeutic area standpoint. Its top 3 products account for just 20% of its revenues, while top 10 products account for around 40%. In case of species, the revenue mix is well balanced with livestock accounting for 65% and companion animal accounting for 35%.
Margin Expansion to drive EPS growth
With an operating margin of 19% for FY12, ZTS margins are at the lower end of the spectrum, while its competitors such as Elanco and Merial boast much superior margins at 25% and 31%, respectively, for FY12.
Notable advantages over the traditional pharma
Animal health industry has some notable advantages over human pharmaceutical industry. Firstly, it has a much less risky and less expensive R&D cycle and also does not face the post-patent expiration cliff as compared to the traditional pharma. Secondly, it faces very less third-party payer risk due to direct selling relationships.
Index entry potential
With more float after exchange offer and Mcap of $15.5bn, there will be a potential index entry opportunity in indices such as S&P 500 for ZTS.
Insider compensation
As per the new compensation policy, ZTS's CEO will have to hold shares five times his base salary within the next five years. This provides a good incentive for the CEO to improve shareholder value.
Risks Include...
Restrictions on the use of anti-invectives in food-producing animals, New trends emerging in distribution and selling of companion animal products, Competition from generic products and debt loaded onto ZTS balance sheet from PFE.
Bull Case: Our bull case scenario assumes a top-line growth higher than the overall industry growth. Since ZTS has a strong presence in emerging markets, a better-than-expected growth in these geographies can accelerate ZTS revenue growth. Coupled with margin expansions, we expect the EPS to register a CAGR of 26.5% during FY12-14. It is also possible that companies such as Merck and Sanofi spin off their animal health division, leading to a better value discovery and re-rating for ZTS in future. In that case, it is possible for ZTS to command a PE of 24x, a premium of 25% to its peer average. This would result in our Bull case target price of $37.90, implying an upside of 21.7% from the current levels.
How to Play the Situation
With a lot of enthusiasm from the market with this transaction, we believe that with only ~400m shares of ZTS available as against ~7bn outstanding PFE shares, the issue will be oversubscribed resulting in very low acceptance ratio. Our scenario analysis suggest that if only 10% of the current PFE shareholders tender their shares the acceptance ratio will be 57.9% (i.e. shareholders will receive 57 shares of ZTS for every 100 shares of PFE tendered). On the other hand if 100% of PFE shares are tendered the acceptance ratio will be as low as 5.8%.
Subscribe to exchange ratio but withdraw if upper limit is into effect: We recommend investors to exchange at least 50% of their shares of PFE for ZTS as the discount of 7% to ZTS share price would result in an upside of 21.7% to our base case target price of $35.29 for ZTS. However if the share price of PFE goes up or ZTS comes down we anticipate the upper limit exchange ratio of 0.9898 being into effect which would reduce the discount to ZTS shares below 7%. As a result, if by the time of final exchange ratio announcement the upper limit of 0.9898 is into effect we recommend shareholders to withdraw from exchange offer. If upper limit ratio is into effect the investors will get time to withdraw their tendered shares until June 20, 2013.
BMY/Mead Johnson exchange ratio as precedent
Similar to the current PFE/ZTS exchange offer, Bristol Myers Squibb (NYSE:BMY) had split off its 83% stake in the baby formula maker Mead Johnson (NYSE:MJN) in November 2009, following an IPO of its 17% stake earlier in February 2009. Post IPO, shares of MJN gave a whooping return of 148.2% over the next twenty months. Like in the case of the PFE/ZTS exchange offer, BMY shareholders were able to exchange their shares for MJN shares though at a much higher discount of 10%.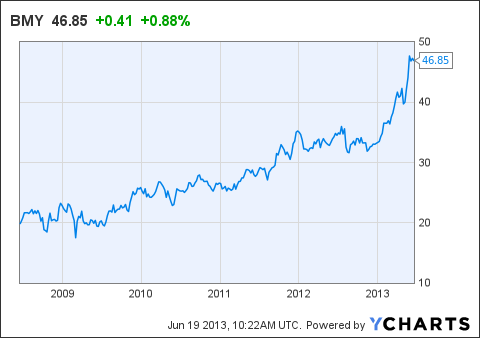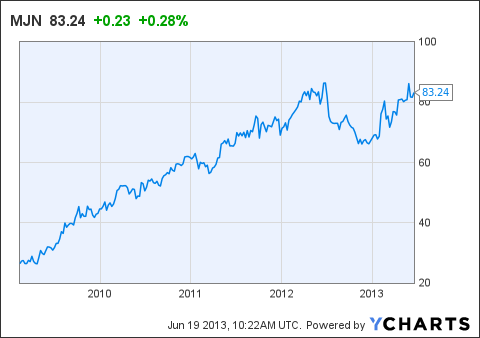 PFE is currently a Model Portfolio name within our in-house paper traded fund for The Distressed Report.
Disclosure: I have no positions in any stocks mentioned, and no plans to initiate any positions within the next 72 hours. I wrote this article myself, and it expresses my own opinions. I am not receiving compensation for it. I have no business relationship with any company whose stock is mentioned in this article.