By David Urani
Existing-home sales for May were up 4.2% from April to an annual rate of 5.18 million, and that was also above the 4.97 million consensus. Gains were seen in all regions. This was a solid result, and aside from one month in November 2009 that was artificially lifted by federal tax credits, this was the highest "natural" rate of existing-home sales since May 2007. Over on the supply side, inventories were up for a fourth month in a row, but at a 5.1-month supply this is still quite low in the grand scheme of things. In the meantime, median and average prices also rose during the month, hitting their highest levels since mid-2008.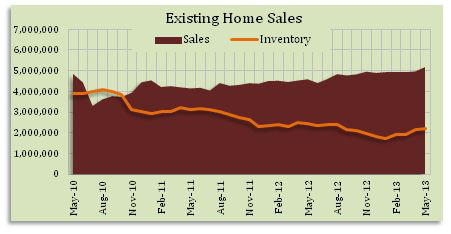 Overall, the home sales report was quite good all around, and on a usual day this would surely have housing stocks going higher. However, today was not a usual day in the wake of Fed-withdrawal panic. In fact, homebuilders took quite a beating with the Dow Jones U.S. Home Construction Index (a basket of homebuilding-related stocks) down a whole 6%. This decline started well before the home sales report, and in a way it's a surprise that the sales data did nothing to stem the slide.
As has been somewhat of a trend in the past month, interest rates are at the top of traders' minds. With increasing fear of Fed "tapering" has come a rise in interest rates off the lows, and of course there's some speculation that higher rates will decrease demand (we actually heard the opposite from Toll Brothers' (NYSE:TOL) CEO Yearley, who notes rising rates are increasing homebuyers' urgency to go purchase a home while rates are still low).
Indeed, rates have gone up from a low of 3.31% late last year to 3.93% for the Freddie Mac 30-year. For a $200,000 loan, that increases the monthly payment from approximately $1,130 to $1,200. But keep in mind that home prices themselves are also on the rise simply from supply and demand. In fact, there continue to be shortages of homes in many areas and buyers have been willing to pay up.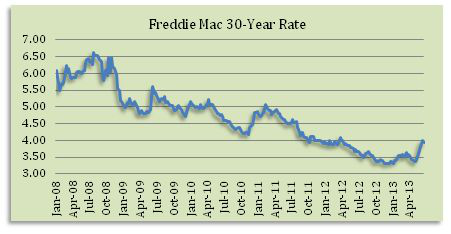 At some point, mortgage rates surely become a headwind for demand, but at just under 4.0% this is still historically quite a cheap rate to get for a homebuyer. In the meantime, the fundamentals of housing have continued to stay strong, and as we saw with today's existing-home sales report, buyers are still pouring in while prices remain firm. This means more rising sales and margins for homebuilders.