"Goodbye safe havens, hello risky assets" seemed to be the theme during the past week as investors placed their bets on a global economic recovery, propelling stocks and other risky assets higher amid better-than-expected earnings reports and tentative signs of stabilization in the U.S. job and housing markets.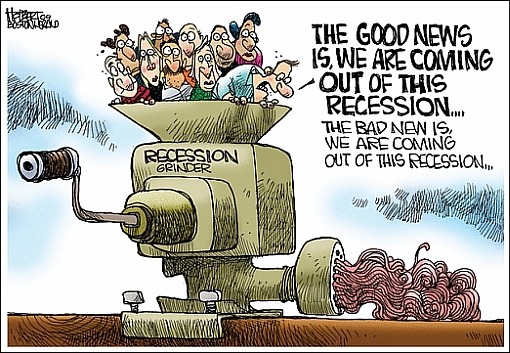 Source: Jerry Holbert, Comics.com, July 23, 2009.
Not only did the Dow Jones Industrial Index on Thursday breach 9,000 for the first time since January and the Nasdaq Composite Index notch up a streak of 12 consecutive advancing days, but other global stock markets, commodities, oil, precious metals, high-yielding currencies and corporate bonds also put in a stellar performance as a bullish mood prevailed.
Bonds and other safe-haven assets such as the US dollar and Japanese yen were out of favor as investors sought higher returns elsewhere. Also, the CBOE Volatility Index (VIX), or "fear gauge" was at its lowest level (23.1) since before the Lehman collapse in September.
The past week's performance of the major asset classes is summarized by the chart below - a set of numbers that indicates an increase in risk appetite.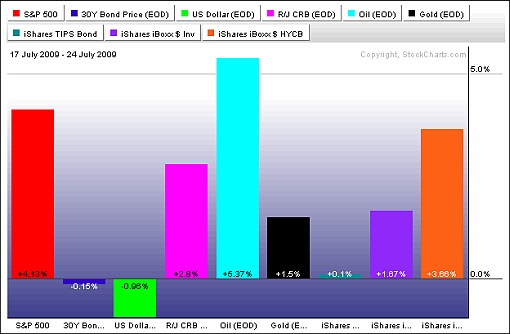 Source: StockCharts.com
A summary of the movements of major stock markets for the past week, as well as various other measurement periods, is given below. As the second-quarter corporate results in the US rolled in, the American and most other markets closed the week in solid positive territory.
The MSCI World Index (+4.6%) and MSCI Emerging Markets Index (+5.2%) last week again added to the rally's gains to take the year-to-date returns to +11.7% and a massive +45.3% respectively. Strikingly, the World Index advanced for ten straight sessions through Friday, whereas the Emerging Markets Index gained on nine of the past ten trading days.
The major U.S. indices are all back in the black for the year to date, with each index having fallen for only one day last week. Prior to a slight decline on Friday, the Nasdaq Composite Index experienced its best winning streak since 1992 as it rose for 12 sessions in a row.
Click here or on the table below for a larger image.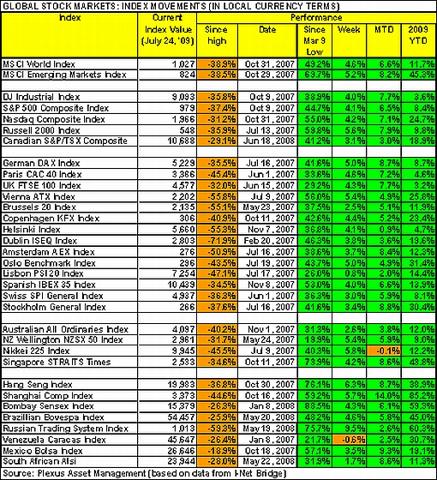 Stock market returns for the week ranged from top performers Romania (+11.1%), Russia (+9.5%), Egypt (+8.8%), Hong Kong (+7.9%) and Poland (+7.8%) to Greece (-3.6%), Bermuda (-2.5%), Jamaica (-2.0%), Côte d'Ivoire (-1.9%) and Bangladesh (-1.0%) at the other end of the scale.
Of the 97 stock markets I keep on my radar screen, a majority of 82% recorded gains, 15% showed losses and 3% unchanged. (Click here to access a complete list of global stock market movements, as supplied by Emerginvest.)
As an aside, the capitalization of China's stock market is currently $3.2 trillion compared with $11.2 trillion for the U.S. market, according to data compiled by Bloomberg. Mark Mobius, head of emerging markets at Templeton Asset Management, said (via MoneyNews) China might surpass the U.S. as the world's largest stock market in as little as three years, as China's state-owned companies will sell new shares and the nation's 1.4 billion people will put more of their money into the market.
Back to the corporate reporting season in the U.S. Of the 142 S&P 500 companies that have so far announced quarterly results, 111 came out ahead of earnings expectations, 10 in line and 21 below. While the earnings announcements thus far have been impressive at the headline level, the reports become less striking once one digs a bit deeper to discover that the earnings numbers often only beat estimates due to cost-cutting.
At the top line revenues are still deflating, indicating no pricing power. Specifically, 72 companies posted revenue that failed to live up to expectations. But the prospects are looking up as for the first time in quite a while many more companies are raising guidance versus lowering guidance.
John Nyaradi (Wall Street Sector Selector) reports that as far as exchange-traded funds (ETFs) are concerned, the winners for the week included Claymore/MAC Global Solar Energy (NYSEARCA:TAN) (+17.9%), PowerShares Biotech & Genome (NYSE:PBE) (+17.4%) and Market Vectors Solar Energy (NYSEARCA:KWT) (+15.9%). Among the country ETFs, Market Vectors Russia (NYSEARCA:RSX) (+ 12.5%) performed splendidly.
On the losing side of the slate, ETFs included "all things short" such as ProShares Short MSCI Emerging Markets (NYSEARCA:EUM) (-6.2%), ProShares Short QQQ (NYSEARCA:PSQ) (-5.0%) and ProShares Short Russell 2000 (NYSEARCA:RWM) (-4.9%).
As far as credit is concerned, the cost of buying credit insurance for US and European companies eased sharply during last week's trading, as shown by the narrower spreads for both the CDX (North American, investment-grade) Index (down from 131 to 118) and the Markit iTraxx Europe Index (down from 107 to 95).
CDX (North America, investment-grade) Index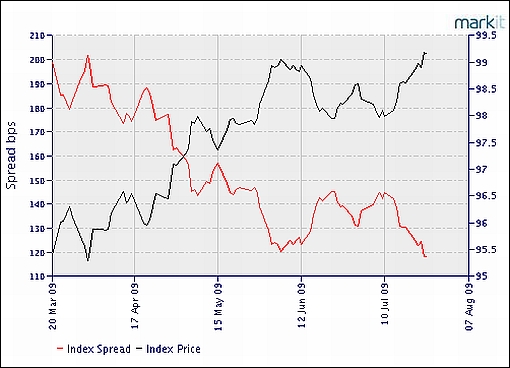 Source: Markit
The quote du jour this week comes from Bill King (The King Report) who said:
Sorry, Mr. President - you 'wasted a good crisis'. You, Ben, Hank, W, Little Timmy and Democratic Congressional leaders told Americans that the world would end unless U.S. taxpayers mortgaged whatever little future remained in order to provide record stimulus now. You and your ilk said there was no time to delay. Remember you said 'catastrophe' would occur if there was no stimulus. You and your team boasted that millions of jobs would be created. No jobs yet. But Goldman Sachs and other insiders minted more money and numerous crony capitalists were able to salvage as much net worth as possible.

Americans have yet to express the appropriate and proportional opprobrium at the ruling class. But as night follows day, they will; and the longer the delay, the more intense the reaction will be.

As we keep asserting, the underlying structural problems in the U.S. economy and financial system have not even remotely been addressed. There will be no significant recovery until the necessary restructuring occurs. And there can be no necessary restructuring until the requisite hellacious purge occurs.
Other news is that President Obama's healthcare reform got delayed as mounting concerns were voiced about costs. Elsewhere, CIT (NYSE:CIT) - a company which provides finance to almost one million small and medium-sized companies in the U.S. - on Monday received a $3 billion private rescue package, enabling the troubled finance group to avoid bankruptcy. Also, the Federal Deposit Insurance Corp (FDIC) closed six more banks on Friday, bringing the tally of U.S. bank failures in 2009 to 64.
Next, a quick textual analysis of my week's reading. No surprises here, with all the usual suspects such as "banks", "economy", "market" and "funds" featuring prominently.

The key moving-average levels for the major U.S. indices, the BRIC countries and South Africa (my home country) are given in the table below. All the indices trade above their respective 50- and 200-day moving averages.
Importantly, the 50-day lines are in all instances also above the 200-day lines and therefore not threatening the bullish "golden crosses" established when the 50-day averages broke upwards through the 200-day averages.
The June highs and July lows are also given in the table as these levels define a support area for a number of the indices.
Click here or on the table below for a larger image.

For more on key levels and the most likely short-term direction of the S&P 500 Index, Adam Hewison's (INO.com) short technical analysis provides valuable insight. Click here to access the presentation. (Adam also covered the outlook for crude oil, gold and the dollar/yen exchange rate in recent analyses. Click the links to view these.)
Interestingly, sentiment is still showing plenty of skepticism. "If twelve straight days of gains in the Nasdaq won't bring out the bulls, what will?" asked Bespoke. According to the most recent survey by the American Association of Individual Investors (AAII), bears (42.4%) among individual investors still outnumber bulls (37.6%). As far as newsletters are concerned, bullish writers outnumber bearish writers by a slim margin (36.7% versus 35.6%), as surveyed by Investors Intelligence.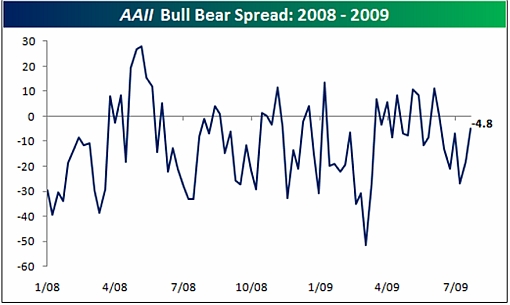 Source: Bespoke, July 23, 2009.
The 10-day average of daily advancers minus decliners is a useful indicator of stock market breadth and helps to identify inflection points. The chart below, courtesy of Bespoke, shows the 10-day advance/decline line for the S&P 500 Index. Said Bespoke:
… The recent rally has put the A/D line well into overbought territory and at a level that has indeed marked a peak during prior rallies in the past year. After 12 up days for the Nasdaq and an average gain of 13% for S&P 500 stocks since July 10, it's time for a breather.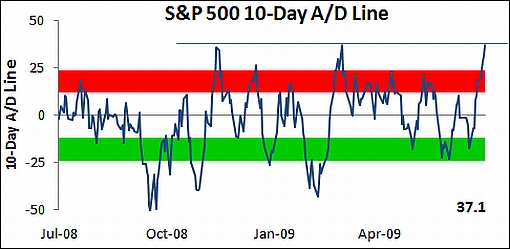 Source: Bespoke, July 23, 2009.
The long-awaited Dow Theory bull signal finally arrived on Thursday. This came about as a result of the Dow Jones Industrial Average and the Dow Jones Transportation Average both breaking through their previous rally peaks (registered on 12 and 11 June respectively).
Richard Russell, "Mr Dow Theory" and author of the Dow Theory Letters, forthwith replaced the bear on the first page of his daily newsletter with a long-horned Texas bull. The long-timer said: "I believe we are now dealing with an extended bear market rally (some will call it a cyclical bull market). But I'm operating on the thesis that a primary (secular) bear market is still in force (although it has been suspended for a while). In my opinion, the true final bottom for this secular bear market lies somewhere ahead.
"Remember, on March 9 very few of the items characteristic of a true bear market bottom were seen. There was no extreme pessimism, there were no huge bargains in stocks, and the public continued to be hopeful. On this evidence, I concluded that the final and true bottom of the bear market had not been seen."
While Dow Theorists delight in the bull signal, it is appropriate not to lose sight of the economic picture, as aptly summarized by David Rosenberg, chief economist and strategist of Gluskin Sheff & Associates:
Well, the S&P 500 surged 15% in the second quarter and what we did was go back in the history books to see what happens to the economy the very next quarter typically after such a big bounce and the answer is … just over 3% real GDP growth. So consider that de facto what is being discounted at this time for current quarter growth - it better be a humdinger of an inventory build.

Now, for the market to build on such a rapid advance in the current quarter, history again suggests that we would need to see 5.5% real GDP growth, which we give near-zero odds of occurring. Hence our call for a sputtering stock market through year end. Too much growth - and hope - are priced in at this point."
Although I maintain that stock markets are in a broad bottoming-out phase, I am concerned that prices have moved too far ahead of economic reality. I am therefore adopting a cautious approach in anticipation of the market working off the overbought condition and fundamentals reasserting themselves.
For more discussion on the direction of financial markets, see my recent posts "Video-o-rama: Dow back above 9,000", "Earnings - not what they seem?", "Dow Theory calls a bull market", "Coppock shows bottom in Treasuries", "Is the yield curve indicating better tidings?", and "US dollar about to pop?". (And do make a point of listening to Donald Coxe's webcast of July 24, which can be accessed from the sidebar of the Investment Postcards site.)
Economy
The latest Survey of Business Confidence of the World conducted by Moody's Economy.com:
Global business confidence continues to make steady gains. There was a substantive improvement last week in businesses' broad assessments of current conditions to its strongest level since just after the start of the current financial crisis nearly two years ago. Sentiment in the US also improved notably last week.

Despite the steady improvement in confidence it remains consistent with ongoing global recession.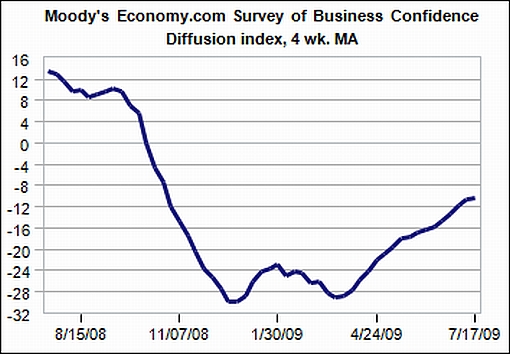 Source: Moody's Economy.com
Ifo reported that its Business Climate Index for industry and trade in Germany rose again in July.
The firms are no longer quite as dissatisfied with their current business situation as in the previous month. They are again less skeptical regarding business developments in the coming half year. It seems that the economy is gaining traction.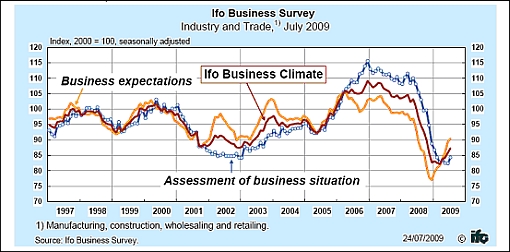 Source: Ifo, July 24, 2009.
However, Rebecca Wilder (News N Economics) warns:
… A compilation of indicators shows that the recovery is tentative at best - more likely, a global bottom has not yet been found. The leading indicators are stronger in some countries; exports are still declining at an annual pace of 20%+ but stabilizing; and volatile retail sales growth rates are, well, quirky.
Stephen Roach, chairman of Morgan Stanley Asia, is also downbeat about the global economic outlook, saying (via MoneyNews):
Sorry to break the news, but the financial crisis is not over. You've got plenty more write-offs of bad paper to come. Developed economies haven't broken out of recession yet. Seventy-five percent of the world's economies today are still contracting, and the biggest piece on the demand side of the global economy is the American consumer, who is dead in the water.
A snapshot of the week's small number of U.S. economic reports is provided below. (Click on the dates to see Northern Trust's assessment of the various data releases.)
July 24
•Tracking a few of the Fed's extraordinary programs
July 23
•June Existing Home Sales report - sales, inventories and prices moving in the desired direction
•Initial jobless claims increase; decline in continuing claims is misleading
July 22
•Housing market update - mortgage applications and FHFA House Price Index
July 21
•Fed's exit strategy - a deft and fortunate Fed?
July 20
•Leading Economic Indicators - history suggests economic recovery is around the corner
The Conference Board's Index of Leading Economic Indicators came in above expectations in June, gaining 0.7% against May and rising for the third consecutive month. However, David Rosenberg (Gluskin Sheff & Associates), cautioned not to get all excited about this green shoot.
… The 'here and now' indicator (the coincident index) is still showing declines (now down eight months in a row) and the level, at 100.3, is the lowest since September 2004. As the chart below shows, recessions do not end until this metric carves out a bottom (irrespective of the coincident/lagging ratio).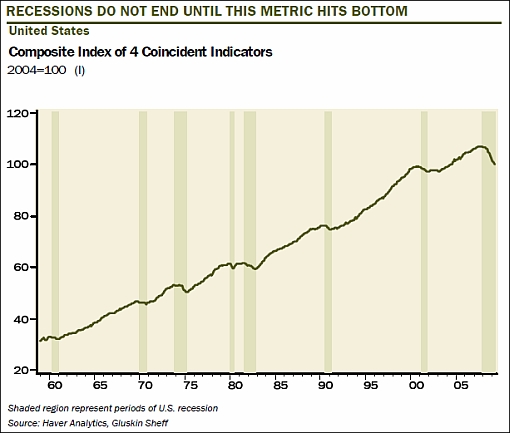 Source: David Rosenberg, Gluskin Sheff - Breakfast with Dave, July 23, 2009.
In his semiannual Monetary Policy Report to Congress on Tuesday, Fed chairman Ben Bernanke said:
The FOMC anticipates that economic conditions are likely to warrant maintaining the Federal funds rate at exceptionally low levels for an extended period. I want to be clear that we have a very long haul here because, even if the economy begins to turn up in terms of production, unemployment is going to stay high for quite a while, so it's not going to feel like a really strong economy.
Is Bernanke's scenario the one the stock market is discounting?
Week's economic reports
Click here for the week's economy in pictures, courtesy of Jake of EconomPic Data.
| | | | | | | | |
| --- | --- | --- | --- | --- | --- | --- | --- |
| Date | Time (NYSE:ET) | Statistic | For | Actual | Briefing Forecast | Market Expects | Prior |
| Jul 20 | 10:00 AM | Leading Indicators | Jun | 0.7% | 0.5% | 0.5% | 1.3% |
| Jul 22 | 10:30 AM | Crude Inventories | 07/17 | -1.80M | NA | NA | -2.81M |
| Jul 23 | 8:30 AM | Initial Claims | 07/18 | 554K | 540K | 557K | 524K |
| Jul 23 | 10:00 AM | Existing Home Sales | Jun | 4.89M | 4.85M | 4.84M | 4.72M |
| Jul 24 | 9:55 AM | Michigan Sentiment -Revised | Jul | 66.0 | 64.5 | 65.0 | 64.6 |
Source: Yahoo Finance, July 24, 2009.
The U.S. economic highlights for the coming week include the following:

Source: Northern Trust
Click here for a summary of Wells Fargo Securities' weekly economic and financial commentary.
Markets
The performance chart obtained from the Wall Street Journal Online shows how different global financial markets performed during the past week.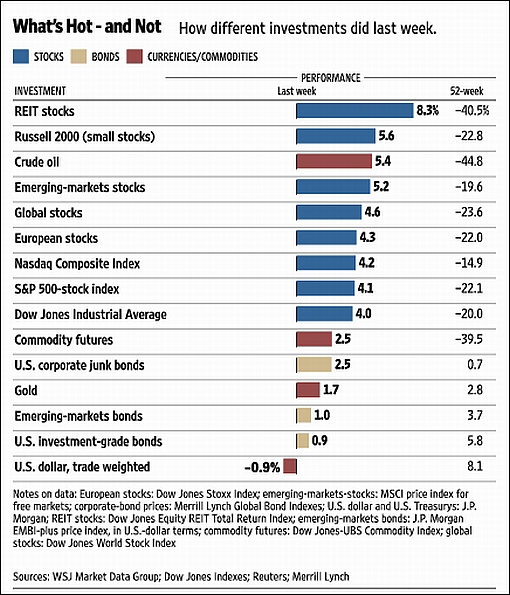 Source: Wall Street Journal Online, July 24, 2009.
"As a general rule, the most successful man in life is the man who has the best information," said Benjamin Disraeli, British Prime Minister and novelist in the 19th century. Let's hope that the news items and quotes from market commentators included in the "Words from the Wise" review will assist Investment Postcards readers to assimilate appropriate information for taking correct investment decisions.