Top activist investors typically look for companies that can unlock significant shareholder value through a specific corporate event, such as a sale, liquidation or recapitalization.
Activists scour the investment landscape for companies that are not controlled, i.e., firms in which senior executives and directors have a relatively small percentage of the overall shareholder vote. This allows aggressive outside investors to pressure corporate incumbents to take the actions required to bring about positive change. If insiders refuse to maximize shareholder value, skilled activists may be able to remove them through a proxy contest or an outright acquisition of the company via an unsolicited tender offer.
We routinely monitor the acitivities of top activist investors, such as Bill Ackman's Pershing Square Capital Management, Dan Loeb's Third Point, David Einhorn's Greenlight Capital, Chris Hohn's Children's Investment Fund, Carl Icahn's Icahn Partners, and Eddie Lampert's ESL Investments. We have also developed a proprietary stock screening methodology that seeks to identify companies ripe for activist shareholder involvement. Such companies typically trade at low multiples of tangible book value, have significant net cash holdings, and have insider ownership of less than 20% of the total voting power.
Several of the companies shown in the following table are already a target of activist investors. These companies include Trident Microsystems (TRID), Facet Biotech (FACT), Adaptec (OTC:ADPT-OLD), and Nabi Biopharma (NASDAQ:NABI).
Investing in companies that may be targeted by activist investors can be a profitable investment strategy. Two weeks ago, our proprietary activist stock screen was topped by QLT (QLTI), a company trading at a significant discount to its holdings of net cash. As of last Friday, QLT shares had appreciated by roughly 50%. Despite the jump, the shares still trade for less than "net net" current assets and are yet again in the top five screen results.
The company topping the latest screen results is Silicon Graphics (NASDAQ:SGI), a leader in large-scale clustered computing, high-performance storage, and data center enablement and services. SGI trades at a negative enterprise value, with "net net" current assets equal to 142% of recent market value. While the simple fact that SGI scores well on our activist screen is no guarantee of strong future investment performance, the shares may represent a good place to look for potential outperformance. As always, do your own due diligence prior to investing.
Click here for a PDF version of the following table.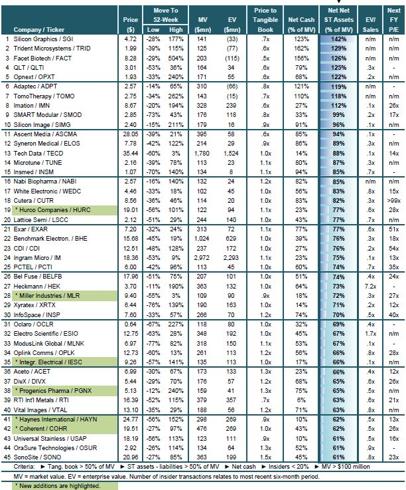 Disclosure: No positions.