WTI crude oil (NYSEARCA:USO) and copper (NYSEARCA:JJC) are used in industrial processes and therefore have had a robust historic relationship. This relationship broke down at the end of April, with WTI crude oil's price rallying and copper's price falling. The divergence worsened further in July, hitting a climax early Wednesday when oil reached 99.00. This divergence appears to be correcting, with WTI crude oil falling at the time of this writing to 96.50 matching copper's fall to 3.11, although WTI crude oil is still playing catch up.
Below is a 1 year daily chart with WTI crude oil's price on the right axis and copper's price on the left axis. I've circled points of divergence in the past year, which have eventually converged.
images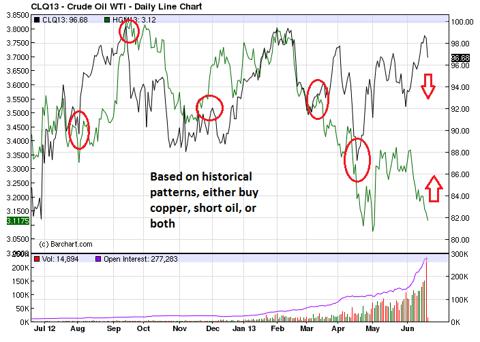 On a 5 year weekly chart the relationship also holds. It is noteworthy that copper's large selloff at the beginning of this year has yet to be matched by oil.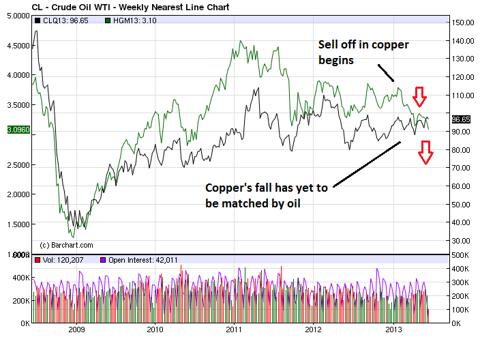 This selloff in both copper and oil is understandable given the inventory situation of each. copper's 30 day warehouse stock levels at the London Metals Exchange have rallied sharply in June.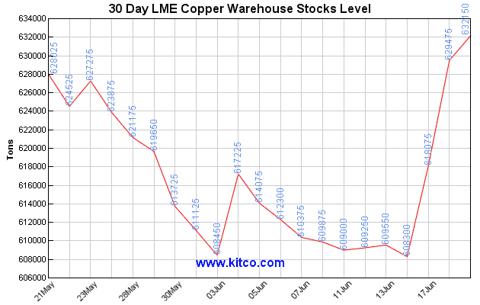 Inventories are also climbing in WTI crude oil.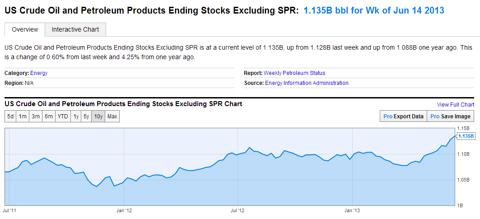 Much of this build-up in inventories can be attributed to China's slowdown, which received more bad news yesterday with a big miss on HSBC Manufacturing PMI. The index has been trending down since 2010 and came in yesterday with a reading of 48.30 versus expectations of 49.40.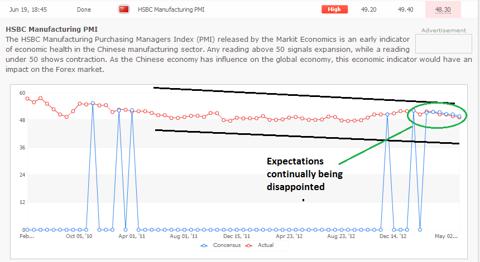 The blue dots represent consensus estimates, which aren't available for all months, but in the past few months the red dot has typically been below the blue dot indicating expectations have disappointed more often than not.
Will Supply Equal Demand or are there Other Factors at Play?
I have a large short position in WTI crude oil so I'm admittedly biased, but I'm confident that supply will eventually meet demand. Copper and oil inventories confirm that industrial activity is not as robust as the rise in the S&P 500 (NYSEARCA:SPY) would suggest, and China's worsening economic picture has serious ramifications for demand. From a purely fundamental standpoint, there is nowhere for prices to go but down.
There is one massive risk to shorting oil, and that is if protests in Brazil and Turkey worsen. If another Arab Spring breaks out, prices for oil could break through 110.00 per barrel. When this happened previously, copper did not follow suit. This also indicates that if tensions subside in the Middle East, the bottom should fall out of WTI crude oil.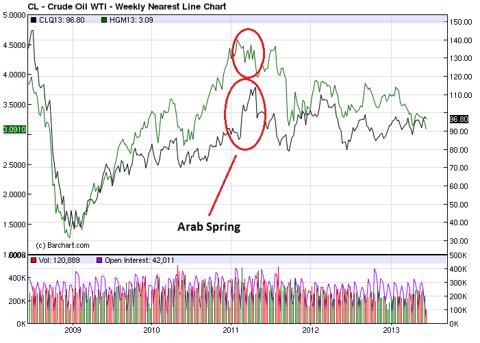 With a clear fundamental picture for WTI crude oil confirmed by copper's price action and inventory levels, it comes down to whether tensions in the Middle East subside. I'm betting on peace. Hopefully I am right.
Disclosure: I am short USO. I am actively trading FOREX and CFDs and may either be long or short the instruments discussed at the time of this article's publication. To see a complete list of my open trades in real time, visit mcnultycapitalmanagement.com. I wrote this article myself, and it expresses my own opinions. I am not receiving compensation for it (other than from Seeking Alpha). I have no business relationship with any company whose stock is mentioned in this article.