We were shocked that CenturyLink (NYSE:CTL) reduced its annualized dividend from $2.90/share to $2.16/share in February, especially because it continues to have the best revenue trend of the historically rural local exchange carriers (Frontier (NYSE:FTR) and Windstream (NASDAQ:WIN)). However, we're pleased that the share price has bounced back by 10% since it took a 25% drubbing in February in the wake of its dividend cut. CenturyLink still yields 6% and we believe its management will recognize that negative blowback that their dividend cut announcement generated in February and they will move heaven and earth to protect the dividend going forward. CTL's year-over-year revenue decline in Q1 2013 was 2.1% and this was narrower than the 2.68% achieved in Q1 2012.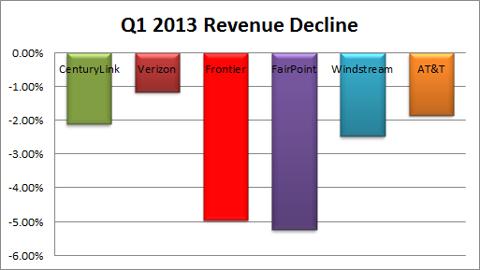 Source: MRQ Reports for CTL, VZ, FTR, FRP, WIN and T
While CenturyLink's credit profile was not as strong as AT&T's (NYSE:T) or Verizon's (NYSE:VZ), it was still an investment grade company before it announced it was cutting its dividend and buying back shares. AT&T and Verizon were larger and stronger than CenturyLink because those companies operating its own wireless communications network. While CenturyLink does not operate its own wireless network, it has a smaller wireless presence due to its reseller agreement with Verizon Wireless and its wireless backhaul operations. Although CenturyLink's Net Debt/EBITDA of 2.7X was above the 2.5X that the credit rating agencies wanted in order to maintain the investment grade rating, it was better than the 3.3X and the 3.7X EV/EBITDA ratios that its rural telecom peers Frontier and Windstream have. We also expected CTL to reach revenue stability in FY 2014 due to its improving revenue trends.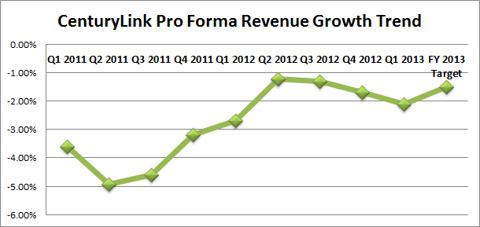 Source: CenturyLink's last nine Earnings Releases
Evaluation of CenturyLink's Business Segments
Consumer: Strategic revenues for CTL's Consumer segment to continue to make up a larger share of division revenues and to offset in wireline revenue declines. Q1 2013 strategic communication services revenues grew by $32M on a year-over-year basis and reached $620M in the quarter. Strategic revenues and data integration revenues now make up 41.1% of the division's revenues, versus 37.7% for Q1 2012 levels. This helped the division partially offset an 8.7% decline in legacy services (primarily wireline) and resulted in a 3.4% segment revenue decline. RMG also ended the period with over 104K Prism TV (advanced next generation fiber-optic television) subscribers, an increase from the 44K in Q2 2011. 90% of new Prism TV customers also subscribed to CenturyLink's broadband services and Prism TV is now in 10% of available homes in the CenturyLink service area.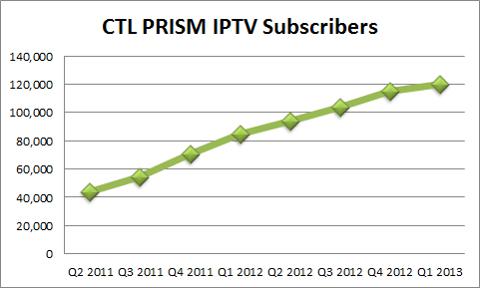 Source: CenturyLink's last eight earnings releases
Business: We were satisfied that strategic revenues for the Business segment increased by 6.4% for Q1 2013 and surpassed $600M ($615M). This segment's revenue only declined by $4M year-over-year as its strategic revenue growth was offset by a $5M decline in revenues from data integration services and a 4.6% decline from legacy services. The segment benefited from positive operating leverage in that total segment expenses declined by 3.2% versus the prior year period and this enabled the segment to enjoy $25M (4.2%) growth in segment income (excluding depreciation and amortization expenses.
Wholesale: The Wholesale segment's strategic services revenues declined by 1.55% in the quarter versus prior year's quarterly period. This was driven by wireless carrier bandwidth expansion and Ethernet sales but was offset by declines in copper-based revenue. Legacy services revenues declined by 12% due to decreased wireline customers served and reflecting the continued decline in legacy revenues primarily driven by the implementation of access rate reductions effective July 1, 2012 in accordance with the FCC's Connect America and Intercarrier Compensation Reform Order and lower long distance and switched access minutes of use. Total segment revenues declined by 5.7% in the quarter versus the comparable quarter last year.
Direct and allocated segment expenses excluding depreciation and amortization declined by 12% and this helped keep the segment income decline to 2.6%. Total revenue during the quarter was $907M and strategic communications revenues accounted for over 63% of division revenues. CenturyLink's Wholesale Markets revenue declines were narrower than the 17% that Windstream saw in Q1 2013. CTL's Wholesale segment completed approximately 4,500 fiber builds during FY 2012 and 800 in the first quarter, ending the quarter with about 15,500 fiber-connected towers. WMG currently remain on track to complete 4,000 to 4,500 fiber builds in 2012. This effort is to position CenturyLink WMG to benefit from significant growth in wireless data demand.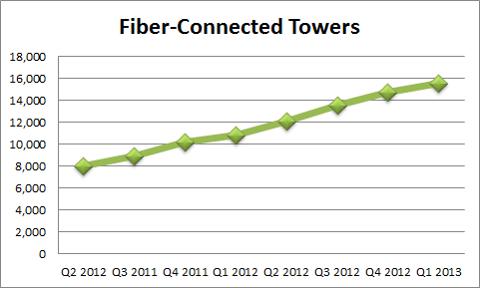 Source: CenturyLink's last eight earnings releases
Data Hosting (primarily Savvis): Savvis's operating revenues reached $334M in the quarter and grew by 7.7% versus Q1 2012 levels. Colocation revenues were $144M and grew by 4.3% while managed data hosting revenues were $125M and grew 20% over the same period, which included $15M from the acquisition of certain assets of Ciber's IT Outsourcing business in mid-October 2012, which enhances and expands CenturyLink's capabilities in areas such as application-management services and help-desk support. Savvis launched savvisdirect in December 2012 to better position the product portfolio to better address the needs of customers of all sizes and recently announced the acquisition of AppFog. AppFog, Inc., a fast-growing Platform-as-a-Service provider used by more than 100,000 developers - with hundreds joining daily - who have deployed more than 150,000 applications.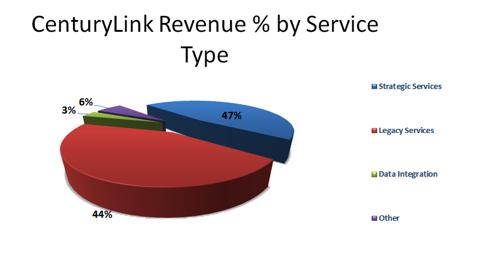 Source: CenturyLink Q3 2012 Earnings Release
Corporate-Level Performance
CenturyLink generated over $1.4B in operating cash flows during the quarter and $800M in free cash flows. The company ended the quarter with an annualized operating expense synergy run rate of approximately $550 million from the Qwest acquisition. CenturyLink currently expects to exit 2013 with approximately $600 million in annual run-rate synergies related to the Qwest acquisition as operating expense savings are being achieved earlier than anticipated. CenturyLink's reported EPS increased by $.16 year-over-year (50%) and its adjusted EPS increased by $.08 year-over-year (11.8%). This exceeded the consensus analyst estimates by $0.07/share and prompted the analyst community to increase its FY 2013 EPS estimates by $0.08/share in the last 90 days. CenturyLink's year-over-year EPS growth was due to reduced operating expenses, depreciation/amortization and interest expenses. The good news is CTL repurchased $384M shares net of share issuance but on balance we would have preferred that money used to fund dividend and debt maturities.
Conclusion
In conclusion, we are disappointed that CenturyLink's solid and decent performance for 2012 was overshadowed by its shocking deep dividend cut. CenturyLink's wireline performance is a strong competitor to the wireline operations of AT&T and Verizon and it is a stronger competitor than Windstream, Frontier and FairPoint. We believe that the shocking deep fall that CenturyLink's shares saw on February 14th have created a strong buying opportunity for income-oriented, risk averse investors. We like that CenturyLink's dividend yield of 6.1% is still above the 5% on AT&T and the 4.6% on Verizon and that its 2013 performance is expected be stable relative to 2012 levels.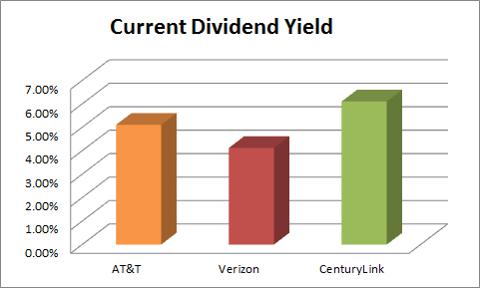 Source: Morningstar Direct
Disclosure: I am long CTL. I wrote this article myself, and it expresses my own opinions. I am not receiving compensation for it (other than from Seeking Alpha). I have no business relationship with any company whose stock is mentioned in this article.
Additional disclosure: This article was written by an analyst at Saibus Research. Saibus Research has not received compensation directly or indirectly for expressing the recommendation in this article. We have no business relationship with any company whose stock is mentioned in this article. Under no circumstances must this report be considered an offer to buy, sell, subscribe for or trade securities or other instruments.