Stryker (NYSE:SYK) entered the neurovascular intervention market when it acquired Boston Scientific's (NYSE:BSX) neurovascular division in October 2010.
Since the unit realized worldwide revenue of $340 million before the acquisition was finalized in January 2011, we estimate that the $1.5 billion transaction valued the division at 4.3 times sales.
At the time of the acquisition, Boston Scientific was the leader in the neurovascular field with a broad line of devices including the GDC, Matrix and Target detachable Coils, pre-shaped microcatheters, nitinol guidewires and two leading intracranial stents; the Neuroform for stent assisted coil insertion and the Wingspan for cerebral ischemia.
However, Boston's focus on coronary drug eluting stents and cardiac rhythm, coupled with its need to service the large debt incurred during its $27 billion Guidant acquisition, affected its competitive focus and sales were declining after reaching a peak US$360 million in 2008.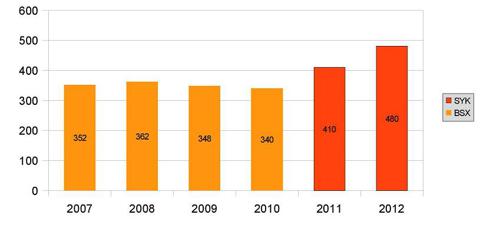 SYK: Neurovascular Sales ($Millions) - Medtech Ventures
The acquired business complemented Stryker's neurosurgery products range and positioned it as the leading player in the neurovascular field. Stryker consolidated its lead with two more acquisitions; Concentric Medical and Surpass Medical.
|   | BSc Neurovascular | Concentric | Surpass |
| --- | --- | --- | --- |
| Purchase price | $1,450 | $135 | $100 |
| Contingency | $49 | - | $33 |
| Total Price | $1,499 | $135 | $133 |
In August 2011, Stryker acquired Concentric Medical, a privately held company developing and marketing neurovascular thrombectomy devices, for $135 million.
Concentric had launched its first product, the Merci Retriever, globally in 2004 and its second product, the Trevo Retriever in Europe in 2010, and was already realizing over $50 million in global sales. The Trevo Retriever, the first device to utilize Stentriever technology to retrieving clots from the neurovasculature, received FDA marketing authorization in August 2012.
In October 2012, Stryker acquired Surpass Medical, a privately held company developing and commercializing next-generation flow diversion stent technology to treat brain aneurysms, for $133 million in cash and milestone payments.
Surpass' key product, the NeuroEndoGraft aneurysm flow diverter, received CE Mark approval in August 2011 and was undergoing a very limited launch in Europe with minimal sales. Following the acquisition, Stryker began enrolling patients in the U.S. for an IDE clinical trial.
Stryker is the second major medical device company to acquire a cerebral aneurysm flow diverter, after Covidien (NYSE:COV) acquired ev3, with its Pipeline Embolization Device, for $2.6 billion in July 2010.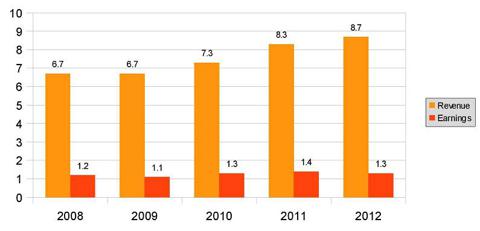 SYK: Five Year Revenue & Earning - $Billions
Founded in 1941 by Dr. Homer Stryker, a prominent orthopedic surgeon and the inventor of several orthopedic products, Stryker is a solid company that has been delivering consistent returns for years.
Over the past fiver years, revenue has been growing by an average of 6% per year while earnings have grown by an average of 4% per year. During 2012, earnings accounted for an impressive 15% of sales, a decline of 1% of their five year average.
We believe that Stryker made its neurovascular acquisitions at relatively low valuations, entered the lucrative neurovascular space at a relatively low cost and, despite the fact that neurovascular currently accounts for a mere 6% of its total sales, managed to balance its declining orthopedics margins with the lucrative yield that neurovascular currently delivers.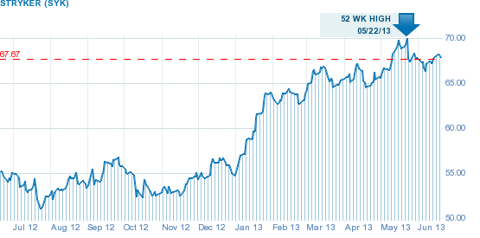 Stryker has been slightly down from its high for the year, however its P/E is still hovering around 20, rather rich for a large cap medtech. However, given how its managers strategized, executed and implemented their entry into the neurovascular space, I would say this company is a good long term store of value in the current turbulent environment.
Further Reading:
Neurovascular Intervention Market - New Strategic Landscape and Acquisition Opportunities
Disclosure: I have no positions in any stocks mentioned, and no plans to initiate any positions within the next 72 hours. I wrote this article myself, and it expresses my own opinions. I am not receiving compensation for it (other than from Seeking Alpha). I have no business relationship with any company whose stock is mentioned in this article.