Real-time Monetary Inflation (per annum): 4.4%*
There was good news for investors of nearly every stripe last week. In the end, though, those whose bets banked on rising inflation fared best. In fact, the week's market action produced a near-clean sweep on the inflation indicator tote board.
Let's look at the numbers. First there was a 2.1% uptick in the price of gold. The yellow metal continued to inch higher when bargain hunters swept in after an early July sell-off to the $905 level.
Oil prices jumped 8.3% on the week, though you'd be hard-pressed to find fundamentals that would support such a rise. Nonetheless, fuel prices are a primary inflation driver, so its box gets ticked.
The U.S. dollar, too, was taken to account last week. Against the competing reserve currency, the euro, Yankee greenbacks lost 1.1%. Cheaper dollars make our exports more competitive, but make imports and foreign travel more costly.
The Treasury yield curve steepened by 12 basis points (0.12%), meaning long bond yields rose relative to Treasury bills in compensation for increased inflationary expectations. In sympathy, the price of the iShares Barclays Capital TIPS Fund (NYSE Arca: TIP), a proxy for inflation-protected Treasury paper, ticked up 0.01%.
Banks are, in fact, advertising that they're back in the risk business. The spread between T-bills and interbank lending rates shrank 2 basis points this week. That may not sound like much movement, but when you consider that the three-month Libor's only 50 basis points, it's not chicken feed.
All the foregoing was reflected in this week's 47-basis-point uptick in our real-time monetary inflation rate. That's the indicator you see updated daily in the subhead of each Desktop column. The average rate of monetary inflation since the 2006 base year is 4.4% per annum. As you can see from the inflation index chart below, however, the average number can vary significantly from the rate for a discrete time period. The 12-month inflation rate, as an example, is negative 3% now.
Monetary Inflation Index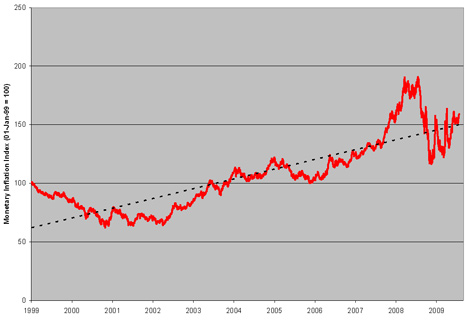 So score this week in favor of the inflationistas, but get ready to place your bets on next week's winners.