General Mills (NYSE:GIS) is scheduled to report its fourth-quarter 2013 earnings on Wednesday, June 26. Below I have highlighted this quarter's earnings estimates as well as provided a fundamental look at the company's financial position and valuation.
Profile and Estimates
General Mills has a market cap of $31.19 billion and had annual sales last year of $16.6 billion. Shares currently trade for $48.31 and are up 23.47% YTD and are 35.96% above their 52-week low of $35.61 per share.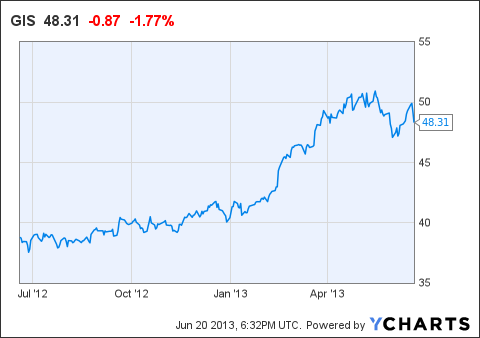 GIS data by YCharts
Analysts have a mean target price of $49.94 and a median price target of $50.00 on the shares. This quarter, analysts on average are expecting EPS of $0.53 on revenues of $4.32 billion.
Below are valuation metrics that I have compiled based on next year's EPS estimates and the company's 5-Year P/E ratios.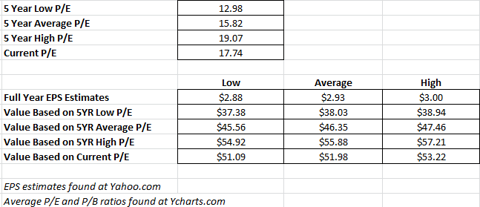 Based on this analysis, General Mills' current P/E of 17.74 is higher than the average 5-Year P/E but the price target of $49.94 indicates a slightly lower valuation. Based on the current P/E and the average estimated earnings growth this year of 8.5%, to $2.93 per share, shares would be valued at $51.98 (7.5% upside).
Fundamental Analysis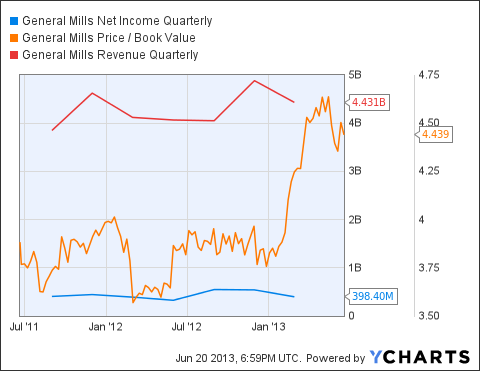 GIS Net Income Quarterly data by YCharts
From the graph above, we see that over the past two years the company's revenues and net income have held steady, with no material change yet P/B has risen approximately 18.5% this year. Currently, GIS trades at a slight discount to the industry's average P/B of 4.7 but both are above GIS' 5-Year average 3.9.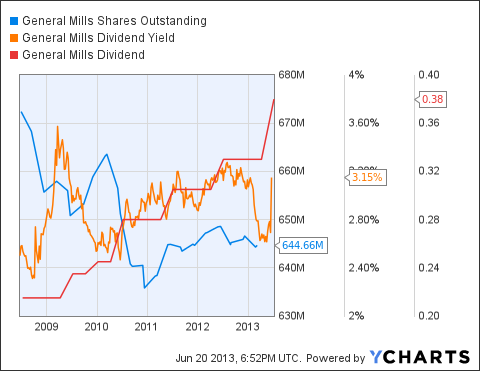 GIS Shares Outstanding data by YCharts
I have included the graph above to display how consistently General Mills has returned value to its shareholders via share repurchases and dividend payments that have increased steadily over the past five years. The current dividend yield is 3.15%.
Bottom Line
General Mills appears to be valued with some of its future earnings priced in but it's hard to argue that it is too overvalued considering its strong brands and healthy shareholder returns. As always, this quarter will help give a glimpse at how the company has dealt with higher input costs, which will ultimately be its largest long-term challenge. Keep an eye out for earnings and new developments when the company reports fourth-quarter earnings on Wednesday.
Disclosure: I have no positions in any stocks mentioned, and no plans to initiate any positions within the next 72 hours. I wrote this article myself, and it expresses my own opinions. I am not receiving compensation for it (other than from Seeking Alpha). I have no business relationship with any company whose stock is mentioned in this article.