As one can see on the chart below, in the last 18 months sugar has been trending lower, depreciating 30% and dragging futures to their lowest levels in three years. There is no denying the direction of the trend, and until we see prices retake the down sloping trend line, we are grasping at straws. However, I think aggressive traders can wade into bullish trade, as I think prices penetrate that trend line in the coming weeks. Just this week, the 50 day MA (light blue line) was probed and though it failed, an advance above that pivot point would be a shot across the bow and potentially awake the tired bulls.
So have we found an undervalued commodity?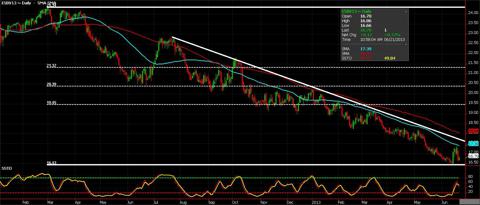 This will likely not be a quick in and out trade and may have a duration of several months, but when weighing the potential risk/reward, I think soft traders can take a stab with a first objective of 19.50 cents ($2,900) and risk just under the recent lows ($600). There are plenty of reasons to be bearish, but what I've learned over the years is if the sentiment is bearish and the market is not moving lower or the sentiment is bullish and the market refuses to move higher, take note.
Bearish developments:
1.) Another world production surplus for the 2013/14 season is projected. I think the monster crop has already been factored in to a large extent.
2.) Further weakness in the Brazilian real could spark more aggressive selling trying to increase exports before the currency depreciates more.
3.) Weather: No major delays are expected from the recent rain activity in Brazil. India's monsoon rainfall has delivered much needed water and precipitation should bring relief to drought stricken areas.
Bullish developments:
1.) Sugar has shrugged off outside market influences and we are starting to see increased demand from China. China imported 338,068 tons of sugar in May, up 33% over last year and ytd 15% more than last year in the first 5 months in 2013.
2.) The fact that sugar has absorbed so much weakness from outside influence and held support leads me to believe we are close to a value zone.
Risk Disclaimer: This information is not to be construed as an offer to sell or a solicitation or an offer to buy the financial products herein named. Trading futures, options, and Forex involves substantial risk of loss and is not suitable for all investors. Past performance is not necessarily indicative of future results. This report contains research as defined in applicable CFTC regulations. Both RCM Asset Management and the research analyst may have positions in the financial products discussed.
Disclosure: I have no positions in any stocks mentioned, and no plans to initiate any positions within the next 72 hours. I wrote this article myself, and it expresses my own opinions. I am not receiving compensation for it. I have no business relationship with any company whose stock is mentioned in this article.