Although markets have tumbled in the aftermath of the latest FOMC meeting, some sectors have managed to hold up rather well anyways. This is particularly true in the consumer market, as spending remains elevated, and growth levels are high in a number of key corners of the sector.
In particular, smaller companies that have a U.S. focus remain well-positioned for the weeks and months ahead. That is because the global markets continue to crumble in the face of a strong dollar, while the American market continues to look relatively favorable in comparison.
One such company that is a great example of this trend and is looking good for the summer months is SodaStream (NASDAQ:SODA). The firm continues to grow at a robust pace, and it finds itself in a very strong corner of the stock market as well.
SODA in Focus
SodaStream has burst onto the scene as an alternative for consumers in the carbonated beverage market. SODA's main product allows consumers to make their own carbonated beverages at home with a variety of different flavors.
This idea has really caught on lately, as sales for SODA continue to surge. In fact, current EPS growth rates come in above 20% for the current year, and are quickly approaching 30% for the next year as well. The impressive growth rate helps to keep the PEG below one, suggesting that even with a PE approaching 28, SODA is a decent value.
This is especially true when one considers the many growth avenues available to SODA. The firm recently partnered with Whirlpool's KitchenAid division to give consumers a new option this holiday season, while the company has also partnered with Samsung on refrigerators, suggesting a pretty bright future.
Additionally, the company has seen its analyst become even more bullish on the firm lately, boosting their estimates for the firm's earnings. Currently, revisions upward outnumber downward revisions by a ratio of about 4 to 1, while not a single estimate has gone lower for the next year period in the past 90 days.
This has helped to push the consensus higher for SODA, across all time periods studied. Additionally, the most accurate consensus has moved sharply higher lately for the current quarter, suggesting that SODA could be poised to beat earnings this quarter as well.
Given this optimism, it shouldn't be too surprising to learn that SODA has earned a top Zacks Rank #1 (Strong Buy). This represents an upgrade from just one week ago, meaning that now could be the time to get in on this surging growth story which looks to continue its outperformance.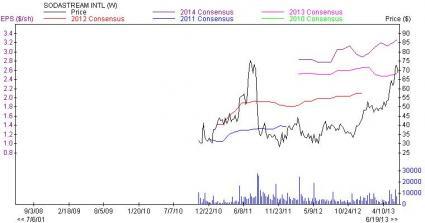 Bottom Line
The overall market might be weak right now, but the consumer is holding up nicely. This is especially true in the domestic market, as the American consumer appears well-positioned when compared to its global peers.
In this type of environment, SODA appears to be an excellent play. The company sees impressive earnings growth for the current and next year periods, and with a number of new avenues to grow profits, SODA could remain a winner for months to come as well.