By Sumit Roy
Commodities sold off hard this week after the Federal Reserve hinted it could begin to taper its monetary stimulus programs later this year and as interest rates spiked in response. Stocks also plunged. The S&P 500 lost nearly 2% in the period, bringing its year-to-date gain down to 11.6%.
Macroeconomic Highlights
This week's headlines were dominated by the latest Federal Open Market Committee policy meeting. In his press conference following the two-day meeting Fed Chairman Ben Bernanke said that based on current economic forecasts, the central bank's quantitative easing programs could be pared down starting at the end of this year. Under that scenario, QE would be completely phased out by the middle of next year. Bernanke emphasized that the pace of bond purchases would be altered based on actual developments in the economy, and that short-term interest rates would not be raised until the unemployment rate hit 6.5% -- likely in 2015.
Nevertheless, Bernanke's comments were much more hawkish than expected. Yields on the benchmark U.S. 10-year note spiked as high as 2.51% -- the highest level in nearly two years. Yields are up a whopping 90 basis points from early May, when Bernanke first hinted that QE could be pared back this year. With the Fed and interest rates firmly in focus, the other news of the week was largely shrugged off. The National Association of Realtors said that existing home sales jumped 4.2% to 5.18 million units annualized in May, the best level since 2009.
Meanwhile, the Bureau of Labor Statistics reported that the Consumer Price Index in the United States rose by 0.1% in May, while the core index (excluding food and energy) rose by 0.2%. On a year-over-year basis, headlines and core prices were up by 1.4% and 1.7%, respectively, both equal to expectations. Finally, HSBC said that its flash manufacturing PMI for China slipped from 49.2 to 48.3 -- a nine-month low.
Commodity Wrap
| | | |
| --- | --- | --- |
| Commodity | Weekly Return | YTD Return |
| Wheat | 3.23% | -9.64% |
| Natural Gas | 1.88% | 13.43% |
| Corn | 1.37% | -4.87% |
| Soybeans | -1.52% | 5.29% |
| Copper | -3.44% | -15.34% |
| WTI | -4.23% | 2.06% |
| Brent | -4.89% | -9.32% |
| Platinum | -4.91% | -10.76% |
| Gold | -6.94% | -22.75% |
| Palladium | -7.80% | -4.27% |
| Silver | -9.10% | -33.84% |
It was a dismal week for gold, as the $1,322 low from April gave way and prices plummeted to a fresh low point of $1,269.45 -- the cheapest price since September 2010. Likewise, silver sagged below $20, reaching $19.40 -- also the cheapest since September 2010. While the latest Fed comments and interest rate moves may have spurred gold and silver to these new lows, the downtrend in the duo has been in place for a while now. Ever since peaking late in 2012, prices have been steadily declining.
Our suggestion has been to remain on the sidelines until there are signs that prices have bottomed. The downtrend remains intact and it will likely be many months -- at the least -- before gold and silver can climb sustainably higher.
Gold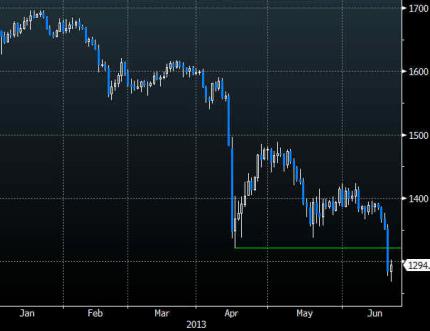 Silver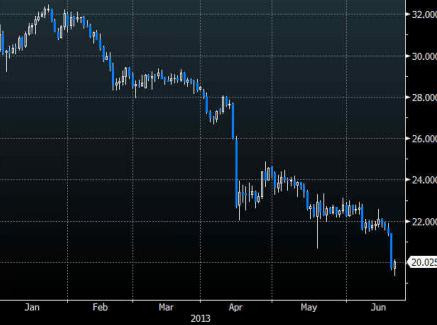 Platinum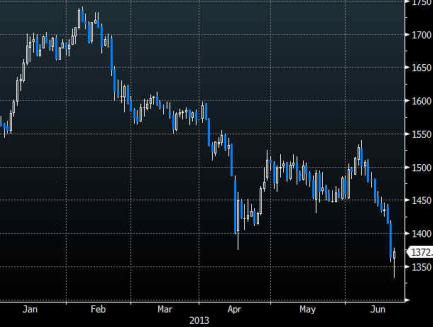 Palladium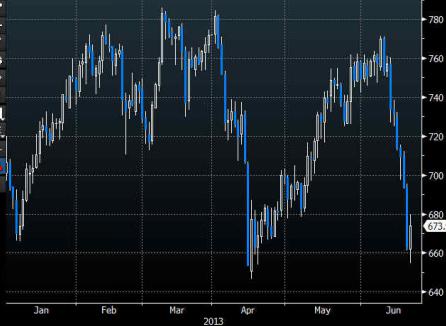 Crude's tentative breakout to the upside was invalidated by a steep decline at the end of the week. Prices for Brent and WTI are now back in their respective ranges as broader macro concerns offset the geopolitical worries related to Syria.
Brent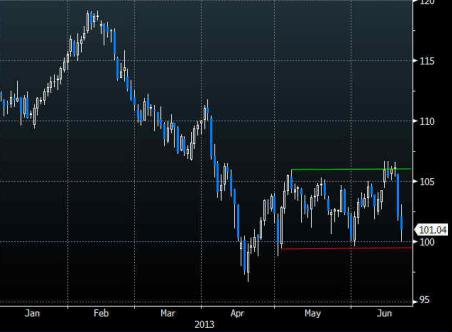 WTI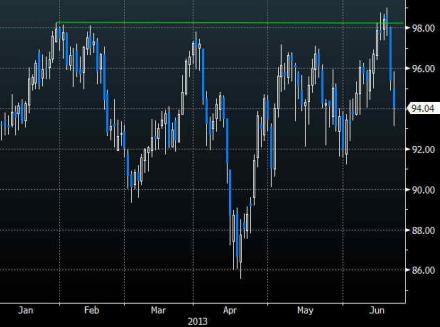 Grains traded mixed this week, unconcerned with the movements in broader financial markets. Traders are more concerned with summer weather amid the memory of last year's record drought that devastated supplies.
Corn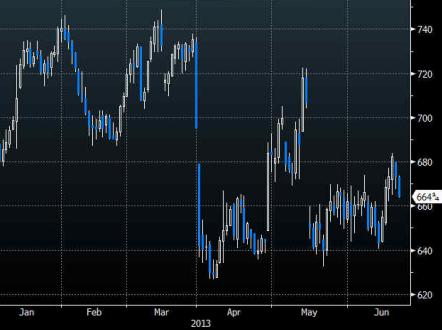 Soybeans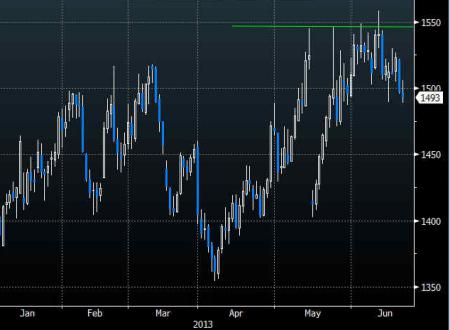 Wheat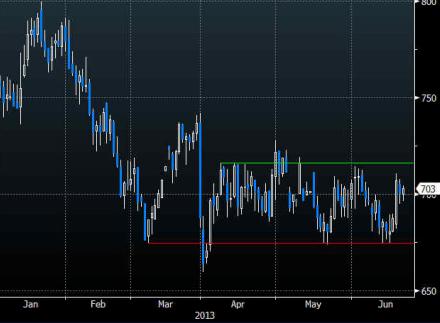 Copper hit its lowest price since November 2011 amid macro considerations. In addition to the U.S. concerns, China worries surfaced following a weak reading on the HSBC manufacturing PMI gauge and a spike in interbank lending rates.
Copper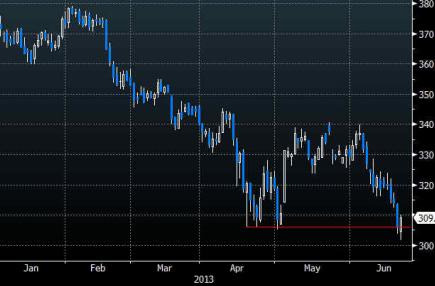 Natural eked out a gain for the week, but the outlook for the fuel has turned neutral, as we explained in a recent report (see "NatGas Outlook Turns Neutral On Back Of Steadily Falling Inventory Deficit, Spotty Summer Heat").
Natural Gas