Sociedad Qumica y Minera de Chile (NYSE:SQM), has not been in the news of late, and so has been off of my radar. Having some spare time this weekend, I have been revisiting a few old friends and this stock has caught my eye for a couple of reasons.
It's the fourth largest holding in the iShares MSCI Chile Index (BATS:ECH).
That index has performed

very well

and looks to continue its steady upwards trace.
At the end of April, SQM reported some surprising figures year on year (Q1 2009 v 2008): net revenue increase of 33% on 2008, with the NYSE traded ADRs providing earnings of $0.33 per share, compared to $0.25 share in Q1 2008. As if that wasn't enough, to round off this bullish performance, SQM also showed a 39% increase in operating income.
For those that are not familiar with SQM, it is primarily a producer of fertiliser for agricultural, infield use. The company has however diversified into other lines in the past few years.
In fact, SQM is the largest producer of Iodine and Iodine derivatives globally, which has a number of non-agricultural applications, including medical and industrial. SQM to date holds rights to the largest source of Caliche Ore in northern Chile.
At present, SQM is also the largest producer of lithium globally as it owns the production rights from the Atacama Salar deposits in the Andes. As the potential for Lithium hydroxide batteries for automotive use is becoming more apparent, SQM is set to be in pole position to exploit any upcoming technical breakthroughs.
The final string in the production bow is that the company has a very strong product line in nitrates for use in agriculture, industry and petrochemicals. SQM is also looking at solar power using Sodium and Potassium Nitrate as a heat transfer medium. With solar being very much in the public (and investor consciousness), this could be a key area for it in the very near future.
Now moving on from the pretty obvious, if you have a browser, you can Google all of this in less than 10 minutes. What has really got me going are the latest charts that SQM has produced.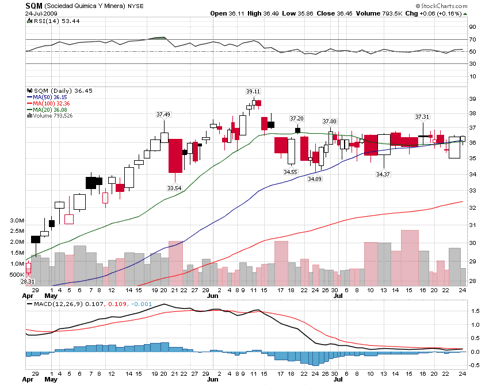 Since the large market correction in March, the stock has performed remarkably well, especially considering the recent volatility of its perceived peers. MON, AGU, POT, etc. have all been up and down. In the last month, even whilst others have been selling off & also under some pretty heavy selling volumes itself, SQM has managed to keep its head above water and is defiantly holding to a very narrow trading range between its 50 & 20 day SMA. Tough little blighter. Even more important for me is the RSI indicator, which is running reasonably flat and not trending up or down from the 50 mark since mid-June.
Turning to the P&F chart, we can see that SQM has had a definite upward trend for the last 6 months. Any drop in the current price looks as though it will soon correct to the upside & the Price Objective yielded is 53.00 which is a 68% premium on Fridays close of 36.45.
Referring back to the original Sharp chart, it looks as though buy volume is starting to tail a little, and I am of the opinion that we will see a market correction in the near future; however SQM has proved itself to be pretty resilient. I am pegging an entry point at $35, with a view to following this up to the $40 mark before starting to scale out, with the high upside potential. I'll also be adding this to my investment portfolio.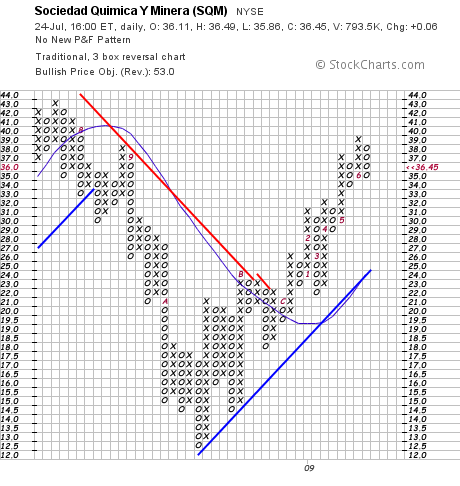 Disclosure : Short on MOS, no current positions in any other stock mentioned.