In searching for oversold stocks for our articles, we've come across quite a few ugly looking charts, but this week's focus stock, Golar LNG, (NASDAQ:GLNG), is a high dividend stock with a chart that's one of the homeliest: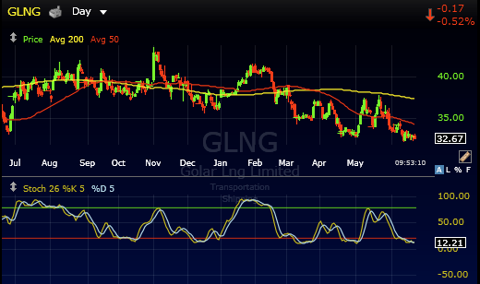 After reaching a high in November 2012, and a lower high in February 2013, GLNG is now flat for the past 52 weeks, and is very oversold, thanks to some analyst downgrades due to fears of oncoming overcapacity in the LNG shipping market. However, we think that oncoming LNG tonnage will support the newbuilds, and we have strong confidence in the Fredriksen Group's management. (See SDRL-related comments below).
We feel that this is one of those "darkest before the dawn" scenarios because GLNG is poised for major growth in 2014 and beyond, as it capitalizes on the rapid expansion of Liquified Natural Gas tonnage due to its large and rapidly expanding Liquified Natural Gas fleet, and its early entry into the Floating Regasification Ships, (FSRU), market.
In the US alone, after a 20-year hiatus, there are several LNG export terminal projects awaiting government approval. In fact, in a recent presentation, GLNG just cited the Freeport, Texas, LNG project as being the 2nd project to receive a Dept. of Energy permit to export LNG, stating that the Freeport and Sabine Pass projects will have 28 million tons/year of export capacity.
Golar has 11 LNG carriers and 2 FSRUs on order, and has the only uncommitted FSRU newbuild for 2013 delivery, and one of only 2 for 2014 delivery. It also holds around 30% of the total uncommitted LNGC order book, with 5 vessels delivering in 2013, 7 in 2014 and 1 in early 2015. (Source: GLNG website)
GLNG looks very undervalued on a 2014 PEG basis:

John Fredriksen, the mastermind behind Seadrill (NYSE:SDRL), owns 46% of GLNG, and has engineered a very savvy cash flow arrangement for this firm, which should not only partially finance its ship acquisitions but foster higher dividend payouts, with no share dilution, i.e., issuing more shares. We, like many SDRL investors, have done very well with Frederickson's business model over the past few years, reaping the benefits of a very generous dividend payout policy (SDRL paid $.88/share in its June dividend, a 9% dividend yield annualized).
Here's a chart that was part of GLNG's presentation at this week's Marine Conference presentation, which explains its financial cash flow setup, which uses dropdown funds from recently split-off Golar LNG Partners LP (GMLP) to finance its fleet expansion and dividends: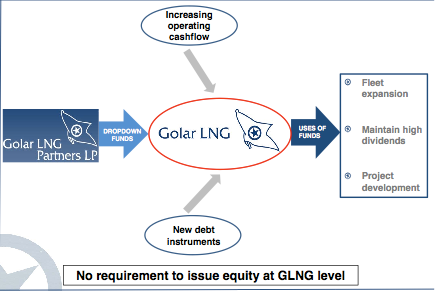 Dividends: At present, on a strict dividend payout ratio basis, GLNG's 126.76% estimated 2013 dividend payout ratio doesn't look so great, as it's based upon analysts' average 2013 earnings estimate of $1.42. However, the dividend payout ratio drops to 61% when you compare GLNG's current $.45/quarter payout to analysts' average $2.97 EPS estimate for 2014. If GLNG's EPS grows to anywhere near this average estimate, it's highly likely that it will raise its dividends in 2014.

Options: There are some options available for GLNG. This December trade, from our free Covered Calls Table, offers an interesting combo of option income, dividend income and potential price gains.

The table below shows the potential income from the 3 main scenarios for this trade:
(A) Static - GLNG's share price doesn't rise to or above the $35.00 strike price, so you collect both quarterly dividends and the option premium. (B) Assigned - Your GLNG shares do get assigned before the ex-dividend dates, but you still get the option premium AND you get $2.33 in price gains. (C) Your shares are assigned after both ex-dividend dates, and you collect all 3 income streams: option $, dividends and price gains.

Puts: An alternative is to sell cash secured puts below GLNG's share price, giving yourself a lower breakeven cost. This December put trade gives you a breakeven that's over 13% below GLNG's 52-week low. You can see more details for this and over 30 other put trades in our free Cash Secured Puts Table.

Financials: GLNG has very impressive Management Efficiency ratios, much less debt, and a very high operating margin, vs. its industry:

More Valuations: GLNG's current P/E is way above industry averages, but its forward P/E is much lower.
Disclosure: Author was short GLNG put options, and long SDRL shares at the time of this writing.
Disclaimer: This article was written for informational purposes only. Author not responsible for any errors, omissions, or actions taken by third parties as a result of reading this article.
Disclosure: I am long SDRL, GLNG. I wrote this article myself, and it expresses my own opinions. I am not receiving compensation for it (other than from Seeking Alpha). I have no business relationship with any company whose stock is mentioned in this article.