(Editors' Note: This article covers a micro-cap stock. Please be aware of the risks associated with these stocks.)
Background
Interleukin Genetics, Inc. (OTCQB:ILIU) develops genetic tests focused on personal health. Through applied genetics research and scientific collaborations, the company has made significant progress in understanding how genetic make-up can affect an individual's predisposition and risk of suffering from certain diseases. Interleukin's research has specifically focused on a form of genetic variation called single nucleotide polymorphisms (SNP) and how it can have an impact on a person's health. The company has applied this knowledge in the development of genetic tests focused on areas such as weight management, cardiovascular health and periodontal disease. Interleukin sells its Inherent Health line of tests, which launched in 2009, to the consumer market and maintains a CLIA-certified lab at its headquarters in Waltham, Massachusetts, where consumers send test samples for processing.
The vast majority of Interleukin's past revenue came through licensing and contract research agreements with Alticor Inc., the parent company of Amway Global. Under these agreements, Alticor funded a portion of product development and made equity investments and in return was given rights to market the company's genetic tests under its own brand name (Gensona). In 2008, Interleukin began peeling off these licensing deals with Alticor (Interleukin retained all the intellectual property related to the tests) and the remainder concluded in 2009, concurrent with the mid-2009 launch of the company's Inherent Health brand.
A March 2010 presentation made at a major medical conference significantly benefited sales of the company's weight management test, which to date has been ILIU's flagship product. However, the company is now in somewhat of a transition mode, shifting gears away from less reliance on its mainstay weight management test (the majority of that revenue still comes from sales through Amway), sales of which have recently flattened, and towards the opportunities that hold greater future promise, namely its periodontal disease and osteoarthritis tests.
Interleukin's Genetic Tests
Interleukin's genetic tests are based on SNP patterns and how they affect physiology due to different influences on gene protein production and synthesis for a given condition. It's been found that diet and lifestyle habits can provide some control over how certain conditions manifest themselves. Interleukin's genetic tests are designed to provide information about a person's unique genetic makeup, which can then be used to effectively tailor diet and lifestyle programs for better health. Its tests were developed through collaborative research projects with physicians, scientists, researchers and academics from some of the world's most prestigious medical institutions and universities. Interleukin currently owns rights to 11 U.S. patents (with 10 additional pending), relating to genetic tests for obesity, periodontal disease, osteoporosis, coronary artery disease and other interleukin inflammatory disorders.
Interleukin currently offers genetic tests for heart health, weight management, nutritional needs and bone health which are marketed by Interleukin in the U.S. under the Inherent Health brand name and are also sold through Amway Global. Until recently Interleukin's periodontal disease test (PST) was marketed and distributed directly to dentists and periodontists in the U.S. by OralDNA, a subsidiary of Quest Diagnostics. This agreement was terminated following positive results of a large clinical study with the PST, which were announced in 2012, shortly after which ILIU signed an agreement with Renaissance Health whereby the insurer is to provide reimbursement of the test through its network of dental insurers. If all goes to plan, this should greatly expand distribution and demand for the test.
The weight management test has been, by far, the largest contributor to revenue over the last several years, but we view ILIU's periodontal disease test and its osteoarthritis test, which is currently in the pipeline, as the future and long-term revenue catalysts for the company. We discuss these three tests below.
Weight Management Test
The company's Health Weight Management Genetic Test leverages the craze over low-fat versus low-carbohydrate diets and determines, based on an individual's unique genetic make-up, which diet will be most effective for that particular person. The test results also provide information on which exercise programs will afford maximum benefit for each individual. Interleukin launched the test in June 2009 and it has accounted for majority of the company's total revenue since.
Studies have shown that while some people experience significant weight loss with popular low fat and low carbohydrate diets, results are not homogeneous, with some people actually gaining weight (even when strictly following the diet's guidelines). The premise of Interleukin's weight management test is that genetic make-up determines which individuals will benefit most from a particular diet (low fat, low carb or balanced calorie).
…developed through science
Interleukin developed its weight management genetic test through the use of the Human Obesity Gene Map Database (a list of hundreds of genes believed to be associated with obesity). After a review of scientific literature by experts in the fields of obesity, genetics and nutrition, Interleukin selected four genes (FABP2, PPARG, ADRB2 and ADRB3) that fit certain strict criteria for inclusion in its test panel. Interleukin has found that unique variations in these four genes can determine how a particular individual's body weight will be affected by a certain diet. This is the basis for its weight management test.
…supported by science
In a clinical study, individuals following diets determined to be ideal based on their genotype, as specified by Interleukin's weight management test, lost on average over 2.5 times more weight than those people following diets not based on their genetic make-up.
The retrospective study, titled Weight Loss Success: The Right Diet Does Matter, was done through a collaboration with researchers from Stanford University and included gene samples (taken through a cheek swab) from 101 overweight Caucasian women who had consented to provide DNA to Interleukin and also had participated in an earlier unrelated (and unaffiliated with Interleukin) study called Atkins-Traditional-Ornish-Zone (or A TO Z). In the A To Z study (1 year, n = 311) the women were randomized to one of four diets; Atkins (low carb), Zone (low carb), Ornish (low fat) or LEARN (low fat). Stanford obtained A TO Z clinical data on the 101 women participating in their study.
Interleukin's Health Weight Management Genetic Test was used to categorize these 101 samples into three genotype classifications that determined which diet the participant would have benefited the most from; low fat, low carb, or nutrient balanced. Results were highly statistically significant and showed:
> Individuals that followed a genotype-appropriate diet lost 5.3% of their body weight, compared to only 2.3% with those on diets not matched to their genotype (p = 0.005)
> Differences in weight loss were even greater (6.8% versus 1.4%, p = 0.03) with individuals following the lowest carb (Atkins) and lowest fat (Ornish) diets
> On average, those individuals on a genotype-appropriate diet reduced their waist size by 2.6 inches versus only 1.2 inches for those on a genotype inappropriate diet
The study findings were presented by the researchers from the Stanford University School of Medicine in March 2010 at the American Heart Association's Joint 50th Cardiovascular Disease Epidemiology and Prevention and Nutrition, Physical Activity and Metabolism conference in San Francisco.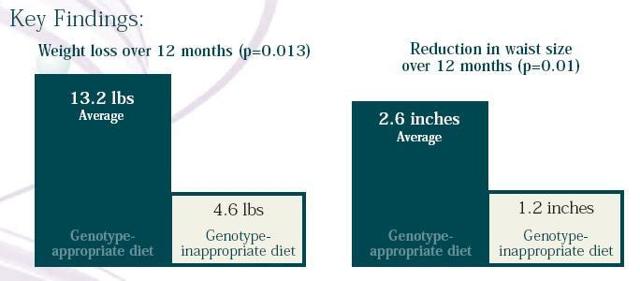 …science goes mainstream
Shortly after the presentation, the mainstream media picked up on the potential significance of the trial results. Interleukin and its Health Weight Management Genetic Test were featured in stories by The Today Show, The Wall Street Journal, CBS Morning News and Allure magazine. Sales of the test immediately spiked and were the major reason for the 85% revenue growth Interleukin experienced from 2009 ($1.1 million) to 2010 ($2.0 million). Revenue momentum continued through 2011 when ILIU booked $2.9 million in sales, but has since contracted ($2.2 million in 2012, $1.9 million 2013 run-rate through Q1) as benefits from the mainstream media blitz have lessened.
Weight Management Test market: Americans are diet-crazed and often take a do-it-yourself approach to losing weight. As a result, we view Interleukin's weight management test as one with some of the most potential. Clearly, the sweet spot for Interleukin's weight management test are people pursuing or about to pursue a diet. It is estimated about 60 million Americans are on a diet at any given time. With as much as $40 billion (~ $175 for every adult) spent in the U.S. every year on diet plans loss, Americans are all too willing to open up their wallets to try to reduce their waistlines. Unfortunately, most of these weight loss programs fail to show any discernable results, especially as time passes. A 2006 study published in the New England Journal of Medicine found that about one-third of the weight lost while pursuing a weight management program was regained in one year and almost all was put back on in three to five years. If Interleukin's test can help people lose more weight and/or keep weight off longer, it seems interest in the test could grow substantially.
Periodontal Disease Test
Periodontal disease is often also referred to as gum disease or gingivitis (gingivitis is a precursor form of periodontal disease). It is estimated that 75% of American adults have some form of the disease, with 25% having moderate to severe cases. Periodontal disease involves inflammation and infection that destroys the tissues that support the teeth, including the gums, the periodontal ligaments and the tooth sockets (alveolar bone). Build up of plaque can promote tooth decay and as plaque gets trapped at the base of the tooth, it causes the gums to swell. In severe cases, periodontal disease can lead to alveolar bone (bones that bear teeth) loss and tooth loss.
Investigation into the cause and reasons behind progression of the disease began during the 18th century but not until 1997 was research published that showed an association with variations in certain IL-1 genes. Since then a significant amount of research has been done investigating the link between genotype and periodontal disease.
Interleukin developed its patented PST Genetic Test based on research that showed a statistically significant link between variations in two IL-1 genes and an increased likelihood of adult-onset of periodontal disease. This link is independent of common risk factors of periodontal disease including smoking and diabetes. Interleukin's PST test is the only genetic test for prediction of periodontal disease and tooth loss.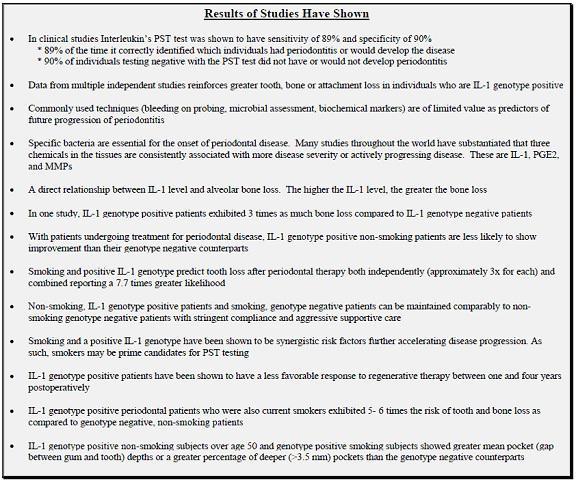 In August 2010, Interleukin announced an agreement with the University of Michigan for a large study to test whether certain risk factors, including genetic variations, can help guide better medical intervention of periodontal disease and improve patient outcomes. Funding for the study was provided by Renaissance Health Service, parent company of a large and diverse set of insurance companies focused on dental health. A new version of Interleukin's PST test was used in the study for identification of predictive risk factors of periodontal disease to confirm results of earlier studies. The prospective study examined 16 years worth of data from over 5,000 patients taken from a large dental claims database. The hypothesis for the study was to determine whether more than one dental cleaning per year is value-added for low risk patients and how many cleanings are optimal for high risk patients. Primary endpoint of the study was tooth loss at 10 and 15 years. The study was the largest ever done to evaluate the application of genetic information for the prevention of periodontal disease.
The study commenced in late 2010 and top-line data was released in August 2012. The data showed exactly what Interleukin had hoped, that high risk patients are likely to benefit from more than one cleaning per year while low risk patients are not. Specifically, the data showed that there was no significant difference between two dental cleanings and one dental cleaning in reducing the number of tooth extractions in the low-risk patient population (13.8% vs. 16.4%, 95% CI, p=0.092). By contrast, there was a significant difference between two dental cleanings and one dental cleaning in reducing the number of tooth extractions in the high-risk patient population (16.9% vs. 22.1%, p=0.002).
Per the trial protocol, high-risk was categorized as having one or more of the following risk factors; smokers, diabetic or interlukin-1 genotype (i.e., PST test positive). Low-risk was categorized as having none of these risk factors. Of particular interest is that the data also shows a highly significant (p<0.001) correlation between the number of positive risk factors and extractions -- implying that all risk factors (i.e., including PST) are indicative of risk of tooth loss.
In early June 2013 the study, titled, Patient Stratification for Preventive Dental Care, was published in the online version of the Journal of Dental Research.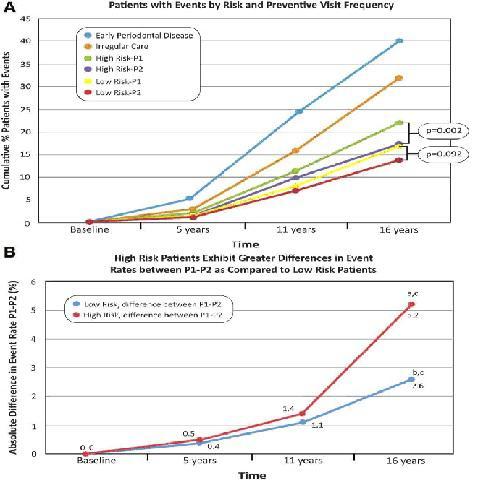 Osteoarthritis Test
Interleukin is also working on development of a genetic test for osteoarthritis. Osteoarthritis (NYSE:OA) is a degenerative disease which involves breakdown of cartilage in the joints, causing pain, stiffness and in severe cases, loss of movement. It is the most common form of arthritis, afflicting an estimated 27 million people in the U.S. and 8 million in the U.K. OA is the leading cause of chronic disability in the United States and usually affects the hands, feet, spine, hips and knees. Similar to osteoporosis, OA is most common in the elderly and women. There is no cure for the disease and severe cases of OA can result in joint replacement surgery. Almost 800,000 Americans undergo hip or knee replacement surgery every year, with OA cited as one of the primary reasons. But while OA is progressive, development of the disease can be highly variable from person to person and not all cases result in a severe state.
While cause of the disease is still not fully understood, research has indicated that interleukins may play a role. Interleukin Genetics is currently investigating whether certain interleukin gene variations may be associated with the development and progression of OA. The company, in collaboration with New York University Hospital for Joint Diseases, conducted studies that identified certain genetic markers as being highly predictive of progression of OA. Results of one of these studies, done also in collaboration with Duke University, which demonstrated an association between three interleukin genes and severe knee OA, was published in the online version of the Annals of Rheumatic Disease in late 2009.
Interleukin hopes to introduce a genetic test that would identify those OA patients who were likely to develop severe cases of the disease. Interleukin expects its target market to be pharmaceutical companies developing disease-modifying OA drugs. Drug companies could use the test to screen patients for inclusion in clinical trials to ensure only patients expected to suffer from severe cases of the disease were enrolled. There is currently no method for selecting these high risk patients, which has resulted in drug companies having extreme difficulty in fulfilling enrollment protocol for OA drug development (only 8% - 20% of OA trial participants actually progress in three-year clinical trials).
Several large pharma companies have OA drug candidates in various stages of clinical trials including GlaxoSmithKline (NYSE:GSK), Abbott Laboratories (NYSE:ABT), and Forest Laboratories (NYSE:FRX) and would have potentially significant interest in a test such as ILIU's OA test.
Identification of patients susceptible to eventually suffering from severe OA could also allow physicians to provide earlier intervention, thereby improving patient care and outcomes. Researchers at the University of North Carolina at Chapel Hill conducted a 1,154-patient study that showed patients with radiographic signs of early knee osteoarthritis were genetically different from those without signs of the disease, and those who had inherited a specific pattern of genetic variations in the IL-1 receptor antagonist gene were almost twice as likely to progress to a severe state of the disease. Interleukin and the UNC researchers made presentations on results of the study in 2010 at the World Congress on Osteoarthritis in Belgium and at the American College of Rheumatology Annual Scientific Meeting in Atlanta.
ILIU's game plan is to collaborate with a partner to bring the test to market. A paper with findings of the company's 1,154-patient study was submitted for publication. Following publication, ILIU will seek to partner.
Outlook
As noted, revenue growth has recently flattened with lessened media attention of the Weight Management test. We view that as old news though, as we've been interested in ILIU not based on the Weight Management test but because of the potential of the PST and OA tests. We think dental reimbursement of the PST test could be a significant driver of demand -- potentially commencing as early as the first half of 2014. Commercialization of the OA test could follow.
ILIU has kept expenses and cash burn at a minimum and should have capacity in its clinical lab to support processing of the PST test -- which means operating leverage could materialize quickly with a pick-up in revenue.
The company raised $12 million through a private placement in May 2013 and previously extended the maturity of its fully-tapped credit facility (to November 2014). This provides a nice runway of liquidity to launch of the PST test covered by dental insurance.
PST Reimbursement Agreement With RHSC
In early March 2013, ILIU announced an agreement with Renaissance Health Service Corp (which funded the study) relative to reimbursement of the company's PST test. A prerequisite for RHSC's affiliates (Delta Dental) to begin marketing dental plans that cover the PST test is that the aforementioned study must have been published in a peer-reviewed journal (which is now done).
The dental plans covering the PST test will reimburse for one cleaning per year as standard or two cleanings if the PST test determines the patient is at high risk of periodontal disease. The next steps involve Delta Dental putting together the marketing material and selling the plans for plan periods beginning January 2014 to their customer bases (which initially covers 8 states). If all goes well, the Delta Dental plans incorporating the PST test will be finalized, and plan participants will be notified by mid-to-late this year for those policies that renew in early 2014. ILIU noted that it is already preparing for the roll-out, which included hiring a Chief Marketing Officer in January to spearhead the launch and increased processing throughput of its lab to handle the anticipated increase in demand.
As the timing of the launch of these dental plans is highly uncertain, management has indicated that they do not expect any significant revenues from this agreement until at least Q1 2014 and potentially later. And while the agreement probably provides somewhat substantial wiggle-room as far as timing of the launch of the dental plans (notwithstanding certain milestones in the agreement), we view consummation of this agreement as a clear positive, as it marks the most tangible step towards tying the PST to dental insurance reimbursement. Given that the PST test is what we expect to be a major catalyst to ILIU's long-term revenue growth, this is a meaningful event.
We note that ILIU already has a similar PST test commercialized but that the cost of the test (~ $150) is borne by the consumer, which limits its use. Reimbursement from dental insurers could be a huge catalyst to driving demand and adoption for the test -- as such, this agreement with RHSC could be the beginning of a new inflection point for ILIU. Periodontal disease is preventable and treatable and, if diagnosed earlier, the better likelihood of improved outcomes. The test has already been used over 10,000 times in clinical practice. Interleukin notes in its literature that its PST test is one of the top ten genetic tests in terms of volume and one of the first of a new generation of predictive genetic tests for common diseases in medicine.
PST Test market:. Approximately 200 million Americans go to their dentist every year, representing about 400 million total visits with 75% related to regular exams and cleanings. Based on the large market size, the prevalence and potential seriousness of periodontal disease, support from clinical studies that the PST test works, vast distribution (via Renaissance) and support from significant use in clinical practice, we think that the test may offer a multi-million dollar opportunity for Interleukin. Using rough estimates, the periodontal disease market could be worth as much as $8 billion to Interleukin (assumes 200MM tests at $40 net (our estimate) to Interleukin per test). Capturing just 10% of this (which might be very conservative) equates to an $800 million potential market. Renaissance Health alone, through its family of companies including Delta Dental, touches as many as 54 million covered lives, which is a great start.
Disclosure: I have no positions in any stocks mentioned, and no plans to initiate any positions within the next 72 hours. I wrote this article myself, and it expresses my own opinions. I am not receiving compensation for it (other than from Seeking Alpha). I have no business relationship with any company whose stock is mentioned in this article.
Disclosure: I/we have no positions in any stocks mentioned, and no plans to initiate any positions within the next 72 hours.
Business relationship disclosure: I work as a Consultant Analyst for Zacks Investment Research. The article is written by me and is 100% my opinion. I receive compensation from Zacks for writing equity research reports and providing valuation analysis on this company's stock and expect to do so in the future. Zacks receives compensation from the company. Please see the Zacks Disclaimer for further information: http://scr.zacks.com/Disclaimer/default.aspx