What's so impressive about NetApp (NASDAQ:NTAP) is its impressive cash hoard. While many think that Apple (NASDAQ:AAPL) has quite an impressive cash hoard, it pales in comparison to NetApp. Apple's cash hoard equals only 10% of its market cap, while NTAP's cash is over 50% of its market cap.
We think NTAP's deeply undervalued. It makes no sense for NTAP to hold so much cash on its books. When NTAP decides to throw cash off to shareholders it could unlock value in the company that leads to 60% upside.
What is NetApp?
NTAP is a provider of enterprise-level storage hardware and data-management software products and services. Basically, they help companies address major information technology challenges such as managing the continuing growth in the volume of data and scaling infrastructure.
North America is its key segment, accounting for over 55% of revenues, Europe, the Middle East and Africa (30% of revenue), and the Asia-Pacific region (12% of revenue). The international exposure is impressive, given the amount of outsourcing and expanding data that is contained in these areas.
Future drivers
The key drivers for the growth includes new product launches and restructuring. NTAP has been looking to restructure its resources, including laying off some 900 employees.
NTAP should see impressive benefits from a return of IT spending, and secular tailwinds related to data storage thanks to cloud computing. New product offerings should also help spur revenues higher, including new flash based products and ONTAP 8.1.1. According to IDC, NTAP is in third place for market share in the external disk storage systems and fifth place in the total disk storage systems market.
Outlined below is our base case outlook for NTAP over the next couple of years. We believe that after a slight decline in product revenue, the company will rebound in 2014 and 2015.
With a boost to revenue and a move toward reducing operating expenses, net income should return to pre-2011 levels. The 2015 EPS estimates assumes a net margin of 14.2%, which is still below 2011 and 2012 levels.
Let's get down to why we're here, the value of the stock.
Value catalysts
We assume solid EPS growth thanks to the return in enterprise spending, and secular up-trends in data storage. However, it's the $6 billion of cash that the company has on its balance sheet that interests us.
NTAP has made a couple key steps for returning cash, but we want more. The company initiated a $0.15 per share dividend and a $3 billion share repurchase program -- with $2 billion planned to be repurchased over the next year. This sounds great, but it will do little in the way of eating up NTAP's cash.
NTAP has been growing its free cash flow generation at an impressive rate. Since 2003, NTAP's yearly FCF generation has gone from just over $200 million to over $1 billion in FCF a year, a 17% CAGR.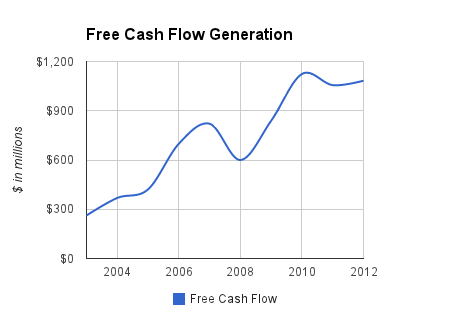 Let's see just how impressive the cash position is; as we mentioned, the cash to price ratio is nearly 50%, while other major peers have no where near the cash-rich balance sheet -- having cash to price ratios of less than 30%.
Price to earnings: From a P/E standpoint NTAP gets to trade at a 60% premium to the industry, but from a P/E ex-cash valuation, NTAP trades in line with its peers; thus, we believe the company shouldn't trade at such a deep discount to the industry on a P/E basis.
Since NTAP trades in line with the industry on a P/E ex-cash basis, we assume that if the stock utilizes its cash then it should trade more in line with the industry average P/E at 18x.
Cash throw off: With a 50% cash to price ratio, while other peers have a cash to price ratio that average 17%, we believe that NTAP can and should throw off unneeded cash to shareholders.
We assume that NTAP could sustain a payout of around 50% of its cash. A 50% payout of its current cash in the form of a special dividend would be an immediate 25% return on the stock price.
We believe that NTAP could throw off around half of its cash to shareholders (over $9 per share) and still have a safe balance sheet, leaving $3.5 billion of cash on the balance sheet, which well covers the $1 billion company debt. The pro forma current ratio based on a 50% payout of earnings would be 1.3.
Putting an 18x P/E on our 2015 EPS estimate gives us a price target of around $55. Coupling the sustainable cash dividend of $9.80, and the 2015 price target of $65.80, suggests total upside under this scenario of 65.7%, annualized return of 22.4%.
Price to earnings ex-cash: Assuming that NTAP should continue to trade at a 14.5x P/E ex-cash in 2015, the stock should trade around $63.60. This suggest potential upside of over 63%, an annualized return of 21.6%.
M&A: Another potential outcome for NTAP includes a buyout of the company. With an enterprise value of less than $8.9 billion, NTAP could easily be an acquisition target for one of its major tech partners. Oracle (NYSE:ORCL) has $33.4 billion in cash and Cisco (NASDAQ:CSCO) an impressive $47.3 billion.
NTAP provides data storage solutions for Oracle, helping Oracle expand their databases. Meanwhile, NTAP and Cisco have been partners for over a decade. Cisco could use NTAP to provide complementary data storage solutions to its networking solutions. NTAP also distributes Cisco data center switches.
Highlights
Solid interest coverage ratio of 7.18x

Debt to equity of only 22%

Analysts expect a 13% EPS CAGR, putting NTAP's PEG at 1.1
Activism
Notable billionaire and activist investor Paul Singer has also gotten involved in the stock. His Elliott Associates hedge fund now owns some 1.15 million shares. Elliott is upping its pressure on NTAP for shakeup in its board of directors and for efforts to unlock shareholder value.
But Singer could be looking to get more active in the future, where he's known to take large positions in stocks that have management issues or have hidden value. Singer recently bagged a big win at BMC, with the company being bought up by a group of private equity companies. BMC has a price to cash ratio of 30%.
Singer and Elliott aren't the only hedge funds active at NTAP. Maverick Capital owns some 8.5 million shares, Scopia Capital owns 5.1 million shares and George Soros owns 3.5 million shares.
Bottom line
In reality, the value isn't hidden, it's in plain sight, right on the balance sheet. The near-term catalysts for NTAP is the potential for a sell of the company. Even without a buyout of the company, activists are getting restless when it comes to NTAP unlocking shareholder value, which includes putting its cash wad to use. We see upside of 60% based on solid free cash flow generation, and what's more is that there is an immediate 25% upside available to shareholders given the discretionary cash sitting on its books.
Disclosure: I have no positions in any stocks mentioned, and no plans to initiate any positions within the next 72 hours. I wrote this article myself, and it expresses my own opinions. I am not receiving compensation for it (other than from Seeking Alpha). I have no business relationship with any company whose stock is mentioned in this article.