Actionable Items:
Highest Positive Spread: Gabelli Convertible & Income (NYSE:GCV)
Focus Stock: Cornerstone Progressive Return Fund (NYSEMKT:CFP)
Last Week's Focus Stock: Virtus Total Return Fund (DCA)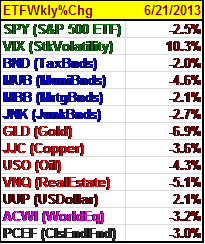 So, Where Do You Go? Bernanke's Wednesday conference call was the Fed's message that QE may not last for forever. While $85 billion was not placed on "hold", there could be a late-2014 trickle of funds from the Fed's coffer.
Bonds, But Stocks: Bond prices allegedly declined. Munis bonds declined -4.6%. All bonds receive a declined 2.0% (see ETFs adjacent chart). The equity markets for gold and commodities (real estate) were decimated. Higher interest rates may be a contest for asset-backed bonds.
However, the rate of growth was not necessarily the focus. Mr. Bernanke said what we all heard him for the first time: rates will rise.
Rates Spike: Charlie Rose asked the President as to whether Mr. Bernanke's term may expire. Mr. Bernanke and/or the President suggest that his appointment maybe at issue. However, interest rates will unlikely spike.
The stock market has appreciated and it may pull back from its gains of late. However, the issue is China and the emerging markets. Where would you rather be: U.S. equity markets or the emerging markets - especially if rates are expected to rise?
The Bond Markets: The Treasuries bond markets are the issue. To inflate too fast, bond markets will collapse like dominoes. The goal is to make it as smooth as possible. This is why Bernanke is not going to let rates rise.
ETFs % Change Week-to-Week: Asset Alloc (+1.9%) was one positive factor in the ETFs' sector. In addition to the former, Financial (-1.4%) and Tech (-2.0%) were the leaders this week over the previous week. Real Estate (-5.5%), EmergingMkts (-4.8%) and Pacific/Asia (-4.0%) were laggards for the week. Bonds were a negative -3.2% this week-to-week.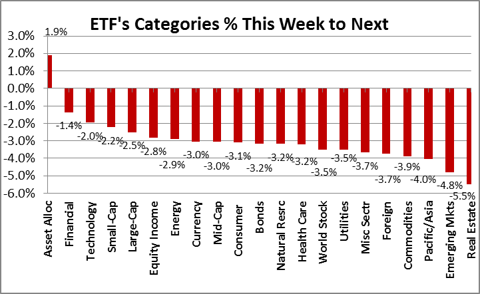 CEF Weekly Fund Type Performance: This week saw price rises for ConvtSecFnds (-0.7%), LoanPartFnds (-1.1%) and USMrtgBndFnds (-2.0%). The laggards were WrldIncFnds (-5.6), SpecEqFnds (-4.2%) and WrldEqFnds (-4.0%). Several of the PrcNAVSprds were positive: ConvtSecFnds, SingleStMuniFnds and NatlMuniBndFnds. These were still overpriced on a weekly basis.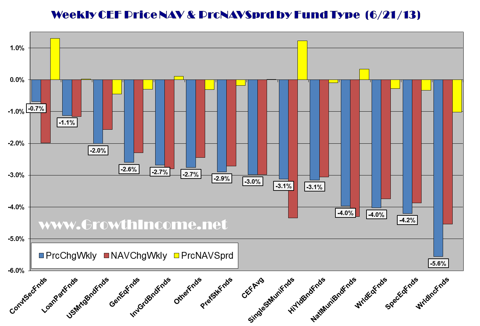 Highest Spread and Stock for the Week: Gabelli Convertible & Income seems to have a positive share price of +3.0% and a negative NAV of -2.1%, respectively. The PrcNAVSprd was +5.1% (A positive number may mean a future decline in share price).
GCV's quarterly distribution was June 13th (the next is in September). A quarterly yield distribution for GCV is at 7.8%. The current premium is 4.0% and its 52 weekly high is 3.9%. The $105 million net assets are 23.9% leveraged by Cumulative Preferred Shares. The maturing US Treasury Bill in August and September may be generating some profitable investment.
Lowest Spread and Focus Stock for the Week: Cornerstone Progressive Return Fund was our "Focus" Stock of the Week. CFP share price was negative -10.5% and its NAV per share was a plus -3.4%. Its PrcNAVSprd decline was -7.0%. (Stock prices typically go up.)
However, the offering had some non-transferable "rights". The rights entitle shareholders to acquire one share for each three rights held. The subscription period commenced on Monday, June 3, 2013, and expired at 5:00 p.m. on June 21, 2013. The stock price took a plunge because of the "rights" offering. The stock had already made its distribution on June the 12th of $0.085 per share. The stock was off 12.2% from the June 11th offering through June 21st.
The stock has some 88.5% of closed end funds in its portfolio. The stock is at a premium of 23.1% for a group (closed end funds) that has a net discount of price to NAV. The only reason that the "rights" offerings will help pay-off is the return of capital (ROC). However, if you invested in CFP, the advisor will extract the 1.33% payment from your dollar.
The 19.2% annual distribution rate will likely make you invest in this stock. Its premium (23.1%) seems disturbing.
Focus Stock & High Price for Last Week: Last week's "Focus Stock" for was Virtus Total Return Fund. DCA was down for the week at -1.7%. The Highest Spread stock for the week was Nuveen Insured New York Tax-Free Advantage Municipal Fund (NYSE:NRK) (share prices to go down) which was off -6.2% for the week.
Disclosure: I have no positions in any stocks mentioned, and no plans to initiate any positions within the next 72 hours. I wrote this article myself, and it expresses my own opinions. I am not receiving compensation for it. I have no business relationship with any company whose stock is mentioned in this article.