The Marcus Corporation (NYSE:MCS) is dead money. Management at MCS likes to spend money, but nothing has become of it in the past and I expect that to continue. Sometimes companies like Marcus trade so cheaply that even though they're unprofitable, the price makes them a buy. That's not the case with MCS and that's why I'd rather spend my money seeing a movie at one of the company's theaters than buy this overpriced, unprofitable stock.
Company Overview
Based in Milwaukee, The Marcus Corporation is a $300M property/capital-intensive entertainment provider in the US Midwest. The company owns and/or manages 55 movie theaters with 687 screens and 20 hotel/resorts through its Marcus Theatres and Marcus Hotels and Resorts subsidiaries. The company was founded in 1935 by Ben Marcus. From 1980-2008, his son Steve served as CEO. Stephen Marcus is now the chairman and his son, Gregory Marcus has taken over as CEO.
Investment Thesis
Since the stock rebounded from the collapse in early 2009, MCS has basically been dead money.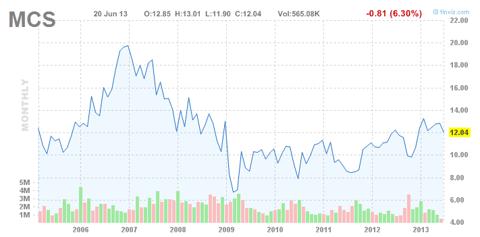 The stock hasn't moved much because the company hasn't much performed. Book value is now lower than it was 15 years ago.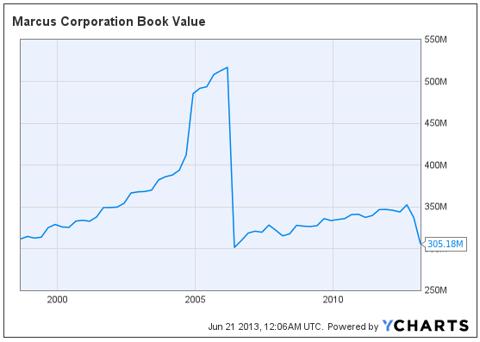 Management loves to spend money. They stress reinvestment in all their reports. All of the below is drawn from the 2012 Shareholder Letter.
"Continually reinvesting in our properties is a hallmark of Marcus Theatres."
"Our investments in enhancing our existing theatres and acquiring additional screens are our formula for continued growth and success."
"(We) continue to reinvest in our properties to maximize the returns on our existing assets."
"We continued to reinvest in our businesses - in renovations, new amenities, new technologies and in development and marketing. We invested during the down times with the anticipation of realizing good returns on these investments when times were better."
CapEx has exceeded $25M every year since 2008 and the company has already recorded $30.5M in the first 3 quarters of 2013. The company even boasts that it has invested $50M in existing hotels in the past 4 years.
Okay, okay we get it. You like to reinvest. My question is, why? You're not making acceptable returns doing so and you're not adding to book value or market value.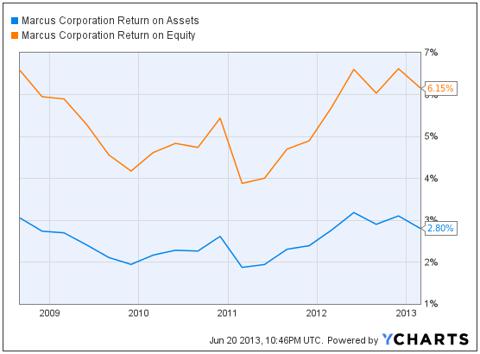 A company with ROE below 7% and ROA below 3% shouldn't be committed to reinvestment. Those aren't profitable returns. Warren Buffett uses a test that I think befits this situation. He looks to see if a company has historically added at least $1 of market value for every $1 it invests itself.

In the past 5 years, MCS has actually lost market value. In fact, more market value was lost than money reinvested. This, combined with the company's poor ROE and ROA suggest that it isn't profitable for the company to reinvest.
The alternative is of course returning the cash to shareholders through dividends and buybacks which, as you can see above, the company has done its share of. However, I suspect that because of how property-intensive MCS's businesses are, the company is kind of forced to reinvest, even after capex, some free cash. If that is the case, then this company is in a worse bind than I originally thought. Not only are its businesses unprofitable to reinvest in, but it may not even have a choice to abstain from reinvesting. A company forced to make unprofitable moves is a bad company to own.
You'd think that an unprofitable company like MCS would be trading at a discount, maybe enough to make the stock an attractive turnaround play, but as it turns out that's not the case.
The stock trades at 1.07x book value right now. If you bought now, your effective equity yield would be 5.75%. Most investors would be disappointed with a return like that from a public company. Most investors seek at least a 10% yield from stocks. To get an effective yield of 10%, the stock would have to trade at a P/B of .615, 43% lower than what it trades at today.
FCF in the last 12 months has been $36M. In choosing a fair multiple for valuation, I usually use a multiple equivalent to what I anticipate FCF growth to be. In the past 5 years, MCS's annual FCF growth has been 3.53% CAGR. A multiple of 3.53 is ridiculous and I do think the company will outperform that going forward, but even if we assign a multiple of 8 assuming 8% growth going forward, the company is still overvalued now. $36M multiplied by 8 gives me a fair business value of $288M. The company currently trades 14% higher than that for $328M.
If you prefer earnings to FCF, the stock trades at a P/E of 16.72. I don't understand why.
Variant View
There are some things I'd like to point out so as not to seem too biased. One such thing is the company's earnings line.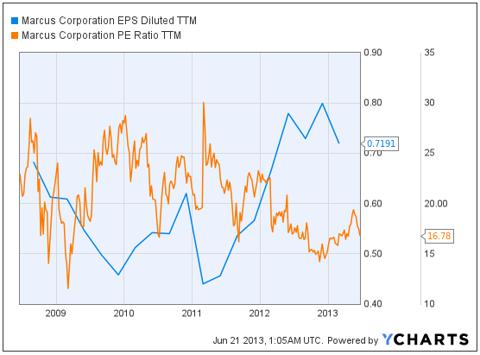 The company's P/E has been quite volatile in the past 5 years but has, for the most part, floated above earnings. Recently, earnings trended upward and P/E has gone in the opposite direction. This unusual discrepancy suggests that now would be a good buying opportunity. I don't like using earnings to value a capex-intensive company like Marcus and I think the multiple of almost 17 is way too high to begin with, but strictly looking at the earnings line, the stock is relatively attractive.
I also mentioned earlier that MCS should be returning as much cash as possible to shareholders. The company has in fact done so recently through buybacks and a one-time dividend. In the past few years the company has returned about $10M per year but in the last 12 months, a total of $64M has been returned to shareholders. My only concern is that 41% of the cash was spent on repurchases. I am a big proponent of share repurchases for the tax advantages over a dividend, but only when the stock is cheap. As I stress throughout this article, I don't think MCS is cheap and so the buybacks seem ineffective.
Conclusion
The Marcus Corporation does not own businesses worth reinvesting into. I think the businesses will continue to prove unprofitable and yet management continues to reinvest heavily. Evidence of a shift in allocation away from CapEx and towards dividends and buybacks is forming, but whether that will continue is yet to be seen. If the price was cheap enough, the stock might be attractive to those willing to bet that MCS's businesses will become more lucrative in the future, but it appears that the businesses are not cheap at all by several common metrics. I have no interest in purchasing an unprofitable business at an unattractive price.
Disclosure: I have no positions in any stocks mentioned, and no plans to initiate any positions within the next 72 hours. I wrote this article myself, and it expresses my own opinions. I am not receiving compensation for it (other than from Seeking Alpha). I have no business relationship with any company whose stock is mentioned in this article.