Last Monday afternoon JDA Software Group Inc (NASDAQ:JDAS), a provider of enterprise software solutions, reported stellar earnings by beating EPS estimates by 56% for the quarter. The stock responded in kind last Tuesday morning, gapping up $4 to a fresh 52-week high on a 500% increase in volume.
The strong report was the result of a 77% year over year increase in software licensing revenue to $28 million. This growth reflects a new trend in retail as more and more companies allocate a greater amount of their IT budgets to supply/demand chain solutions to improve their margins. JDA Software closed five $1 million or more transactions in Q2 thus demonstrating that a larger deal environment may be returning.
While the impressive software licensing revenue growth certainly surprised investors, perhaps an even bigger shock was the tremendous growth in Asian sales. JDA Software generated a 355% year over year increase in license revenue in Asia. A sizeable bulk of the increase came from one mega-deal in the region and the company issued guidance that would suggest that investors shouldn't expect revenue from Asia of similar magnitude in the next quarter. However, management noted that they were tripling their presence in China and that Chinese companies are beginning to look at the software packages that are used to run US-based "best-in-class" supply chain management systems. Management clearly sees growth opportunities in China but most likely will err on the conservative side, in terms of guidance, going forward in the next few quarters, which could lead to a few more earnings surprises down the road.
The last big takeaway from the earnings report was a 400 bps sequential improvement in the company's gross margin as it returned to historical levels around 65%. This was largely due to a margin improvement in the consulting segment where the company realized a 380 bps sequential increase. Going forward, this should soothe investor worries that impressive top-line growth may come at the cost of an increasing cost basis.
In the short term, the stock is very extended. As a result, we think the stock will need to base out for the next 2-3 weeks before it is ready to make a secondary push higher. Patience is a necessity as we wait for the 20 and 50-day SMAs to play catch up with the current prices. But that's OK. This extra time will allow you to work into your position slowly. Technically minded traders can use the 5-day SMA as a guide for timing purchases. We plan to add to our position on any light-pullback to the $19.75-$20 zone in the coming days. Additionally, our stop-loss is set at $18.59.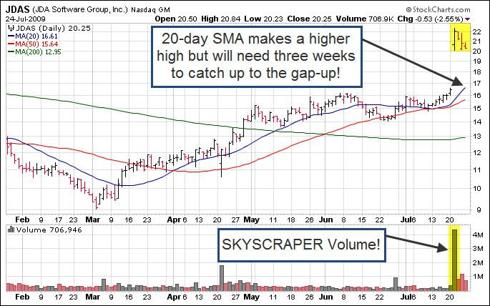 Source: StockCharts.com
Disclaimer: We are long JDAS