Preferred stock market prices have returned to their pre-QE2 level, an event that many preferred stock investors have been waiting over two years for.
Last Thursday, the day after the latest Federal Open Market Committee (FOMC) meeting, high quality [1] preferred stocks closed at an average market price of $25.33 per share. The average market price of such securities in November 2010, the first month of phase 2 of the Federal Reserve's Quantitative Easing (QE) program, was $25.35.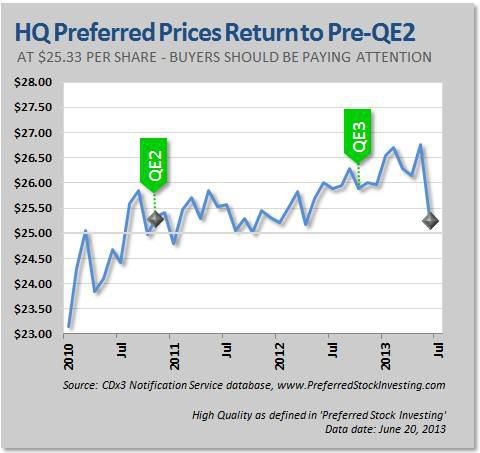 For the last couple of years, preferred stock investors have been purchasing their shares for the inflated prices caused, to a large degree, by the Fed's QE program. These shareholders have had their computer mouse poised over the Sell button ever since, fearful that the Fed could back out unexpectedly, pushing prices of fixed-income securities (e.g. bonds, preferred stocks) back down.
Three Statements
Coming out of its two-day meeting last Wednesday, the FOMC issued three statements:
- Statement #1: the written statement on the FOMC website stating that "The Committee is maintaining its existing policy...Taken together, these actions should maintain downward pressure on longer-term interest rates...The Committee will continue its purchases of Treasury and agency mortgage-backed securities, and employ its other policy tools as appropriate, until the outlook for the labor market has improved substantially in a context of price stability."
- Statement #2: the result of a consensus survey of the Fed members reinforcing the written statement. In the survey, 14 of the 15 members reiterated that they did not see a rate increase until 2015; and
- Statement #3: a public address by Chairman Bernanke where he stated, among many other points, that unemployment could fall to the 6.5% Fed threshold a year sooner than previously forecast (2014 rather than 2015). This is the threshold that the Fed has previously stated it is looking for to start backing out of its QE program so this mention of 2014 directly contradicted the other two Fed statements.
Looking at this chart showing the rate of improvement in our unemployment rate [2], the basis for Bernanke's comment is unclear.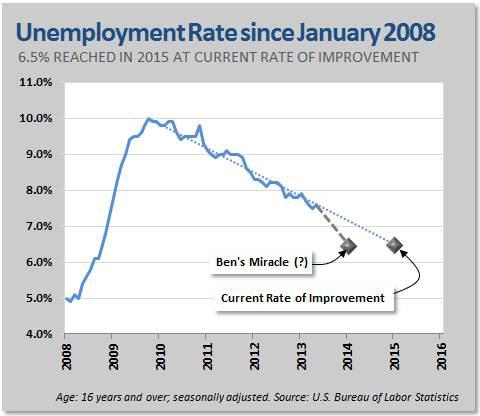 In the wake of last week's FOMC meeting, fearful sellers ignored Statement #1 and Statement #2 entirely and went with Statement #3 despite the fact that Bernanke's comment directly contradicted the other statements of the day and offered no supporting data for his "2014" reference whatsoever.
70 Sub-$25 High Quality Preferred Stocks
All of this is great news for preferred stock buyers.
At the end of May there were only nine high quality preferred stocks selling for a market price below these security's $25 par value.
With prices returning to their pre-QE2 level following last week's FOMC meeting, there are now 70 sub-$25 high quality preferreds to pick from [3], all but 11 of which are also call-protected. Here are five examples (not recommendations) from last Thursday.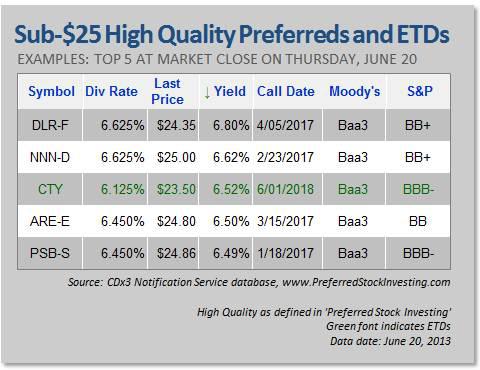 I sorted this list of sub-$25 examples by current yield with the highest yielding issues on top. The list includes four preferred stocks and one exchange-traded debt security (ETDs, seen in green font).
The four preferred stocks are DLR-F from Digital Realty (NYSE:DLR), NNN-D from National Retail Properties (NYSE:NNN), ARE-E from Alexandria Real Estate (NYSE:ARE) and PSB-S from PS Business Parks. The ETDs is CTY from CenturyLink's (NYSE:CTL) Qwest subsidiary. CTY and PSB-S enjoy double-investment grade ratings.
Savvy preferred stock buyers have been waiting to see a list like this for over two years.
Higher Returns Available at Lower Prices
The selling action after last Wednesday's FOMC meeting is consistent with the price pattern that appeared in 2004 as fearful sellers tried (and failed) to anticipate a rate increase the last time they thought that the Fed was about to start raising rates (see article with chart).
As much as preferred stock investors should welcome a return to a 'Fed-free' market, current selling is based on emotion (fear) rather than a change in monetary policy.
Fearful sellers are currently creating their own event where those fearful of falling prices sell their holdings, causing prices to fall; seeing prices fall, others sell their shares, which causes prices to fall...
The objective of these fearful sellers, trying to avoid a capital loss after having overpaid for their shares, is very different from the objectives of income-oriented preferred stock investors.
Higher returns available at lower prices - buyers should be paying attention.
Footnotes:
[1] Source for preferred stock price data in this article: CDx3 Notification Service database at www.PreferredStockInvesting.com. Disclosure: The CDx3 Notification Service is my preferred stock email alert and research newsletter service and includes the database of all preferred stocks and exchange-traded debt securities traded on U.S. stock exchanges used for this article. "High quality" includes preferred stocks and exchange-traded debt securities that meet the criteria from my book, Preferred Stock Investing.
[2] Source for U.S. unemployment rate: U.S. Bureau of Labor Statistics, www.bls.gov.
[3] Source for the nine sub-$25 high quality preferred stocks from May 29: CDx3 Research Notes, June 2013, page 3. Source for current sub-$25 high quality preferred stocks: the "CDx3 Bargain Table" HotList, CDx3 Notification Service website (subscription required).
Disclosure: I have no positions in any stocks mentioned, and no plans to initiate any positions within the next 72 hours. I wrote this article myself, and it expresses my own opinions. I am not receiving compensation for it (other than from Seeking Alpha). I have no business relationship with any company whose stock is mentioned in this article.
Additional disclosure: This article describes certain preferred stock market events. Securities identified within this article are for illustration purposes only and are not to be taken as recommendations.