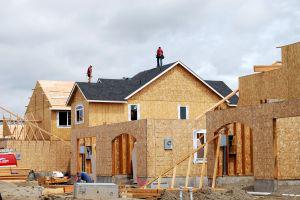 The sharp drop in homebuilder stock prices last week was based on the belief that interest rates up necessarily means home sales down. In today's environment, that logic is flawed. The correct evaluation should be that the rising interest rates will boost housing's comeback, not defer or diminish it. Therefore, those hammered homebuilder stocks give us a special opportunity.
Below is the six-month performance of largest four homebuilders (by market capitalization), showing the significant decline since interest rates started firming, then rising. The companies are PulteGroup (PHM), D.R. Horton (DHI), Lennar (LEN) and Toll Brothers (TOL).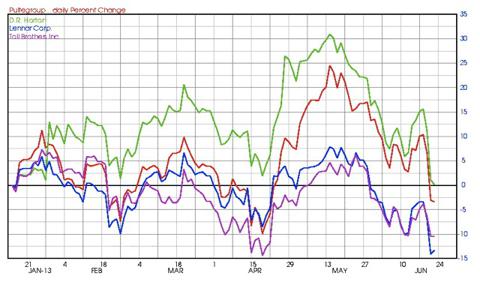 (Performance chart courtesy of Barchart.com)
Two reasons why the rate rise will boost housing market
Yes, higher rates increase the cost of home ownership, but this housing market actually has been held back by the abnormally low interest rates. There are two reasons why the rate rise will enhance the housing market, not hinder it:
First, housing demand is created by the rate increase's psychological effect on potential buyers
In "normal" inflationary periods, an upward price trend produces a desire to buy sooner, ahead of the next price rise. The same psychological effect applies to interest rates and housing (again, in "normal" economic periods), so the rising rates should spur some buyers to act. However, there is more to the effect than that.
We are not in a normal period because: (1) The interest rate trend has been down; (2) the interest rate level is abnormally low; (3) the Great Recession's negative feelings have lingered, particularly as the Fed reinforced the notion that all was not well; and (4) the housing market (sales and prices), while up, are still well below normal.
But things have been changing, as seen by rising retail sales, increased consumer confidence and investor moves into stocks. Add to this improved environment the Fed's more positive outlook and we can see the associated rise in interest rates (and, more importantly, the accepted notion that rates will continue to increase) as a boon to homebuilding - the final impetus for potential homebuyers to take action. And what better time to do so than in the summer home buying season. Suddenly, the mindset has shifted to rate increases ahead, with the Fed-inspired under 3-something% home mortgage likely to become the Great Recession's historically low rate. Potential homebuyers, already seeing house inventory shrinking and prices rising, will now be driven additionally by the rising interest rate effect on payments. They will start figuring out what 4.5%, 5%, 6% mortgages mean to their purchasing power. These are strong motivators to act.
Second, the interest rate rises will encourage banks to expand mortgage lending
Banks have been reticent to open up their mortgage lending activities. The general reasoning is that they are hampered by their need for capital and a desire for risk avoidance. But another factor is the effect of the Fed's low interest rates. Even as the banks can borrow or attract deposits at near-zero interest rates, they are wary of committing to record-low mortgage rates. They have known that abnormally low rates created by Fed action have the potential to rise quickly should the Fed change course. And remember, those 0% costs held steady even as mortgage rates fell from over 4% to 3+%, meaning margins (interest rate spreads) were shrinking.
Therefore, with the shift now occurring, banks will get interested in increasing loans, particularly as rates rise to more normal, market-determined levels. Will we see aggressive lending tactics like option ARMs? No, but a simple return to standard mortgage loan programs will significantly raise the amount of funds and the number of qualifying buyers in the housing market.
But aren't home sales and price rises already too high?
The Wall Street Journal raised the issue on Friday (6/21) in "Brisk Home Sales Spur a Price Warning."
Sales of previously owned homes surged in May to the highest level since late 2009, pushing prices up so quickly that a major real-estate trade group warned about unsustainable gains.

Home sales rose 4.2% in May from a month earlier to a seasonally adjusted annual rate of 5.2 million, the first time the pace crossed 5 million since November 2009, the National Association of Realtors said Thursday. Existing-home sales peaked in September 2005 at an annual pace of about 7.3 million.
Is that 4.2% really a warning sign? No. One month's housing measurement is of little use. More importantly, it is not a sign of over-optimism or rampant speculation. Rather, it's the diminishing of giveaway pricing and a firming of previously weak marketplaces across the country as we enter the prime home buying season. The more important numbers given are the sales: The current 5 million level is only 2/3 of the level reached eight years ago. While that was a peak (notice it wasn't in 2006, 2007 or 2008), it gives a good sense of how much higher home sales could rise before they sound a true warning. (And remember, when sales don't occur, pent-up demand increases, meaning future sales could actually hit a higher number as withholding buyers catch up. These sales, while high, would still not create a worrisome signal - except to the rental industry.)
The bottom line
The simplistic reasoning that higher mortgage rates will dampen home sales is wrong. Instead, as interest rates begin to rise, potential homebuyers will be encouraged to act sooner than later. Moreover, the higher rates will entice banks to allocate more funds to mortgage lending and reduce their abnormally stringent mortgage lending standards.
Importantly, flawed logic seldom prevails long in the stock market, so now looks to be the time to buy homebuilder stocks. Chances are that other investors are re-examining the rationale that caused the price drops last week. If so, the conclusion of this being a special opportunity to buy could arise - not only because the prices are significantly down, but also because the alternate rationale is so bullish.
Note: Homebuilder ETFs are more broadly diversified
The two major homebuilding ETFs are diversified beyond home construction firms. The table below shows the "pure" home construction companies, then which of those and how much of each is owned by the two funds.
SPDR S&P Homebuilders ETF (XHB): This ETF, with $2.6 billion in assets, mirrors the S&P Homebuilders Select Industry Index
iShares Dow Jones US Home Construction Index Fund (ITB): This ETF, with $2.3 billion in assets, mirrors the Dow Jones US Select Home Construction Index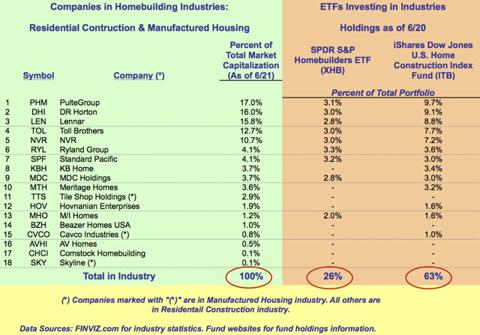 The other ETF holdings (74% of XHB's assets and 37% of ITB's assets) are housing-related companies, such as Home Depot (HD) and Ethan Allen Interiors (ETH). This observation isn't to say the ETFs' performance will be less - just that it could be different.
Disclosure: I am long DHI. I wrote this article myself, and it expresses my own opinions. I am not receiving compensation for it (other than from Seeking Alpha). I have no business relationship with any company whose stock is mentioned in this article.