Company Description:
Pfizer (NYSE:PFE) develops and commercializes a wide range of healthcare products for humans as well as animal biologics. It has a prominent presence in molecule medicines and consumer healthcare products. PFE also forayed into vaccines with the acquisition of Wyeth in 2009.
Pfizer acquired Wyeth, a large pharmaceutical giant particularly in vaccines, for $68.0 billion in 2009. The acquisition helped PFE in diversifying its revenue streams along with strengthening its position in emerging markets. In 2011, PFE bought King Pharmaceuticals for $3.6 billion.
The businesses of Pfizer are divided into five broad segments; namely, Primary Care, Specialty Care and Oncology, Established Products and Emerging Markets, Animal Health and Consumer Healthcare.
The blockbuster drugs of Pfizer are: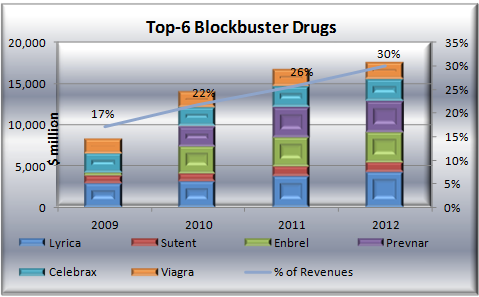 Lyrica: For treatment of several indicators including post-herpetic neuralgia, fibromyalgia and diabetic peripheral neuropathy
Sutent: Treats advanced renal cell carcinoma
Enbrel: treats a whole gamut of indicators; rheumatoid, juvenile and psoriatic arthritis, ankylosing spondylitis, and plaque psoriasis
Prevnar: vaccine, one of the world's leading vaccines, for preventing of pneumococcal disease
Divestures:
As latest as February 2013, Pfizer's spun off Animal Health unit under the brand name of Zoetis (NYSE:ZTS) started trading on NYSE. However, PFE is inclined to part away from its stake in Zoetis.
Pfizer sold its Nutrition business unit to Nestle for $11.9 billion, an all cash transaction in November 2012.
PFE divested its Capsugel business unit to Kohlberg Roberts & Co L.P. for a cash consideration of $2.3 billion in April 2011.
Investment Thesis:
Strengthening of Lyrica: Lyrica is springing up to be one of the most promising products compared to the existing portfolio of offerings. The product has gained traction since its launch in 2004. Revenue is likely to augment riding on the back of label expansion to include treatment of fibromyalgia. The positive developments in the diabetes and shingles, particularly treatment for pain are expected to work in favor of the drug. Lyrica has proved advantageous compared to its competitors in the diabetic peripheral neuropathy (DPN) and post-herpetic neuralgia (PHN) markets.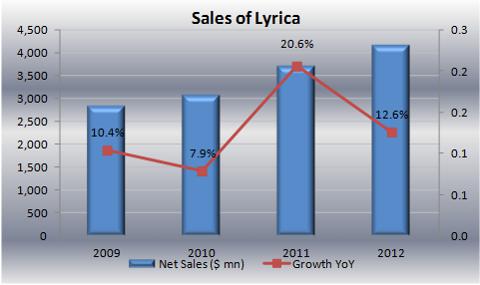 Approximately six million Americans are estimated to be suffering from fibromyalgia which is likely to add another billion dollars to its revenue stream. In addition, so far, the drug is patented till 2018. In FY2012, Lyrica grossed more than $4.2 billion, an upsurge of 13.0% YoY.
Synergistic Advantages: PFE bought Wyeth in October 2009. The acquisition provided PFE an access into the growing market of vaccines and biologics along with strengthening its position in the emerging markets. The acquisition provided with a shot in the arm to the already robust and flourishing U.S. consumer healthcare business unit of PFE. In other words, this helped PFE in diversifying it businesses and avoid concentration-risk. The company's synergistic advantages amounted to $4.0 billion.
Strategic Alliances: PFE is keen on extracting organic growth through strategic alliances in the form of licenses and collaborative deals. Pfizer inked an agreement with Merck to develop and commercialize Ertugliflozin, a proposed drug used for treatment of diabetes, E. PFE signed a deal with Protalix for Elelyso, a drug for the treatment of Gaucher. It has also entered into an agreement with Bristol-Myers Squipp to develop and commercialize Eliquis, a treatment for people suffering from Afib.
On the other hand, the company is shopping for small companies. Lately, it acquired the consumer healthcare unit of Ferrosan. The latest add-on has expanded and enhanced Pfizer's presence in the countries of Eastern and Central Europe.
Widening Product Portfolio: PFE is betting large chunks of its investments in developing drugs in the fields of metabolic disorders, oncology, vaccines, neuroscience, cardiology and inflammation. The company is strategizing, given the strength and presence of Wyeth in these fields with some already existing complementary drugs; it would not be difficult for the pharmaceutical giant to build a leading position in these fields. The company has withdrawn from investing in treatments for the fields of urology, tissue repair, allergy, internal medicine and respiratory disorders. A thorough look at the company's pipeline reveals that the company has earmarked on 59 new molecular entities, 17 of its programs are in Phase III while another 8 are in the process of registration. In total the company had 78 programs during 2012.
PFE is also focusing on the development of its biotech business segment given the increase in its products which were in the mid stage to late stage of development. The company, overall, is concentrating on streamlining of its research & development resources.
The promising products from the shelf of Pfizer are expected to be a pan-HER inhibitor for the treatment of non-small cell lung cancer, Dacomitinib. Another potential product is Palbociclib, a product in Phase II, for the treatment of breast-cancer. Xeljanz, a tofacitinib in the Phase III for the treatment of rheumatoid arthritis, has already been approved by Food & Drugs Administration (FDA). Other products that were approved by FDA were Xalkori, a crizotinib for treatment of non-small cell lung cancer in the advanced stage, Inlyta, an axitinib for the treatment of renal cell carcinoma in the advanced stage. Inlyta is a vital drug for Pfizer given that it has discontinued all other products' development, like Promune and Melanoma, catering to the oncology segment. In US, Pfizer launched Eliquis, a treatment for people suffering from Afib.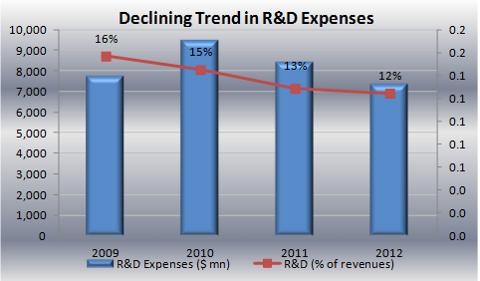 Cost Containment Measures: With the patent cliff eroding its revenues stream on one hand and the competition from generics doubling the impact, Pfizer decided to consider lowering costs and thickening the bottom-line. The company has been implementing cost-cutting measures for quite some time now. It successfully achieved its cost containment goals etched out in 2009 by the end of 2011, a year earlier than targeted. In 2012, the company even accomplished the target of reducing its R&D expenses. The company expects to carry on the excellent work by further cutting down R&D expenses to $6.5 billion - $7.0 billion in FY2013 compared to $7.0 billion in FY2012.
Not only the company is trying to thicken the bottom-line through cost restructuring but is also expanding in emerging markets and growing fields of healthcare, like oncology, to increase its net sales.
The company plans to increase the returns to its shareholders in the form of buy-backs and fatter dividends. Pfizer intends to fund these from the proceeds of sale of its Nutrition business. Pfizer has announced to increase the dividend payout to 40% in FY2013 compared to 33.0% in FY2012. In 2012, PFE returned approximately $15.0 billion to its shareholders in the form of generous buy-back programs and progressive dividends.
Concerns:
Struggling top-line: Pfizer is likely to struggle with its top-line given the loss of patent on blockbuster drugs like Lipitor, Protonix, Zoloft, Norvasc and Camptosar. The revenues from these drugs are drying up due to increased generic competition.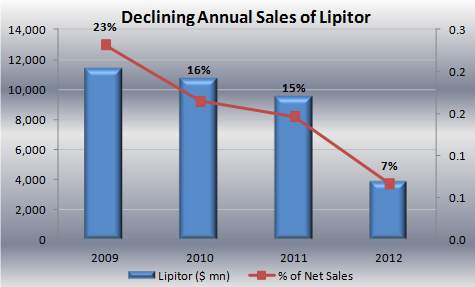 The decline in the sales of the once largest selling drug of the world, Lipitor, led to a decrease of $7.7 billion in the revenues of FY2012 for the company. The sales of Chantix, another blockbuster drug, in the largest healthcare market, U.S., declined substantially on grounds of safety concerns. The global sales for the drug declined 7.0% (y/y?) during FY2012. If the FDA adds the "black-box" warning, the most severe warning, as announced in 2009, the sales of Chantix are expected to go down further.
The Wyeth acquisition has given Pfizer advancement in the biologics and other complementary products' market, yet it did little to increase the net sales. The acquisition has predominantly helped the company cut down costs rather than increasing net sales.
Loss of patent exclusivity: In the next few years, the company would be facing a massive patent cliff, losing multi-billion-dollars.

By 2015, the company would be losing patents on Viagra, Aricept and Revatio, apart from the drugs listed in the table above, impeding growth in top-line. The increasing competition from generics would not only pressurize pricing but also would slim down the gross margin of the company.
Setbacks in product pipeline: Some high-profile failures in the Central Nervous System (CNS) segment; for instance, Indiplon, the drug for the treatment of insomnia, and Asenapine, atypical antipsychotic developed for the treatment of schizophrenia, have been disappointing. In addition, Zoloft got off-patent, substantially impacting the CNS revenue stream, negatively. The CNS category has been Pfizer's strength and part of the reason to acquire Wyeth. Other such expensive failures include Bapineuzumab IV, a treatment for Alzheimer's, Torcetrapib, treatment for high cholesterol, monoclonal antibody against nerve growth factor, Dalbavancin, second-generation lipoglycopeptide antibiotic.
The portfolio of products brought in with the acquisition of King Pharma is also facing serious challenges. Pfizer stopped producing Embeda due to naltrexone degradation; however, the company is initiating stability programs to re-launch it in 2014. Pfizer is also facing challenges with Remoxy, a drug which it has been developing in strategic alliance with Durect Corp. and Pain Therapeutics.
Strategic Alliances under pressure: Some of PFE's contracts are maturing in the coming years. Its contracts with Amgen involving Enbrel will be expiring in October 2013. After the expiry of the contract, Pfizer will be entitled to royalties from Amgen which however would be lower than the profits shared now. The deal with Boehringer Ingelheim regarding Spiriva is set to expire in a phases between 2012 and 2016. Thus, the revenues of Spiriva would be declining through 2016. The deal involving Rebif with EMD Serono is set to expire by 2015. However, the expiration of the deal depends on the pending lawsuit between Serono and PFE.
Recent quarter results: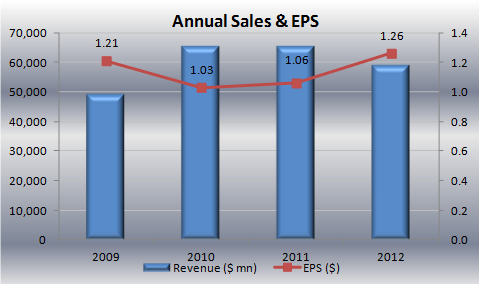 Piker's 1Q2013 net sales were negatively impacted 1.0% or $118 million by foreign exchange fluctuations and 8.0% or $1.3 billion by operational factors. International segment saw a decline of 9% YoY to $8.1 billion. The U.S. segment recorded a 10.0% decline in revenues to $5.4 billion due to Lipitor coming off-patent in November 2011, Geodon losing its product patent in March 2012, and declining trend in sales of Prevnar13.
PFE's Biopharmaceutical segment registered a decline of 12% YoY to $11.5 billion. Primary Care unit saw a record decline of 21.0% YoY to $3.2 billion in 1Q2013. Specialty Care unit also declined 12% YoY to $3.2 billion during the quarter primarily due to shift in the recording of revenues of a couple of drugs like Geodon, Revatio and Xalabrands. Established Products unit revenues also decreased 16.0% YoY to $2.4 billion due to the loss of exclusivity of Lipitor and increased generic competition. However, Lipitor revenue plummeted 55.0% to $171 million in the US
Revenues from Emerging markets increased 5% YoY to $2.4 billion in 1Q2013. The company expects improved performance in high single digit in FY2013 from this segment. Zoetis saw a surge of 5% in revenues to $1.1 billion during the quarter. Consumer Healthcare also surged 12% YoY to exit the quarter at $811 million being positively impacted by the acquisition of Alacer Corp. and increased cases of season flu in US. Revenues from Oncology category jumped 29% YoY to $371 million primarily due to the healthy performances of Inlyta, a new launch which grossed $63million in sales, and Xalkori which grossed in $53 million in sales.
SG&A costs decreased 11% YoY to $3.5 billion in 1Q2013. R&D costs saw a decline of 3% YoY to $1.7 billion during the same period. The company is on target as far as its cost cutting efforts are considered through reduction of headcount and streamlining of R&D costs.
The company launched some potential new drugs like Eliquis in limited geographies of the U.S., Japan, Denmark, UK and Germany. PFE along with Bristol-Myers (NYSE:BMY) is putting in efforts to gain larger acceptability in terms of commercial and formulary access. Xeljanz is also catching up with increased number of prescriptions; it recorded sales worth $11 million in 1Q2013. PFE is even targeting to start its Direct-to-consumer program.
Outlook for FY2013:
The company revised its FY2013 outlook downward taking into consideration the negative impact of volatility in Japanese Yen and weak Zoetis IPO. Revenues are estimated to be in the range of $55.3 billion - $57.3 billion, down from the previously estimated $56.2 billion - $58.2 billion. The estimated EPS was revised downward to $2.14 - $2.24 from the earlier estimates of $2.20 - $2.24. SG&A expenses are estimated to be $15.6 billion - $16.6 billion. R&D expenses are expected to be between $6.5 billion and $7.0 billion.
Patent cliff is anticipated to take a toll on PFE's revenues coupled with the maturing of some of the co-promotion agreements. Pfizer needs to build a robust product pipeline given the exclusivity of blockbuster drug Lipitor and some other big revenue-earner drugs.
Thus, for the near-term, Pfizer earns a "sell" recommendation.
Disclosure: I have no positions in any stocks mentioned, and no plans to initiate any positions within the next 72 hours. I wrote this article myself, and it expresses my own opinions. I am not receiving compensation for it (other than from Seeking Alpha). I have no business relationship with any company whose stock is mentioned in this article.