Interest rates are on the rise, and they are sucking the life out of bets on emerging markets.
Most telling is the recent plunge in the iShares JPMorgan USD Emerging Markets Bond (NYSEARCA:EMB) ETF. It is a fund with a very diverse portfolio of bond holdings across emerging markets. Its top five holdings are in Russia, Turkey, Brazil, Mexico, and Indonesia, ranging in share from 6.71% to 5.86% of the fund. In the chart below, I have juxtaposed the iShares Barclays 20+ Year Treasury Bond (NYSEARCA:TLT) ETF for emphasis. Note that the relationship between U.S. rates and emerging market bonds is not consistent. It appears that the current synchronicity is having a dramatic rippling effect on global financial markets.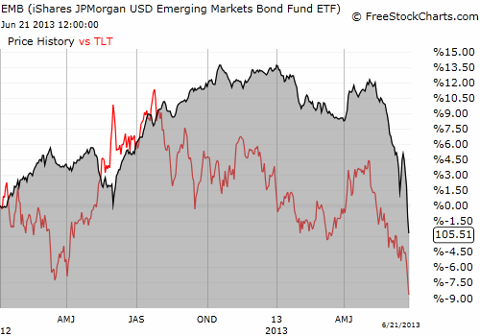 Emerging market bonds and U.S. bonds have plunged together since the beginning of May
As U.S. rates started to rise in early May (TLT price declined), EMB began a large decline. It went from up 12% since the beginning of 2012 to now down about 3%. While the S&P 500 (NYSEARCA:SPY) managed to rise through much of this pain in May, stock markets in emerging markets did not escape. I earlier showed the dismal May performance of the Australian stock market - one window into emerging markets given the Australian economy's large dependency on commodity exports to China. It is even more helpful of course to look directly at the emerging markets themselves.
The iShares MSCI Emerging Markets Index (NYSEARCA:EEM) is a diversified ETF that includes a range of global stocks dominated by Asian countries. China contributes the largest share with 17.7% of the value of EEM. South Korea and Taiwan are #2 and #3 respectively. Of the top 10 countries represented, six are scattered across the Asian continent. Here is the current breakdown as reported by iShares:
| | |
| --- | --- |
| China | 17.66% |
| South Korea | 14.70% |
| Taiwan | 11.87% |
| Brazil | 11.36% |
| South Africa | 6.82% |
| India | 6.69% |
| Russia | 5.73% |
| Mexico | 4.92% |
| Malaysia | 4.09% |
| Indonesia | 3.10% |
Even with this diversification, the fund's performance is tightly correlated to China's performance. In particular, EEM is highly correlated to the iShares FTSE China 25 Index Fund (NYSEARCA:FXI), an ETF stacked with 25 large cap Chinese companies. Only the smaller swings from peak to trough and back distinguish EEM from FXI…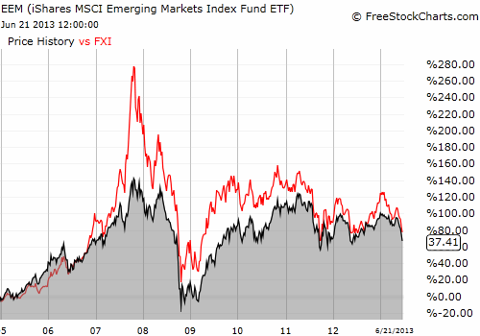 EEM and FXI have very similar performance profiles with FXI printing the largest swings from peaks to troughs
Source: FreeStockCharts.com
Of course, many of the ETFs representing emerging markets bear close resemblance to each other. The chart below shows that iShares MSCI Taiwan Index (NYSEARCA:EWT) ETF behaves more like a mature market with its milder swings. The iShares MSCI Brazil Capped Index (NYSEARCA:EWZ) ETF has held up a mirror image to FXI except that it peaked about six months later than FXI did. Soaring commodity prices in early 2008 drove the gap since they benefited big sellers like Brazil and hurt big buyers like China.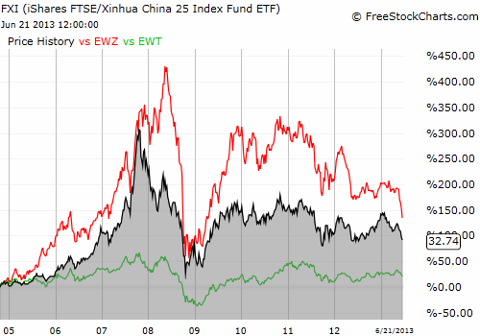 Over the years, EWZ and EWT have been like bookends to FXI's performance
EEM hit a post-recession peak in 2011 around the same time most major commodities hit post-recession peaks. The concurrence makes sense given so many emerging markets are big consumers and/or producers of commodities relative to their GDP. The increase in interest rates now serves as a double-whammy that has accelerated the decline. Whereas the commodity story is more endogenous to emerging markets - it is particularly a story about China now, I think of these rate hikes as more exogenous to emerging markets. They are like a contagion that started from the U.S. (or Japan depending on your perspective). They have helped push EEM to 11-month lows.
Some major bearish trades correctly anticipated June's steepening slide (providing yet another reminder of the value of watching the options market). On June 4th, the open interest on the August $39 puts on EEM went from almost nothing to about 255K. With the value of those puts roughly doubling over the next 10 days, these positions were closed out and, apparently, the profits used to buy August $37 puts. On June 14th, the open interest on the August $37 puts went from almost nothing the previous day to roughly 255K (open interest is now at 276K). These trades are now riding completely on the house's money with the value as much as tripling by Thursday, June 20th's close.
These trades are not likely part of a spread because the only other strike that comes close to this massive open interest is the July $40.50 put. Its open interest has shifted by large amounts several times. The last big move was from roughly 45K on June 6th to 270K on June 7th. There is also open interest of 186K put contracts on the December $37 put but most of this position was built in January of this year and then in April. (All open interest data from Etrade.com)
These large commitments to various put strikes are part of an overall substantial bearish bet against EEM. The open interest put/call ratio for EEM jumped from one year lows in January, 2013 to one year highs for brief moments in March, April, and May. The current 1.80 open interest put/call ratio is ranked at the 86th percentile over the past year.
Short interest has also soared against EEM. The nearly 110M shares short as of June 1st is a high for at least the last two years. The shares short have nearly doubled in the last four months or so. This is powerful confirmation of the bearishness in the options positioning.
As long as interest rates continue to climb, I expect these bearish bets to continue increasing. Fading rallies will make sense under this context.
Rising interest rates and weakening emerging markets make for an interesting challenge for Australia which finds itself caught in the middle. The Reserve Bank of Australia (RBA) has renewed its rate-cutting campaign, presumably to drive the value of its currency lower. This rate-cutting has brought rates down to 2.75%, just 25 basis points above the reported rate of inflation of 2.5%. Dropping rates to the rate of inflation, and lower, could really grease the skids for the Australian dollar (NYSEARCA:FXA). The chart below from the Australian Bureau of Statistics (ABS) and the RBA shows that the real cash rate is now approaching post-crisis lows: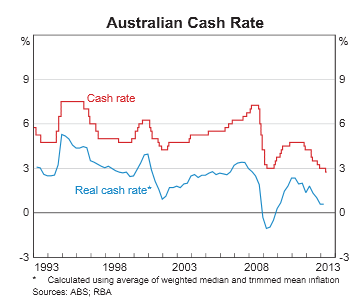 The real Australian cash rate is essentially at post-crisis lows
However, with bond markets lowering their on-going fear of deflation, the RBA could spark an even worse rout in its government bonds just at the time it wants lower rates to stimulate the domestic economy. In fact, Bloomberg reported on June 22nd, that the Australian bond market just suffered its worst weekly performance since 2001:
The yield on Australia's benchmark 10-year government bond closed up 12 basis points, or 0.12 percentage point, at 3.76 percent, the highest since April 23, 2012. Its 39-basis-point climb this week was the most since November 2001.
These seem like small numbers, but on a percentage basis they are huge. This jump in rates completes a total reversal of the rate decline that began in late-March or early April when the market began to anticipate a new round of rate-cutting. The RBA obliged with a 25 basis point cut in early May.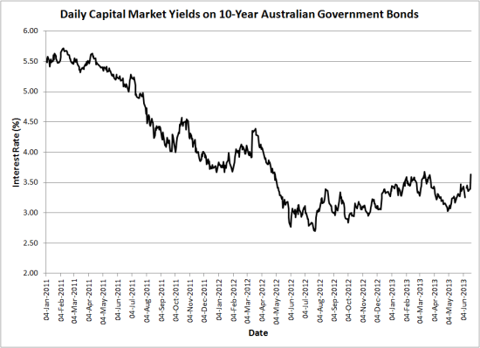 Daily Capital Market Yields on 10-Year Australian Government Bonds
Source: Reserve Bank of Australia
Australian government bond yields are also vulnerable to an exceptionally high rate of foreign ownership. The latest data show foreign ownership of Commonwealth Government Securities (CGS) fell from 77% in mid-2012 to 70% by December, 2012. State and territory government securities ("semis") have been falling out of favor slowly but surely for several years. A sustained plunge in the Australian dollar should drop these percentages must faster. If domestic Australian banks do not pick up the slack as they did in the second half of 2012, Australia could experience more rapid hikes in interest rates on government bonds.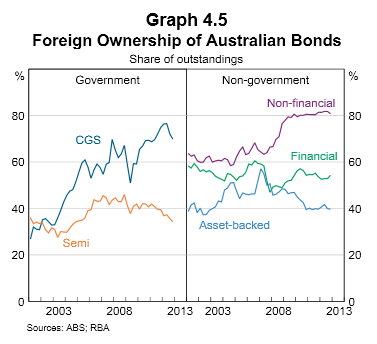 Foreign Ownership of Australian Bonds
The stakes could be very high for July's interest rate decision, especially on which economic forces the RBA chooses to identify in its statement as driving policy.
The overall message here is that the immediate outlook for emerging markets is poor. The rapid decline in EMB, and the steady hike in yields in the U.S. and elsewhere from historic lows is made more remarkable given it grinds against the desire of central banks to maintain exceptionally low yields. The RBA will give us an important glimpse into how central banks will try to respond. In the meantime, the collateral damage in stock markets should continue but not in a straight line. As the market is extremely sensitive to large moves in rates, it will be similarly sensitive to related pronouncements of major financial authorities. Count on the media to make the most of those headlines, further amplifying the market's frantic desire to get ahead of whatever is coming.
Be careful out there!
Disclosure: I am short TLT, EEM. I wrote this article myself, and it expresses my own opinions. I am not receiving compensation for it (other than from Seeking Alpha). I have no business relationship with any company whose stock is mentioned in this article.
Additional disclosure: I am short TLT and EEM via put spreads.