Investors are increasingly turning to dividend stocks as the financial collapse of the past year has made many investors more risk-averse. Even in light of the recent positive economic indicators and corporate earnings, there is still significant uncertainty surrounding the direction of the stock market.
For the stockholder, investment returns come from two portions: capital gains and dividends. In today's business environment capital gains, even for financially sound companies, are far from certain while dividends from such companies are more assured and recur with frequency (usually quarterly).
This knowledge may lead investors to merely run a stock screener to invest in those stocks paying the highest dividend yield and sleep well picturing the relentless flow of dividend checks filling the mailbox. If only it were that easy.

One company with an eye-catching dividend yield is Kinder Morgan Energy Partners (NYSE:KMP), which is currently yielding 7.7% and was yielding as high as 8.2% in the middle of this month. It is certainly hard to resist a "guaranteed" return of eight percent but it is necessary to dig a little deeper below the surface in analyzing the company.
KMP is an owner and operator of petroleum (8,300 miles) and natural gasoline (14,300 miles) pipelines in the United States. In fact, KMP is the largest independent transporter of refined petroleum products and independent terminal operator.
Since KMP operates pipelines/terminals and collects fees for the right to use its facilities it typically does not take title to the pipeline products so the commodity price risk and business inventory property tax/liability exposures are limited compared to investing in Exxon Mobil Corp. (NYSE:XOM).
Naturally one may expect deliveries to fall with demand as oil increases in price but KMP is relatively insulated from volatile commodity pricing.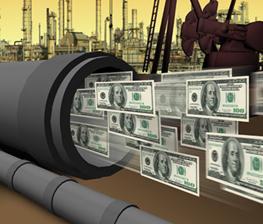 In analyzing KMP as a potential dividend play, I reviewed various financially strong companies with robust yields and the ability to continue/grow payment in the future.
Since the goal is income, it is logical to begin by looking for a high yield. Typically a yield of two to six percent is acceptable depending on the industry.
Once the yield begins to creep above six percent, the sustainability of this yield starts to come into question. In this case, KMP's 7.7% yield is very high: management has recognized this and they are keeping the quarterly dividend flat at $1.05 per share. To gauge the sustainability of the dividend, an invaluable ratio is the payout ratio that compares earnings per share to dividend per share.
Naturally, the lower the payout ratio, the better as it indicates that the company can afford to payout dividends just from earnings. KMP's payout ratio is an outrageously high 275% TTM.
In the first quarter of 2009, EPS was $.15 versus dividend per share of $1.05, resulting in an astronomical ratio of 700%. A rule-of-thumb for a sustainable payout ratio is less than 75%.
With a market capitalization of over $10B, KMP passes my size threshold of $2.5B with flying colors. This requirement is less strenuous but helps to ensure that the company is well established and improves its ability to raise financing if necessary.
I would lower this requirement if the right investment opportunity appeared; however, I would still maintain a minimum of $1B (there is a time and a place in your portfolio for sub-$1B companies depending on your risk tolerance but not when looking for dividends).
KMP also clears the next hurdle of a long dividend payment history with ease as the company has been paying a dividend for over ten years. I would not pursue a dividend play if the company lacked at least two years of dividend paying history.
Analyzing the financials with an eye on dividends is much narrower in focus than conducting an in-depth financial analysis. Specifically, you are interested in the company's ability to pay the dividend in the future so key balance sheet items are cash and short-/long-term debt. KMP has a tiny cash position ($65M), poor liquidity ratios (current and quick ratios of .5 and .6, respectively), and increasing debt.
The oil and gas pipeline industry typically pays large dividends so this does not cause alarm. For example, a high-tech growth company that pays dividends would be a red flag.
Lastly, I examine the intangibles such as management. Management owns approximately ten percent of the company and has not been selling shares. Valuation indicates that KMP is trading at a premium to its industry group (PE of 37.4 versus 24.7).
One final intangible that I often check is the short interest as a percent of float. Different companies have different advantages and disadvantages and I suggest that you examine the intangibles until you are comfortable with your investment decision.
To summarize my dividend framework:
Yield: 2 to 6%
Payout Ratio: Less than 75%
Size: $2.5B
Dividend History: Minimum of two years of dividend payments
Financials: Strong cash position/liquidity with minimal debt
Industry Comparison: Industry position and "fit"
Intangibles/Valuation: Management stake, short interest, valuation, etc.
Application of framework to Kinder Morgan Energy Partners:
Yield: 7.8%
Payout Ratio: 275%
Size: $10B+
Dividend History: 10+ Years
Financials: Minimal cash, weak liquidity, rising debt
Industry Comparison: Industry leader in dividend yield
Intangibles/Valuation: 9% stake with recent purchases and no recent sales; PE premium
As a cautionary comparison, I present Penn West Energy Trust (PWE) and its 11.6% yield. This is another high yielding stock that was yielding over twenty percent late last year. As with KMP, PWE had what would appear to be an unsustainable payout ratio (among other problems such as quarterly losses) and it was forced to slash its dividend payments. Currently PWE is down over 55% YTD and its PE has fallen to five.
In conclusion, while KMP's dividend is attractive, its dividend is unsustainable based upon its payout ratio and weak financial position. Should the dividend be cut, the multiple will fall causing this stock to fall out of favor.
Naturally, more research into KMP's financials is necessary if considering KMP as a potential capital gains investment but it should be clear that this is not the type of stock that a dividend investor should put on the top of his or her buy list.
Sources: