The semiconductor industry is moving to 450mm wafer sizes in the next few years, and semiconductor equipment manufacturers need to position themselves now to reap the benefits. The best way is to increase market share on current 300mm wafer equipment, as these tools will act as a springboard for purchases of 450mm equipment.
The semiconductor industry has been increasing the size of wafers about every 10 years. In 2000, semiconductor device manufacturers migrated from 200 mm substrates to 300 mm substrates due to technological advances and manufacturing cost advantages. 300 mm wafers provide more than 2.25 times as many die per wafer, and offer significant economies of scale in the manufacturing process. Approximately 96% of 2012 net orders for wafer fabrication equipment were for 300 mm manufacturing systems. The next planned wafer size increase is expected to be up to 450 mm substrates.
Increases in wafer sizes have been a natural evolution and manufacturing efficiency improvement for the semiconductor industry for decades, as shown in the figure below.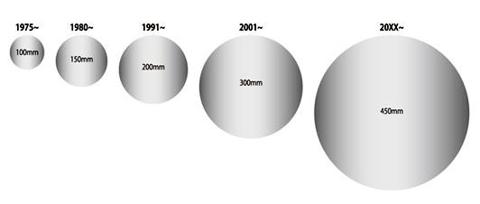 The table below shows the impact of the conversion from 300mm to 450mm technology on several processing parameters.
Overall trend from 300mm to 450mm
| | |
| --- | --- |
| Fab / wafer inputs | 30%-100% increase in costs of fab area, maintenance and automation cost. 4x starting wafer costs |
| Equipment Costs | 20-50% increase in equipment costs |
| Equipment Throughput | 10-30% decrease in throughput for beam tools, identical throughput for other tools |
| Labor | 15% decrease of direct labor hours, but same respective overhead |
| Consumables | Multiplied by 1.7x to account for an increase in area |
Shown in the Figure below, this illustrates the special dual "S-curve" timing required when a new wafer generation is being introduced, which was modeled after the experience with the 300 mm wafer generation ramp around 2000.
The ITRS has proposed a revision in the timing targets for the 450 mm generation semiconductor manufacturing and foundry pilot lines, which are now delayed about 2 years (2015-16, versus the previous 2013-14 target made by the ITRS in 2009).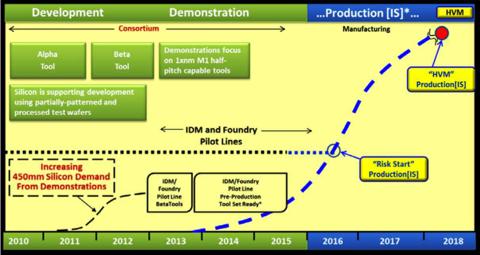 By 2015-16, Intel Corp (INTC), Globalfoundries Inc., Samsung Electronics Co. Ltd. and Taiwan Semiconductor Manufacturing Co. Ltd. (TSM) will have 450mm wafer fabs constructed and equipment installed. While these are only a handful of fabs, they represent 34% of the revenues of the entire semiconductor industry in 2012, as shown in the table below.
Company

Country of origin

Revenue

($ million)

Intel Corporation

USA

48

Samsung Electronics

South Korea

31

TSMC

Taiwan

17

GlobalFoundries

USA

5

Subtotal

100

Total Industry

291

Share of total Industry

34%
What's In Store for Equipment Suppliers?
Market share is a key determinant in what semiconductor equipment supplier will reap the benefits of sales to customers that represent a third of the total industry. And this is important. A vendor will not have a 450mm position unless it has a 300mm position. In other words, the slate will not be clean going from 300mm to 450mm as far as purchases are determined.
Semiconductor manufacturers will purchase 450mm equipment from the same equipment supplier that sold them 3000mm equipment. For an equipment company to become the supplier of record to a customer, it needs to execute well, providing best-of-breed equipment and technology. Unless that company self-destructs, the execution they focused on to sell 300mm equipment will carry over to 450mm.
So who's to gain in this transition?
ASML (ASML) is an easy one. Besides the fact that they dominate the lithography market with an 84% share (see chart below), they also dominate the EUV (extended UV) market with a 100% share. ASML announced they would port their EUV to 450mm only. Intel (INTC) invested $4.1 billion in ASML, as part of an effort to raise the overall confidence level in EUV and the 450mm wafer transition. Taiwan Semiconductor Manufacturing Company (TSM) and Samsung (OTCPK:SSNLF) also recently invested in the Dutch-based lithography giant for similar reasons.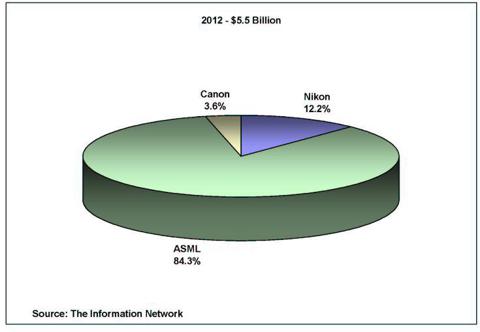 KLA Tencor (KLAC) dominates the process control market with tools for semiconductor inspection and metrology (measurement) and will be another winner in the 450mm transition. KLA-Tencor holds a 50% market share, and that share has been growing worldwide, as shown in the chart below.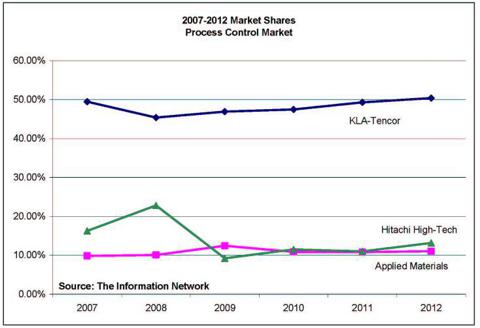 Hitachi High-Tech's (OTC:HICTF) process control revenue grew 16.6% in 2012 and will be a winner in the 450mm transition. Hitachi purchased SII Technologies in 2013, which recorder revenues of $90 million in 2012, further escalating Hitachi's revenues in 2013.
Applied Materials (AMAT) made claim that they gained share against KLAC in 2012, but this is not the case according to our analysis. Applied has been hyping its process control sector of late: President Gary Dickerson at AMAT's November conference call, Chairman/CEO Michael Splinter at AMAT's February conference call, and CFO Robert Halliday at a Cowan & Co Conference in May. According to rumors from a reliable source, perhaps this is in response to the fact the now President Gary Dickerson was turned down for the post of CEO of KLAC when he worked there, and then resigned to become CEO of Varian Semiconductor, before being hired by Applied last year. Perhaps Applied should be emphasizing regaining lost market share in other sectors.
Lam Research (LRCX) dominates the plasma etch market with nearly a 50% share, as shown in the chart below. If we go back to 2000, Applied Materials had led the market with a 36.6% share and Lam held only a 26.3% share. In the following 12 years, Applied's share dropped to 12.9% while Lam's increased to 50.3%.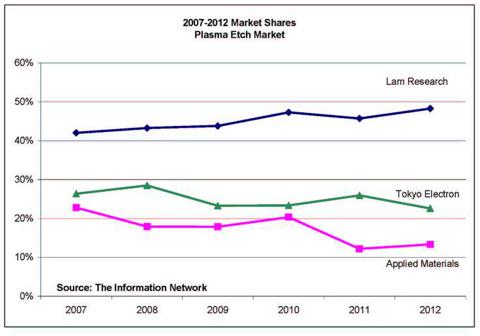 Lam Research will be another winner in the 450mm transition. The company is a leading capital equipment supplier to the largest memory manufacturers including Samsung, Toshiba and Micron (MU) and also the key supplier to TSMC.
More importantly, Lam recently secured a key etch win with Intel, long a stronghold for AMAT. Lam acquired Novellus last year. Novellus went head-to-head in competition with Applied Materials in the deposition market, and there had been constant speculation that the re-badging of Novellus hardware by Lam will find its way into Intel. It appears this may now be the case, Lam's etch and deposition wools will share a common platform, and it will drive strong sales in Intel's 14nm build-out.
The semiconductor equipment industry is dynamic and things change. For example, in the metal CVD market in 2000, Applied led the market with a 70.6% share compared to 17.1% for Novellus. In 2011, Novellus claimed a 64.0% share to Applied's 17.2%.
Based on analyzing the semiconductor equipment market for 27 years, I see erosion in Applied's execution. Many of the top executives left the company last year and the vacuum was filled by ex-Varian Semiconductor employees from their misguided $4.7 billion acquisition of the company in 2011. Novellus claimed a 64.0% share to Applied's 17.2%. And so Applied will be a loser in the 450mm transition.
Disclosure: I have no positions in any stocks mentioned, and no plans to initiate any positions within the next 72 hours. I wrote this article myself, and it expresses my own opinions. I am not receiving compensation for it (other than from Seeking Alpha). I have no business relationship with any company whose stock is mentioned in this article.