On Friday, June 21, Darden Restaurants, Inc. (NYSE:DRI) announced a quarterly dividend increase of $0.05/share to bring its upcoming dividend payout to $0.55/share. It should be noted that this increase represents a 10% increase from its prior dividend of $0.50/share, which was paid on May 1. In the wake of DRI's dividend increase I wanted to not only examine the company's Q4 results, but also highlight some of the key catalysts behind my decision to consider a long-term position in this particular restaurant-based play.
Performance & Trend Status: On Friday shares of DRI, which currently possess a market cap of $6.48 billion, a P/E ratio of 15.28, a forward P/E ratio of 15.75, and a forward yield of 4.29% ($2.20), settled at $50.12. Based on Friday's closing price, shares of DRI are trading 5.42% below their 20-day simple moving average, 3.91% below their 50-day simple moving average, and 0.76% above their 200-day simple moving average. These numbers indicate a short-term, mid-term downtrend for the stock, which generally translates into a near-term selling mode for traders.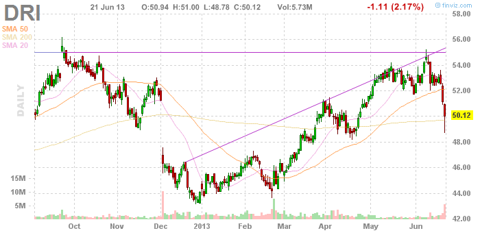 A Soft, Yet Steady Q1 Performance: On Friday, June 21st Darden Restaurants, Inc. reported the results of what I believe to be a very soft first quarter. The company's Q1 EPS of $1.01 /share missed Street estimates by $0.04/share, and its revenue of $2.30 billion beat Street estimates by a margin of just $0.03 billion. Although it missed EPS expectations the company's performance was driven by a 3.50% increase in same-store sales at its Longhorn Steakhouse restaurants, a 3.50% increase in same-store sales at its Red Lobster restaurants, and a 1.10% increase in same-store sales at its Olive Garden restaurants. If the company can continue to demonstrate a solid increase in the same-store sales of its Longhorn Steakhouse, Red Lobster and Olive Garden restaurants over the next 12-24 months, I see no reason why Darden should not be considered from a growth perspective.
24-Month Dividend Behavior: Since April 6, 2011, DRI has increased its quarterly distribution a total of three times (including the company's most recent increase announced on June 21st) by an average of $0.0766/share each time. From an income perspective, the company's forward yield of 4.29% coupled with its continued annual increases could equate into a very viable income option for long-term investors in search of a higher-yielding restaurant-based play.
Conclusion: When it comes to those who may be looking to establish a long-term position in Darden Restaurants, I'd continue to keep a watchful eye on three things. The first thing I'd keep in mind would be the company's efforts to increase same-store sales at its Longhorn Steakhouse, Red Lobster, and Olive Garden locations. Secondly, I'd continue to monitor the company's dividend behavior as I strongly believe shareholders will see continued increases in the company's quarterly distribution at least the next 24-36 months. The last of the three things to consider would be overall outlook in terms of restaurant-based same-store sales trends given the fact the month of May 2013 demonstrated solid results.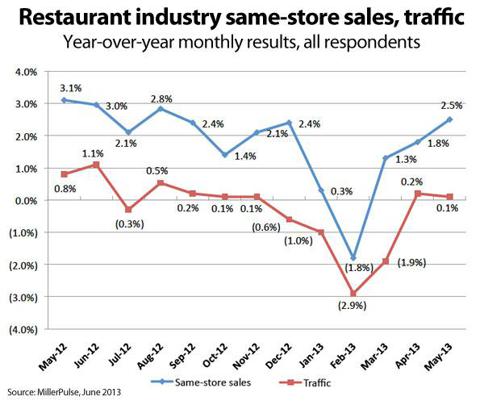 According to Miller Pulse, "May's solid sales performance was largely driven by healthy increases from the fine-dining and fast-food segments, not to mention the fact that Fine-dining restaurants saw sales increase 4.8 percent while fast-food brands reported an increase in same-store sales of 3.2 percent. In addition, fast-casual restaurants and casual-dining restaurants saw sales increases of 2.3 percent and 1.1 percent, respectively". If these numbers can continue to demonstrate steady growth on a month-to-month basis there's no reason why the same-store sales at Darden Restaurant's three key properties can't grow at a similar pace.
Disclosure: I have no positions in any stocks mentioned, but may initiate a long position in DRI over the next 72 hours. I wrote this article myself, and it expresses my own opinions. I am not receiving compensation for it (other than from Seeking Alpha). I have no business relationship with any company whose stock is mentioned in this article.