As we approach the end of June and the second calendar quarter, we are just a few weeks away from the start of earnings season. Of course, everyone will be waiting eagerly to see Apple's (NASDAQ:AAPL) fiscal third quarter report. Currently, the date of the report is not available, and I expect it up on Apple's investor relations website in the next week or two. My personal opinion, and many folks I've talked to agree, is to expect it somewhere in the July 22nd to 25th range, the last full week of July. That means we are one month away from this key earnings report, which is a critical time period. In recent quarters, we've seen a flurry of analyst negativity into Apple earnings, and that has caused some pain for investors leading into the report. Today, I'll break down some of these prior situations and discuss current Apple expectations for this quarter and next. I'll also explain why this is a good time for longer-term investors to take advantage of the recent pullback in shares. The time to start thinking about Apple's earnings report is now!
Playing the analyst game:
In the past year and a half, Apple analysts have used the last month before earnings to cut estimates and get bearish ahead of the company's report. Now that doesn't necessarily mean that they cut estimates for the quarter the company is reporting, this one being fiscal Q3. Prior to Apple's fiscal Q2 report, analysts spent the week prior hacking away at Q3 numbers because they thought, as I did, that Apple would give really low guidance, which Apple did. The problem is that every time we get an analyst that comes out and cuts their estimates (or price target), a lot of investors seem to panic and sell shares. It also makes it easier for Apple to beat analyst estimates.
A great example of this was last fiscal year's Q4 report. At the beginning of the month, with Apple trading between $650 and $670, analyst estimates stood at $36.39 billion in revenues and $8.91 in earnings per share. Three days before the report, Monday October 22nd, Apple's stock closed at $634. By that day, estimates had trickled down to $36.23 billion and $8.85, respectively. Other than right after earnings, you usually don't see large moves in estimates. With 50-60 analysts covering the stock, it is usually a "slow bleed" or the "death from 1000 paper cuts". One analyst changing their estimate will not shift the total that much. But as you start to get more and more estimates lowered over time, you start to see the average come down. During the week leading into earnings, CEO Tim Cook stated that Apple had crossed the 100 million unit selling mark for the iPad. When analysts started adding up the numbers, they realized that Apple might have only sold 15-16 million units in that quarter, whereas a lot of analyst estimates were closer to 18 million. A number of analysts cut their iPad estimates by a million or two in the day or two before earnings. By the afternoon of earnings, the average estimates were down to $35.80 billion and $8.75, respectively. Apple ended up beating on revenues, but would have missed based on estimates from just a few days prior. The company missed on earnings per share, but the 8 cent miss would have been two or three times that size if not for the cuts. Thanks to all of the estimate cuts, Apple shares dropped to $610 into the report, and fell afterwards on the earnings miss. It was a $50 drop into earnings thanks to all of the analyst negativity.
Why does this happen?
I continually get asked why this seems to happen with Apple almost every quarter now. I have a couple of explanations for this, a few of which are what happened in recent quarters.
First, everyone tries to gain Apple insights from any company that may have a connection with Apple, and that's perfectly logical. In the fiscal Q2 2012 quarter, there were some concerning iPhone activation numbers from AT&T (NYSE:T) and Verizon (NYSE:VZ) when the phone giants reported their results prior to Apple's report. Many tried to extrapolate the data into an Apple total, and ended up being rather conservative and foolish. Last quarter, it was a quarterly warning from chip name Cirrus Logic (NASDAQ:CRUS). More often than not, these data points are small pieces of Apple's total business. Sprint (NYSE:S) usually doesn't report its numbers until after Apple does, and Apple's international business can be hard to predict as well. Those that take down their iPhone numbers because AT&T only activated 25% more iPhones than the prior year period instead of 27% end up too bearish usually. Now I'm not saying you can't use information from other names involved with Apple to make decisions. You just have to realize that the 4 million or so phones one name sells a quarter is a fraction of Apple's 35-40 million total. I'm sure if AT&T or Verizon report before Apple this quarter, you'll get plenty of numbers kicked around as to what Apple will then do. I'm guessing most of those Apple predictions will then be wrong.
The second reason is that it's just the analyst business. You don't want a company constantly missing analyst estimates, so if there's a hint that Apple's revenues might be coming in around $36 billion, you don't want the analyst average at $36.1 billion, you want it at $35.9 billion. Also, there can be some guessing involved. Analyst estimates are just that, estimates. I've given predictions for Apple results in the past, and I've hit some numbers dead on, others not so much. Some might even say that my numbers have been better than most analysts. But in the end, I can throw together some numbers in a couple of hours just like an analyst can. These are all estimates, as only Apple knows what the actual results were.
Finally, things are changing from Apple's viewpoint. There are two parts to this. First of all, Apple's revenues are like three or four times what they were just three years ago. When Apple beat by a billion dollars on the revenue front then, that was a big deal. Now, if Apple beats by a billion, people don't care, or they criticize Apple for not beating by $2 billion! The second item is that since Steve Jobs died, Apple has looked to provide more realistic guidance. The table below shows Apple's quarterly revenue guidance versus its actual results.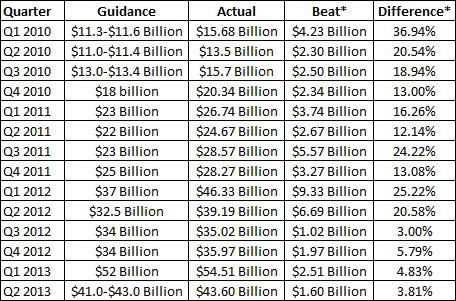 *Beat and difference calculated from midpoint when range is given.
Apple used to beat its own guidance by 20%, 30%, or more, but it was easier to do then. Just look at the numbers, where a $2.5 billion beat was once 19%, and now it is under 5%. Part of it is the larger numbers, but part of it is Apple deciding to not low-ball the street by so much. Gone are the days of tremendous quarterly beats, and that might also be one reason why the stock has come down. The pattern is the same with earnings per share, but I'm not going to provide that table here as Apple has stopped giving quarterly EPS guidance.
What to watch for in Q3:
Before I get into details, here was Apple's guidance for the quarter:
revenue between $33.5 billion and $35.5 billion
gross margin between 36% and 37%
operating expenses between $3.85 billion and $3.95 billion
Other income of $300 million
tax rate of 26%
This guidance was seen as very disappointing, but I had been saying for weeks that Apple was likely to go with a kitchen sink quarter. The following table shows how analyst estimates have changed over the past 3 months or so. The yellow line is where estimates stood going into the fiscal Q2 report.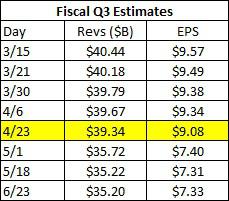 Estimates had come down by $1.1 billion for revenues in the 5 weeks or so before earnings, but they dropped with Apple's low guidance. I am worried in one sense because the current estimate is $35.2 billion. That's $700 million over Apple's midpoint. I'm not worried that Apple will miss at this point. I am worried that Apple analysts might feel the need to take that average estimate down to make sure Apple doesn't miss. One interesting item to consider for this quarter is that last year's Q3 saw revenues of $35.02 billion. The current average estimate implies just 0.5% year over year growth. Will Apple analysts take the average down before earnings to the point that a decline is expected? It will be something to watch.
Apple will have a hard time showing year over year revenue growth, because as I've discussed a lot recently, there was no new iPad in March this year. Apple sold 17 million iPads in Q3 last year, and that was before the lower priced Mini entered the picture. One thing I must stress that is that all investors read my article "Apple: Too Far, Too Fast?", particularly the section on pricing differences. Apple has made some changes to how it classifies certain revenues, and this has made average selling prices look very weak. Apple has seen average selling prices come down in certain respects, like the iPad mini taking down the iPad average, as well as iPhone 4 and 4S models lowering the iPhone average. However, a huge chunk of the change is due to Apple's new accessories category. You will continue to see year over year drops in average selling prices in Q3 and Q4, but realize that a large share is coming to an accounting change. This issue should be resolved for Apple's fiscal Q1 holiday quarter later this year.
Apple sold 26 million iPhones in the year ago period. There have been some questions over iPhone sales, especially since the iPhone 5 went on sale a few weeks earlier than the 4S did (in calendar terms). That pushed the selling timeline up a bit. From all accounts, the iPhone 4 and 4S have been selling well. That will help Apple's unit sales, but lower the average selling price number. The question now is how many people are holding back purchases, waiting for the new version, or trying something like the new BlackBerry (BBRY) 10 line?
Look at Q4 instead:
I've mentioned recently that I'm really not concerned with Apple's Q3 results. If Apple comes in more than $1 billion above the upper end if its range, I might be a bit curious to see what caused it to do so well. It's been a while since Apple released any new products that were big (streaming radio and some new laptops aren't tremendously important), so sales are tapering off until the next set of launches. I almost wouldn't be that concerned if Apple's revenues come in a little light, because it's all about the launches later this year in my opinion.
Since the beginning of May, Q4 estimates have come down. Revenue estimates have declined from $38.84 billion to $38.22 billion, and earnings per share estimates have declined from $8.35 to $8.27. That implies a little more than 6% revenue growth over last year's period. It also assumes some sort of product launch. Remember, Apple launched the iPhone 5 with about 10 days to go in the quarter. That will make for some tough comps unless Apple releases something new. Apple's guidance at the Q3 report will definitely shed some light on whether something new is coming in the coming months.
If I were an Apple investor, and I'm not currently one, I would like to see Apple spread things out just a little. Last year's product launch schedule was a bit clumped, and Apple had production issues that might have cost it some sales. It also led to a $54 billion revenue quarter, with things very uneven throughout the rest of the fiscal year. The ideal situation in my opinion would be a product launch in late August, another one in late September, and one in October. In terms of those three launches, I'm talking about the iPhone 5S, a new regular iPad, and a new iPad mini. But the realist side of me wants to believe that you'll see a schedule comparable to what we saw last year, with the iPhone in late September and everything else in October/November. If Apple does launch a cheaper version iPhone, maybe that would be the late August one, and that would help provide some Q4 growth over last year's period.
Impact of the recent pullback:
So much for the post-earnings rally. Shares of the tech giant have lost almost all of their gains, as you can see from the chart below. However, that leads to opportunities for both investors and the company. Obviously, you are able to get shares much cheaper, as getting them around $410 on Friday would have saved you $50 over the $460 we saw a little while after earnings.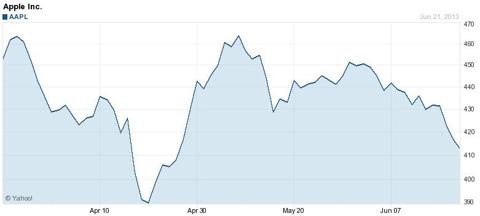 (Source: Yahoo! Finance)
The first opportunity is for Apple, and as you can guess, it is the stock buyback plan. Apple plans to buy back $60 billion over 3 years, but as I've reminded investors, $10 billion was to stop the share count from rising further. The true lowering of shares will only be on the $50 billion addition to the buyback that Apple announced. So when you look at the $50 billion worth of shares to reduce the share count, Apple could buy back about 108.7 million shares at an average price of $460. With that price down to $410, Apple would be able to buy back about 122 million shares. Apple's earnings per share should start to slowly benefit from the buyback in Q3 and Q4, with more of an impact in the first few quarters of the following fiscal year.
For shareholders, there is an advantage, and I'm not just talking about getting a stock that's $50 lower. You have the chance to pick up a higher dividend yield, which means more income over time. The table below shows various yields versus price points.

With Apple dropping from $460 to $410, the yield has jumped by roughly 32 basis points, and that's not a small amount. On a $10,000 position, an investor that bought at $410 would get an extra $32.34 in yearly income over the investor that bought at $460 (assuming partial shares to buy exactly $10k). Over time, that money would start to add up, especially with compounding. If the stock went to $500 over the next year, the investor that bought at $460 would have $40 in stock gains and $12.20 in dividends, for a total return of $52.20, or 11.35%. The investor that bought at $410 would get $90 in stock gains plus $12.20 in dividends, a total of $102.20 or 24.93%. This is why I've been encouraging investors for some time now to only buy Apple on pullbacks, to get more out of the stock and a higher yield.
Final Thoughts:
We are approximately one month away from Apple's fiscal Q3 earnings report. This time around, one must wonder if analysts will take down Q3 or Q4 numbers going into the report? With current estimates near the high end of Apple's Q3 guidance range, my bet would be on Q3. Apple analysts will try to set up a definite beat for Apple. Will they use some component maker's warning to do so, or maybe low activation numbers from a major carrier? That remains to be seen. One thing is certain. Apple's stock has pulled back from its post-earnings high, and the dividend yield is approaching 3.00%. This is a chance for dividend investors to grab some extra income, and Apple to buy back stock at a lower price. I'll be here tracking Apple estimates, and I will continue to update investors as we get closer to the actual report.
Disclosure: I have no positions in any stocks mentioned, and no plans to initiate any positions within the next 72 hours. I wrote this article myself, and it expresses my own opinions. I am not receiving compensation for it (other than from Seeking Alpha). I have no business relationship with any company whose stock is mentioned in this article.
Additional disclosure: Investors are always reminded that before making any investment, you should do your own proper due diligence on any name directly or indirectly mentioned in this article. Investors should also consider seeking advice from a broker or financial adviser before making any investment decisions. Any material in this article should be considered general information, and not relied on as a formal investment recommendation.