Atlas Resource Partners, L.P. (NYSE:ARP), which participates in the production of natural gas, crude oil, and natural gas liquids in various basins in the United States, reported some great drilling results in its latest quarter, laying a foundation for some significant production increases for the future.
The master limited partnership has an interest in "over 8,600 producing natural gas and oil wells, representing over 700 Bcfe of net proved developed reserves."
Along with the production of oil and gas, along with well construction, the company also is "also a leading sponsor of tax-advantaged direct investment natural gas and oil partnerships." It also manages them.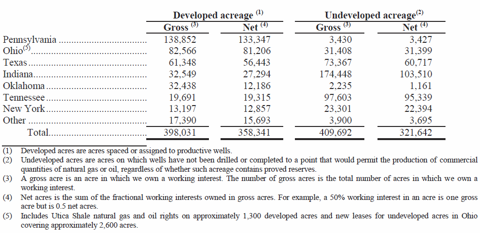 It's active in the Mississippi Lime in Oklahoma, Barnett Shale in Texas, and the Marcellus Shale and Utica Shale in the Appalachian Basin. It also holds ownership interests in the Chattanooga Shale in Northeastern Tennessee, the Niobrara Shale in Northeastern Colorado, the New Albany Shale in Southwestern Indiana, and the Antrim Shale in Michigan.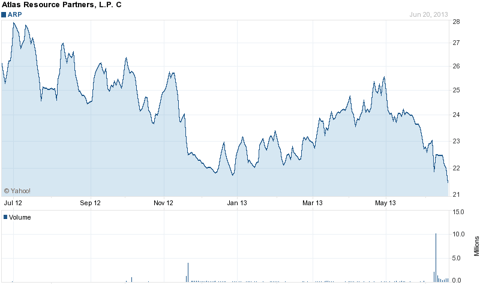 Latest Earnings Report
Adjusted EBITDA in the first quarter of 2013 for Altas Resource Partners was about $31.5 million, or $0.64 per unit, up $8.8 million from the fourth quarter of 2012. Cash flow to be distributed was close to $25 million, or $0.52 per unit.
Production margin was approximately $31 million. Storms through Texas and Oklahoma had a negative impact on the numbers in a range of $2.5 million to $3 million.
Production lime increased to just shy of 133 million Q3 equivalents per the quarter, a jump of over 20 percent over the fourth quarter, and close to 230 percent higher from the same quarter in 2012. That was primarily a result of the DTE acquisition.
Operating expenses in the quarter were $0.97 per Mcfe, down about 10 percent from last year in the same period. That was mostly from the low cost production in Barnett, which drew the cost per Mcfes much lower.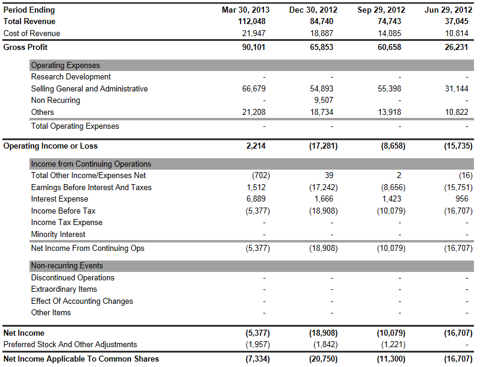 Drilling and Production
The best story for the quarter concerning drilling results was the eight wells drilled in Lycoming County, Pennsylvania. Every one of the seven wells with flowback information had extraordinary production, averaging close to 20 million cubic feet per day. Chief Executive Officer, Ed Cohen said one well even exceeded 30 million cubic feet per day.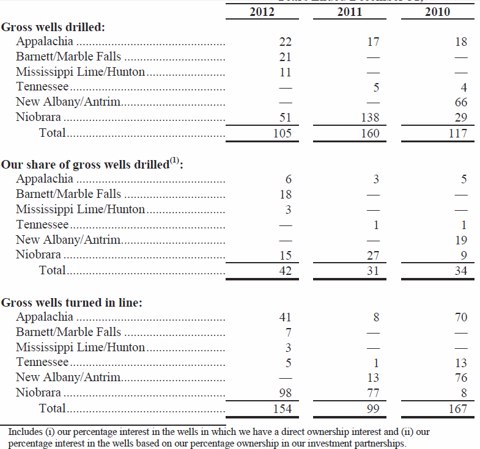 To put that in prospective, the 140 million cubic feet a day from these wells is above the overall 133 million cubic feet produced per day in the first quarter. There are many more drilling locations in the county with potential to produce strong results. Six more wells are going through the permitting process at this time. ARP has an average stake in the wells of approximately 37 percent. Investors in ARP's direct investment program own the other 63 percent of the wells.
The 37 percent interest in the wells will strengthen the production and production cash flows of the company in the third and fourth quarters of 2013.
Productive Wells as of End of 2012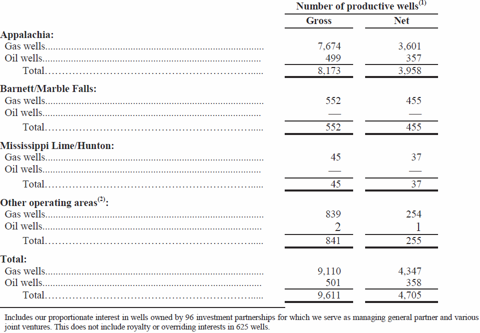 Atlas Resource Partners controls close to 5,500 acres in Utica, including acreage in Columbiana, Harrison, Tuscarawas and Stark counties. Well results in the region are in a range of 1,300 Boe per day to over 4,700 Boe per day.
Generally speaking the liquids component of production wells in Harrison county is at about 50 percent of total measured production.
All five wells reported in the February earnings have been successfully drilled and have begun completion operations. The wells have continuous strong oil and gas shows throughout the lateral lengths.
After the resting stage these wells are expected to go into production in the third quarter. The working interest of ARP in the wells is about 30 percent.
Proved Reserves

In the Marble Falls area about 70 miles northwest of Forth Worth, Texas, 10 of the first 15 vertical wells scheduled drilling in 2013 in the region have been completed. ARP acquired the assets, which includes approximately 80,000 acres, in December, 2012. Hundreds of potential drilling locations are believed to be in the area.
On average the 10 wells have produced 51 barrels of crude oil per day, about 15 percent above expectations.
Another 40 wells (besides vertical) drilled in 2013 are expected to add significant quantities of high margin oil production to the production mix in the quarters ahead.
On the Mississippi Lime there are thought to be a minimum of 125 drilling locations with potential.
There are four functioning wells on the property that continue to increase production. One well is producing close to 330 Boe per day, with the others averaging 212 Boe per day.
Another three Mississippi Lime wells are being cleaned up and flowing back in the second quarter and early part of the third quarter.
Partnership Management
Margin for partnership management remained level in comparison with the fourth quarter of 2012, coming in at about $11 million in the first quarter.
ARP continues to guide for $150 million of partnership investor funds to be raised for the year, basing that number on the activity mentioned in this article.
Nonetheless, that appears to be a lowball number because of the boost in marginal tax rates and expected strong performance should generate a strong environment for payment for the programs.
Outlook
The combination of acreage in Texas Barnett Shale, Marcellus, Marble Falls and Mississippi Lime provides a base to grow organically for many years into the future.
As for product mix, oil and NGL accounted for about 20 percent of production volume, up from 13 percent in the fourth quarter of 2012, and up 10 percent year-over-year. Liquid is projected to be about 25 percent of the volume guidance for 2013.
Production Mix

Production Revenue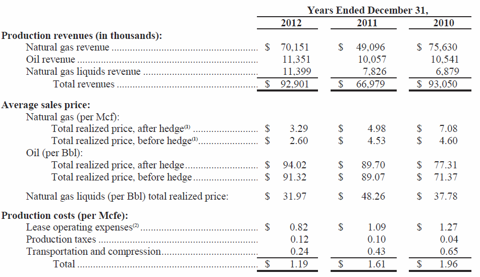 Even though ARP has been fortunate in buying some assets with significant natural gas exposure because the price of natural gas was low at the time, the huge amount of available gas will be a price risk for a long time, so diversifying into oil and NGL is a necessity; at very least in the near term.
To show the value of that, oil and liquids will account for 37 percent of the total revenue in 2013, even though it represents only about 25 percent of the volume. That's up from 26 percent year-over-year.
Concerning expenditures, that is projected to reach about $175 million, with about $145 million of that related to the drilling of wells. That also includes investments in partnership programs and land leasing. Approximately $26 million of capex will be for maintenance capital.
In the short term the company sees production margins rising.
As to Marble Falls, up to ten wells will be connected in the second quarter, with an additional ten to twelve wells connected in the third quarter, and the same number in the fourth quarter. They will add meaningful volume and revenue for years into the future.
Deal with EP Energy
Atlas just signed a deal with EP Energy to acquire about 466 billion cubic feet (BCF) of natural gas proved reserves for $733 million. The deal is expected to close in the third quarter of 2013.
It'll increase the distributable cash flow by approximately 27 percent - boosting the existing annualized payout of $2.04 per unit to $2.60 per unit in 2014.
Natural Gas Price

Oil

Of the 466 billion cubic feet of natural gas reserves APR bought, 93 percent are proved reserves. The properties at this time are generating about 119 million cubic feet (MMcf) of natural gas a day.
Part of the acquisition costs will come from the issuance of Class C convertible preferred unit valued at $125 million, which will be taken by its parent.
This will change the product mix of the company significantly, suggesting perhaps a more positive outlook for natural gas prices than maybe warranted in the short term.
Conclusion
Overall the steps Atlas Resource Partners is taking to boost production have been very effective. There is no doubt a solid and predictable stream of income is being developed that will bring good results to those invested in the company.
There is a concern about the decision to increase its exposure to natural gas with the recent acquisition, but I would think over time it'll build out its liquids more to reflect the market conditions and safer mix.
Nonetheless, the company has been hitting just about everything right, getting extraordinary drilling results with plenty more locations to drill in.
Production is jumping and margins are decent, providing plenty for shareholders to appreciate and benefit from.
ARP only has about $1.14 million in total cash as of the most recent quarter, with total debt of $420 million. Total debt to equity is 51.80. Its profit margin (TTM) is -16.34 percent, and its operating margin -10.17 percent. The operating cash flow of the company is $36.77 million.
There is concern there, but the quality of the properties and proved reserves should overcome most of this.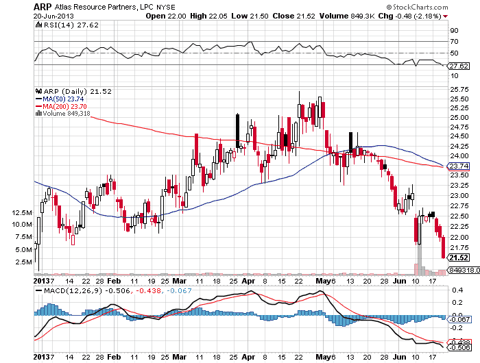 Throughout the article I've mentioned concerns about exposure to natural gas prices, but there is another side to that story. After the price of natural gas plummeted 63 percent from June 2011 to April 2012, it was thought it would continue to fall. Not only didn't that happen, but the price of natural gas surged, starting in April 2012, and has climbed 114 percent since then. That's the best, sustained performance in over a decade.
The importance of that is during that time the share price of ARP and other natural gas producers have remained level or even fallen. In the best-case-scenario they've risen by about 5 percent. That suggests the market has been slow to realize the implications of the rise in the price of natural gas, or believes it's going to drop again. But the price level has remained strong, and it appears it'll continue to hold.
So when the price of natural gas had doubled and the share price of producers have gone nowhere, it suggests a terrific opportunity, and ARP could soar when the market catches up with the new natural gas scenario.
Even if the price of natural gas were to remain level for some time, it's highly unlikely the share price of Atlas will not benefit from the rise in gas that has already happened. One of the reason for Atlas trading so cheap at this time is worries over the price of natural gas falling again. The other is the depletion of resources, which this article proves is far from the reality, as without the recent acquisition stood at 19 years on average, and is probably a little better than that. Only about half of the acreage the company controlled has been developed at this time.
If the price of natural gas were to drop in a significant manner, as the market has been very slow to reward the company for the price increase. With that in mind, it appears the response to a dip in prices would be out-of-proportion to the actual reality, and could push the share price down to as low as the $17.00 to $18.00 range.
On the other hand if natural gas prices rise, investors will probably become believers in the sustainability of the price, and I see the share price of Atlas jumping to as high as $30, and possibly more.
A last thought on the share price is it took a hit recently on the deal with EP because it issued the Class C convertible preferred unit worth $125 million to pay for part of the deal. The share price dropped about 4 percent in response. This should be considered a buying opportunity in my view and not a negative weight on the firm.
Since the end of April, 2013, the share price of the company has dropped from $25.55 to close at $21.52 on June 20, 2013. It could be approaching a good entry point, as it is trading near its all-time low. It is also trading far below its 50-day and 200-day moving average. The price could drop further of course, but I see the company having some terrific potential growth going forward, and even though it needs to clean up its balance sheet, it has a strong group of assets to generate growth for a long period of time.
Add to that the fact Atlas believes it will distribute a minimum of $2.60 per unit next year, a 27 percent jump over the $2.04 annualized distribution this year, and shareholders will lock in close to a 12 percent yield if they buy now. What's not to like about the near- and long-term prospects for Atlas Resource Partners?
Disclosure: I have no positions in any stocks mentioned, and no plans to initiate any positions within the next 72 hours. I wrote this article myself, and it expresses my own opinions. I am not receiving compensation for it (other than from Seeking Alpha). I have no business relationship with any company whose stock is mentioned in this article.