Red Hat (NYSE:RHT) posted an in-line quarter, provided in-line guidance for FQ2 and reiterated full year FY'14 guidance when most shorts expected a miss and a guide down. The stock rallied almost 5% but the rally was short-lived as it was derailed by that pesky Fed Chairman Ben Bernanke's tapering comments casting a pall over the equity markets. Oracle's (NYSE:ORCL) first FQ4 miss in a long time, especially back to back misses, exemplifies how difficult the underlying software environment remains. In retrospect, RHT's in-line quarter looks pretty good given it was its seasonally weak FQ1. That is all history; if you are a longer-term investor holding or looking at RHT sitting here at $46+, what do you do? You buy it if you want exposure to: Big Data, product cycles, margin expansion, and a stock trading well below any of its historical averages.
Growth Deceleration for Good?
Red Hat's growth has clearly decelerated from 20% plus billings growth to teens growth over the last year. Let me take a step back here and explain why billings is the focus versus revenue for RHT based on some questions I have received. Historically, software companies like ORCL or the poster child Siebel would sign big multi-million dollar license deals for large amounts of software sold to companies. These software companies would recognize all the license revenue upfront even if it took the customer years to implement the software and some was unused (aka shelfware). Clients became increasingly dissatisfied with the license model which led to the move to a subscription model exemplified by the SAAS industry. In this model a company pays upfront for a year or multi-years (i.e. billings to a software company) but the revenue is recognized on a quarterly basis. Thus using billings and free cash flow metrics are the most useful in predicting true business trends. Sorry for the digression. So is it that simple that Red Hat has just become a mature technology company whose heady growth days are behind it? Red Hat has been hit hard over the last year plus by the US federal business's well-chronicled troubles but also by Europe and its federal governments' focus on austerity. After closely examining prior product cycles and new initiatives, I think we are at the cusp of growth re-accelerating. As a result I believe Red Hat's stock has bottomed and it will see growth accelerating which will bring with multiple expansion. The bottom has been put in around current levels while my price target sits at $60 or 30% from current levels.
Catalysts Abound
The famous technology hedge fund portfolio manager Dan Benton in his rules of investing stated -
Get in at the Early Stage - The most profitable time to invest in a tech company is when its products or services are in the early stage of their life cycle
My simple translation to this is invest in product cycles early. Usually a technology company has maybe one product cycle in its early stage. When you find a product cycle, whether it be Apple (NASDAQ:AAPL) with the iPhone, Nintendo (OTCPK:NTDOY) with Wii, or VMware (NYSE:VMW) with server virtualization, you get in and you ride the stock higher. Red Hat has two to possibly three big product cycles in the very early stages.
Red Hat's Product Cycles
(1) Red Hat Storage - Red Hat acquired Gluster, an open-source storage software company on October 4, 2011 for $138 million. Red Hat renamed Gluster 'Red Hat Storage Server' shortly thereafter. Red Hat Storage is an early leader in software defined virtualized storage whereby the storage software layer runs on commodity server hardware, generally X86 systems. Red Hat Storage allows users to virtualize the data storage layer turning commodity servers into scale out storage nodes. IDC projects that by 2015 over 83% of total disk storage systems capacity will be shipped to support file-level data. Scale Out, a type of file level storage, is expected to be a high growth sector as companies desperately need reasonable priced storage solutions for large amounts of new data. In this rapidly evolving space, Red Hat Storage will be competing against storage heavyweights such as EMC's (EMC) Isilon, NetApp (NASDAQ:NTAP), Hitachi Data Systems, Hewlett-Packard (NYSE:HPQ), Dell (DELL), and IBM (NYSE:IBM). Red Hat is the only open-source solution of the bunch. In June 2012, Red Hat Storage Server 2.0 was unveiled and based on IDC's glowing review it is an impressive offering not to be taken lightly by storage companies.
With Red Hat Storage 2.0, Red Hat has upped the ante on commoditization of storage in a manner similar to how it commercialized Linux and a host of other open source solutions. As customer demand more for less, which they should be able to accomplish with solutions like Red Hat storage Server 2.0, this will no doubt put pressure on the incumbent vendors to reexamine their strategy. For starters, they would be better server in not dismissing Red Hat as just another component supplier.
Software defined storage with Red Hat's lead could commoditize storage much the same way VMware's virtualization did to server hardware.
Red Hat's storage is primarily centered and optimized around the unstructured Big Data opportunity. Many people believe Hadoop was conceived to offset the inordinately expensive and ever increasing storage costs. According to IDC, the Hadoop software ecosystem will grow to $813 million in 2016 at a 60% CAGR. In an Hadoop instance, additional storage, in a myriad of forms, can be achieved simply by adding commoditized servers to a cluster. Companies are saved the big upfront commitment when in the past they decided on a big storage purchase and were left wrestling with idle capacity issue(s). Red Hat Storage provides better performance than competitive offerings at one third the total cost.
On the most recent conference call, Red Hat disclosed 180 proof of concepts with customers for its storage offering. One of its top 30 deals includes a sizable storage component. Here is CEO Jim Whitehurst commenting about its storage business and one marquee account -
The storage business continues to mature. We have well over 180 POCs there now. One of our top 30 deals had a significant storage component. And one of the deals we highlighted at Summit was Intuit, who had basically all their TurboTax documents for millions of filers, all of those documents were in Red Hat storage and it was a phenomenal use case. I've personally met with the Intuit team at Summit, and they were just glowing at how easily it's scaled up. And obviously, April 14 is the big night for it. And it scaled perfectly, they're really excited to continue to expand their use. So there are a number of use cases like that, but that was a great one that we highlighted at Summit.
Red Hat's goal is to be the preferred storage vendor used for Hadoop workloads. Red Hat Storage potential is large and Red Hat is currently running the group as a separate division. Gluster was early stage when acquired so Red Hat has had to build its own salesforce and invest in infrastructure. Currently, Red Hat Storage is relatively small on both a revenue and bookings basis. However, given the increasing amount of proof of concepts, it is only a matter of time before they turn into pilots and then full blown rollouts. It was only June 2012 when Red Hat Storage 2.0 was announced. In talks with the company, it takes roughly 6 to 12 months to go from proof of concept to pilot. Deal sizes are generally small in the $20k to $50k range. There are some important companies trialing the storage, such as a large telecom company who is providing storage to its customers for their pictures, video, text, etc. There are a handful of deals in the 6 figure range. Storage is not in sell-side models but could start to materially contribute to growth in FY'15.
(2) RHEL 7 - Red Hat Enterprise Linux (aka RHEL) is the enterprise-level, Red Hat supported distribution of the Linux operating system. Linux server growth has decelerated from low teens to low-mid single digit growth over the past year. The last major release by Red Hat was RHEL 6 that was generally available November 9, 2010 with a handful of point releases following. RHEL 6, along with a server cycle, precipitated a sharp acceleration in total billings growth from 14% to 28% annually in the year following the release. A large part of RHEL's success comes from the underlying server industry and Linux share therein. The RHEL 6 release was greatly aided by the Sandybridge/Romley chip cycle while the upcoming Intel Avoton and Rangeley chops should similarly aid server growth later this year when released. The next version of RHEL 6.6 will be available in the coming months and will likely be previewed widely at the analyst event next week. The next major RHEL release (i.e. RHEL 7) will likely be in early 2014 and combined with the Intel (NASDAQ:INTC) server upgrade should serve as a nice tailwind. When asked on the call, management stated the following -
We do a bottom-up build. And so we look at our customers, we look at their Linux footprints relative to their UNIX footprints and how much room we have to go. And based on that metric, third inning maybe. I would say even our most penetrated customers, some of the big financial services institutions are maybe halfway done, 60% done with UNIX to Linux. Mainstream customers are nowhere near halfway done. So I'm guessing a little bit on the third inning. What's interesting is what's left, too, because it's more likely to be at mainstream customers or it's kind of bigger systems. The ASPs of what's left are significantly higher than the ASPs of what we've already done
Given the larger base and the slowing Linux server growth, it is likely that the core RHEL business will not see 25-30% growth in the years ahead. It seems fairly conservative to estimate low-mid single digit Linux server growth for the coming couple years with a pickup when Intel server cycle kicks in. Red Hat's typical contract duration is around 20-21 months and when renewed customers have re-upped at 120% of the original contract value over the last few years. Unfortunately, due to the slowing growth, the "renewable" base growth is down around 700 bps year over year to 17% in FY'14. Fuse, ManageIQ, and Polymita will contribute to billings in FY'14 which should be worth 1-2% percentage points in y/y growth. Offsetting the lower renewable base are much easier year over year compares. With that as the backdrop, RHEL growth should slowly accelerate in FY'14 especially toward the latter half of the year as comparisons increasingly ease. The important cycle is RHEL 7 in FY'15 which will be the first major release update in over 3 years.
(3) Red Hat Enterprise Virtualization (RHEV) - VMware dominated the early proliferation of server virtualization with its dominant hypervisor that allowed software to be separated from the underlying hardware. Think of a hypervisor as an operating system for virtual machines (VM) instead of applications. Virtualization use is so common now that VM deployments already exceed physical server shipments and virtualized workloads will represent 2/3 of all workloads by the end of 2013 according to IDC. Enterprises are very comfortable with the merits of virtualization with many financial services companies over 60% virtualized. However, companies want an alternative to the pricey offerings of VMware especially as they have become increasingly comfortable with the technology. Who better than Red Hat to usher in an open source, cost competitive solution? RHEV relies on KVM, an open source hypervisor, that is sold as a standalone product or as part of all RHEL releases starting with RHEL 5.4 in September 2009. According to IDC -
Red Hat has committed to revving RHEV at a rapid rate. The architecture and open source model have allowed it to advance quite rapidly and Red Hat is committed to further engineering efforts in order to continually improve RHEV. RHEV is poised to be a strong contender, building on the success of Linux and Red Hat to become an open alternative.
The key hurdle with RHEV seems to be getting users to pay for it given it is now part of RHEL. There is clearly a market for an open source, low priced competitor to VMware but many of their enterprises have signed company wide enterprise license agreements (aka ELAs) covering them for multiple years. Red Hat is pursuing these ELAs vigorously when they come up for renewal, VMW has been warned. The big greenfield opportunity is the build out of private clouds as they are generally viewed as a new project for most enterprises. According to IDC, more than half of enterprises are willing to adopt a new hypervisor underneath their cloud deployments. This is an area where RHT has the clear advantage given their low cost reputation and good enough technology.
This past May quarter, RHEV was involved in four of the top 30 deals and one of the deals involved a 7 figure RHEV component. The prior quarter, RHEV was involved in five of the top 30 deals. Not only is RHEV a viable solution for private clouds but some of their largest deals are for VMware migration. Red Hat management remarked that RHEV deals are not large, rather high 5-low 6 figure deals typically. The overwhelming opportunity for RHEV will be to poach VMware accounts when their ELA's come up for renewal. On VMware's last quarter conference call they commented that they see an "ELA tailwind opportunity in 2H'13". Red Hat will likely pursue many of those accounts for RHEV pilots. RHEV could contribute mid to high single digit percentage of revenue in FY'14 and FY'15 with the higher side if they convert VMware ELAs.
(Note: Some or all of these enterprise offerings can be combined to enable a cloud computing platform.)
Federal Headwind Turns Back Into A Tailwind
Federal business appears to be bouncing back after two weak quarters related to sequestration and general fiscal budget issues. Red Hat CFO Charlie Peters -
And we do have, I'd say, high confidence that in the current quarter, the second quarter for us, we're going to see a nice increase on our federal business.
Historically, federal was the top one or two sectors for Red Hat, the other being financial services. In the last two quarters, federal has dropped out of the top two replaced by the cloud/hosting sector. Red Hat is not making a prediction that the federal government spending outlook will dramatically improve, rather it is looking at its current book of business in backlog and up for renewal. The incremental $60 million ($180 million vs. $120 million) in unbilled backlog that the company booked in FY'13 should hit the balance sheet slightly more in FQ2 with the majority in FQ3 and FQ4. Bottom line - don't be surprised to see federal pop back into the top two verticals in FQ2 and FQ3 spurring accelerating overall growth.
Europe Looks to Have Bottomed
Europe represents about 20-25% of total bookings for the company. In FY'13, even on a constant currency basis European business slowed dramatically to the low teens year over year. Europe, especially the areas hardest hit by the recession, was an area that was historically strong given the positive reception for open source. According to CEO James Whitehurst -
Scandinavia and in Southern Europe, there is a general, I would say, cultural affinity for open source in a way that you don't necessarily see as much in the U.K. and Central Europe or, frankly, in North America.
Y-O-Y Revenue Growth By Region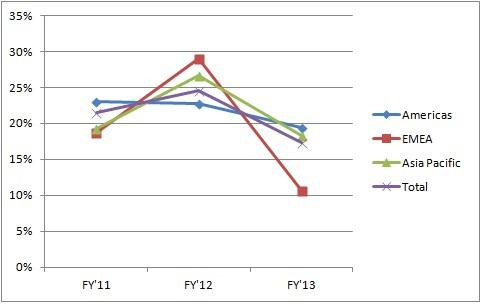 In FQ1, European growth accelerated to 17% versus 9% in FY'13. Management was also talking more upbeat this past quarter about execution in Europe signaling a turn, albeit modest, could be at hand. CFO Charlie Peters on the FQ1 call -
Our European guys worked hard. We think they did a good job, but if the economy there was more robust, I think they could have done better.
European comparisons also improve dramatically starting this upcoming quarter with a mere 3% growth rate followed by an 8% and 9% y/y growth quarters.
FY'15 The Big Year of Acceleration
Billings growth will finally accelerate for the next three quarters of FY'14 on improved federal, easier comparisons, unbilled backlog hitting, and initiatives/acquisitions materializing. FY'15 will be the year when most key initiatives really take hold. FY'15 will see the release of RHEL 7 in an Intel server cycle combined with Red Hat Storage, Open Stack, and RHEV reaching scale. With that as a backdrop, billings growth will accelerate year over year in FY'15 its only a question of magnitude. Fortunately for investors, current sell side analysts' models show flat to continued deceleration in billings growth which will provide a nice boost when disproven. I would expect some of the 44% of analysts who rate RHT hold or sell to latch on to the theme of accelerating growth in upgrading the stock over the next 3-6 months.
Where is the Leverage in the Model?
FY'13 and the beginning of FY'14 have been heavy investment periods for Red Hat. Red Hat has added infrastructure and ramped headcount to roll out Storage and Open Cloud without any corresponding increase in revenue. Total headcount increased by over 24% in FY'13. Some of the headcount additions came from three acquisitions- Fuse Source, Manage IQ, and Polymita Technologies that also increased operating expenses. But even outside the acquisitions, headcount was increased more than normal. The Sales and Marketing expense line held steady in the 33-34% range from FY'09 through FY'12 before stepping up to 35.6% in FY'13 as associated headcount was ramped for these acquisitions and the growth initiatives. R&D also increased to 18%+ over the last couple quarters from the 16-17.5% range as 100+ Open Stack engineers were added at roughly $150k annual range plus. This incremental spend has caused operating margins to decline 180 bps in FY'13 to 24.6% and likely another 50bps to 24.1% ending FY'14 as modeled by the Street. After speaking with the company, it seems that the incremental spend is largely behind the company.
Sell side analysts continue to model operating expenses at an elevated level with no downtick on the horizon. Nonetheless, any acceleration in revenue will see margin leverage as R&D and/or S&M growth has peaked. In FQ3 and FQ4 of FY'14, I expect nice margin upside on the order of 100 bps ahead of the Street (i.e. 25%) coming from modest revenue upside and lower operating expenses. For FY'15 the Street is modeling operating margins up 90 bps to 25% still well below the 26.4% they posted in FY'12. I am modeling FY'15 operating margins increasing 210 bps to 26% based on billings accelerating to the mid-high teens and operating expense growth decelerating to up 13% y/y. My FCF and EPS estimates are $2.92 and $1.70 (vs. Street $1.57), respectively.
Bottom Line: What to Do with Stock
As the Storage, RHEV, and Open Stack initiatives gain momentum and growth re-accelerates, RHT's multiple will move back up. My 6-9 month price target is $60, representing 30% upside from Friday's close, based on 18x my FY'15 FCF estimate. At $60, RHT would be trading at 35x p/e and 5.8x EV/Revenue, well below 3 year averages of 43x and 6.6x, respectively.
Disclosure: I am long RHT. I wrote this article myself, and it expresses my own opinions. I am not receiving compensation for it (other than from Seeking Alpha). I have no business relationship with any company whose stock is mentioned in this article.