By Author Ramsey Su
Real Estate – The Next Six Months
The second half of 2013 is going to be challenging.
Regime Change
Personnel changes are expected in upcoming months. The most influential is the Chair of the Federal Reserve. Unless the economy miraculously recovers, the new Chairperson is likely going to be more accommodating than the last two were. At FHFA, acting director DeMarco did not get the nod from the White House. Obama instead nominated Mel Watt. His confirmation is uncertain but the administration clearly wants someone more accommodating than DeMarco. Richard Cordray is the acting director of CFPB (consumer finance protection bureau) via a recess appointment. I think his term is up by year end. CFPB is a new bureaucracy that is about to take center stage. Finally, Jack Lew has been very quiet since taking over for Tim Geithner. Is he going to step up or just let other mouth pieces do his talking?
QE3 & 4
In the 39 weeks since the launch of QE3/4, Bernanke has purchased $640.5 billion of agency MBS. Putting this amount in perspective, the rough estimate for purchase loan originations is at a pace of $500 billion annualized. In other words, during the past nine months, Bernanke has already purchased all new loans and has been forcing fixed income investors into other products as their previous investments have been pre-paid via refinances. In spite of this monumental effort, 30-year fixed mortgage rates have risen from 3.38% at the beginning of QE3 to 4.49% last Friday. Will Bernanke admit defeat and fade into the sunset, or will there be a Bernanke version of Custer's last stand? What bag of tricks does the next Fed Chair have in store for the market?
Dodd-Frank
Here is a brief summary by a law firm titled Dodd-Frank At 3 [pdf]. It is 82 pages long but the fun part starts from page 37 to the end. It is really worth the minute or two. You should take a look at the number of studies, reports and regulations that have been completed with more to come. If your head is spinning already, you may not want to read on.
TILA – Reg Z
If Mary Shelley were to rewrite Frankenstein today, she would probably name the doctor CFPB (consumer finance protection bureau) and his creation TILA (truth in lending act or regulation Z). Check out this monster [pdf], all 170 pages. TILA is supposed to be effective starting January 10, 2014. Is the industry ready? The complexity is mind-boggling. For illustration purposes, look at this one chart pertaining to allowable finance charges on page 12. Personally, I think every bureaucrat who worked on these regulations should be required to work as a loan officer for one year, so we can see how many of them are going to violate the same regulations they have dreamed up.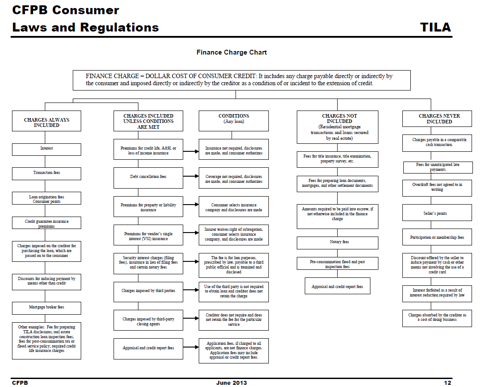 A brief glance at the output of the new consumer bureaucracy
(click to enlarge)
ATR and QM
Ability to Repay and Qualified Mortgage are new real estate terms. You can read all about them here, that is if you have nothing better to do. What does ATR mean for consumers? This one sentence summarizes it best:
Under the Ability-to-Repay rule, before you (consumer) get a mortgage loan, the lender will have to determine you will have the ability to repay the loan.
It is difficult to foreclose on pre-ATR loans. I cannot imagine what it will take to foreclose on a post-ATR loan.
ECOA
The equal credit opportunity act, combined with the Ability to Repay rule, is intended to trap lenders into a position in which they are automatically in violation of something. On the one hand, lenders are required to lend only to borrowers who have the ability to repay. On the other hand, lenders are not allowed to discriminate against "creditworthy" borrowers. Who are these creditworthy borrowers? Well, they are everybody, because lenders are not allowed to ask too many questions. To fully appreciate the stupidity of this, I urge you to open this CFPB file on ECOA [pdf] (make sure you have a pillow in front of you to catch your jaw when it drops to the ground). Now go to page 19-48. There are 72 questions labeled "Examination Procedures," many with parts a, b, c, and so forth. Do read some of them because they are tragically comical. IS THERE A CHANCE IN HELL THAT A LENDER WON'T BE IN VIOLATION OF SOMETHING?
Unrealistic Expectations
"Housing recovery" – the term has been repeated so many times that it is widely assumed to be true. This blind optimism has so little basis. One of the funniest opinions is from Freddie Mac's chief economist in his recent June 2013 U.S. Economic and Housing Market Outlook. They have got to be joking.
At today's house prices and income levels, mortgage rates would have to be nearly 7 percent before the U.S. median priced home would be unaffordable to a family making the median income in most parts of the country.
Conclusion
In conclusion, this is what I expect:
While the White House and Congress fight over confirmation hearings, there will be no leadership in a number of key posts, resulting in mass confusion.
QE3 has proven to be ineffective. Rates can become too volatile for the market to function. Similar to 1980 (Volcker), 1989 (S&L), 2007 (subprime), the real estate market can freeze up very quickly.
The agencies control all mortgages because no private lender dares to originate and take into his portfolio any loan that cannot be passed on. Underwriting standards have become insanely difficult as originators protect themselves against any put-backs. Private label MBS will not exist indefinitely.
Economic conditions are likely going to disappoint, resulting in a more accommodating attitude from the current administration. The battle for the mid-term elections will heat up early. All the issues such as the debt ceiling and the sequester are going to add to the uncertainty.
Uncertainty is bad for business and real estate is no exception. In addition, the cost of loan origination is going to increase. The documentation required to deny a loan is matching that for an approval.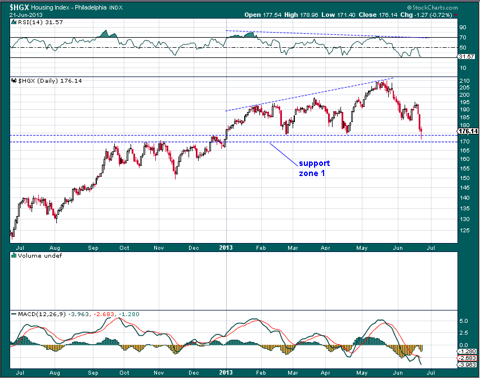 Philly housing index: a slight wobble in the wake of an RSI/price divergence, but so far lateral support has held
(click to enlarge)
Table by CFPB, chart by StockCharts