We have been analyzing and evaluating the newspaper companies that Warren Buffett and Berkshire Hathaway (BRK.B, BRK.A) have invested in in the past and have invested in recently over the last twelve months. We have analyzed and evaluate each firm's past performance, breakdown of each firm's business operations mix and most recent highlights. We recently revisited Berkshire's investments in The Washington Post (WPO), Gannett (NYSE:GCI) and the 68 newspapers it owns outright. In this report we will examine the recent performance of Lee Enterprises (NYSE:LEE) and Media General (NYSE:MEG). Although Media General sold substantially its entire newspaper portfolio to Berkshire Hathaway, we continue to cover it because Berkshire currently owns 17% in the company and has lent it $300M.
Media General (Broadcast Television Only): Buffett exchanged his 4.65M penny warrants in MEG for 4.65M common shares in MEG. MEG's broadcast television operations benefited from the 2012 elections to generate a 28% year-over-year increase in broadcast television revenues in FY 2012. MEG's Q1 2013 revenues were flat versus Q1 2012 levels in the absence of any notable political elections. Local gross time sales decreased 1.65% to $41.6 million. National gross time sales declined 1.9% to $20.6 million. The largest advertising category, automotive, increased 2.4% in Q1 2013 after growing by 21% in FY 2012. Other key categories growing in the quarter were restaurants, furniture, home improvement, financial institutions and grocery. Major advertising categories showing declines in Q1 2013 included professional services, retail, telecommunications and entertainment. Revenue excluding political advertising grew by 6% year-over-year in Q1 2013 after increasing by 7.5% in FY 2012.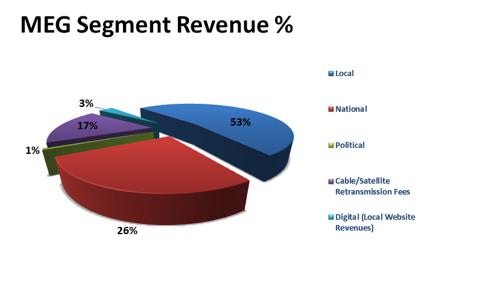 (Click to enlarge)
Source: Media General's Q1 2013 Earnings Release
Retransmission fees increased 55% as a result of contract renewals that reflected competitive market rates and reached $13.5M. MEG's TV websites generated $2.4M in advertising revenues during the quarter and this was an 18.1% increase. Political advertising revenues were $507K YTD and are expected to reach $5M for FY 2013. The company generated negative $17.6M in free cash flows in Q1 2013. We can see why Media General had to sell its newspapers as it had spent $1.04B in cash net of cash acquired to acquire four TV stations in 2006. The company had spent $611M of its cash and borrowed $430M to acquire the TV stations and the combination of the debt and revenue declines from 2006-2012 forced the company to sell its papers at a whopping loss to Berkshire.
We believe that whatever value for equity holders that Media General has for equity holders is based on its ability to refinance its 11.75% Senior Notes in 2014 as well as what another company would pay to acquire its television station properties as another buyer would potentially be able to operate MEG's stations without having to deal with MEG's corporate overhead or MEG's high cost of borrowed funds. MEG's broadcast stations generated $19.4M in operating cash flows in Q1 2013 however MEG had to devote $7.7M of these cash flows for corporate overhead, $3.3M for capital expenditures and $19M for interest expenses. With that in mind, we remain surprised that MEG's share price has tripled since Berkshire bailed it out last year and that Young Broadcasting was willing to merge with it.
Source: Morningstar Direct
We're also surprised that even though the newly combined company will have more debt than the individual legacy companies that are making up the merger, it expects to reduce its projected annual interest expense from $80M to $50M based on a commitment from Warren Buffett to refinance Berkshire's term loan to MEG. The new company will be called Media General and will remain headquartered in Richmond, VA. Media General will issue 60.2 million shares to Young shareholders. On a pro forma basis, Young shareholders will hold 67.5% of the new Media General shares and legacy MEG shareholders will own 32.5% of the new Media General. The transaction, including receipt of regulatory and Media General shareholder approval, is expected to close in late of the third quarter or early fourth quarter 2013, and this transaction has been approved by Young shareholders.
Lee Enterprises : Berkshire also received 3.22M shares of Lee Enterprise's common stock when it bought $85M worth of Lee Enterprises loans which were to be exchanged into junior debt. Berkshire sold all but 88K of its Lee shares in H2 2012. However, Berkshire recently refinanced $94M of Lee's outstanding debt that was attributed to its legacy Pulitzer Inc. subsidiary, which helped Lee reduce its cost of funds from 11.3% to 9%, ensure that interest expense on this debt did not rise to 12.8% and extended the maturity from December 2015 to April 2017. When analyzing Lee Enterprises, we broke the combined enterprise down into two different companies as follows:
Lee Publications Inc, which we assign its 46 Daily News serving small communities and micropolitan areas and its 300+ weekly newspapers.
Pulitzer, Inc, which we assign its four largest metro-area broadsheet dailies, including the 50% owned Arizona Daily Star and the Wisconsin State Journal
We maintain that investors who consider Lee for their portfolio should use this framework in order to have an open-mind with regards to the company's prospects. This way, they will arrive at a full, fair and balanced opinion with regards to evaluating the company. That's precisely the framework we used when evaluating it for our portfolio book. Lee Enterprises' revenue for its most recent quarter (Q2 2013 for LEE) registered a 2.4% decline versus its Q2 2012 levels due to a 5.3% decline in its advertising revenue. Operating expenses, excluding depreciation, amortization and unusual matters, decreased by 2.8% in the quarter versus last year's comparable quarter due to lower newsprint and ink costs (-12.5%) as well as lower compensation costs (-6.2%). We are expecting Lee's revenue to dip under $700M in FY 2013 but stabilize next year.
Source: Morningstar Direct and our estimates
One bright spot for Lee has been its digital efforts. Lee's circulation revenue increased by 3.4% in the quarter due to a $.50 price increase on its flagship St. Louis Post-Dispatch publication and because of the introduction of paid content subscription initiatives for its newspaper websites. We were initially surprised that Q2 2013 digital revenue decreased by 0.1% and we brought this up in our recent conversation with Lee's CFO Carl Schmidt. We were mollified that Lee's digital trajectory had softened because of changes in Lee's digital media leadership team and we expect Lee's digital revenue trajectory to resume its positive trend next year. In the meantime, Lee was still able to increase its mobile advertising revenue by 165% ($1.4M) and Lee's digital products attracted 23.2M unique visitors in March 2013.
Source: Lee's Q4 2012 and Q2 2013 Reports and Our Estimates
Free cash flows were $9.8M in the quarter and this exceeded the $516K achieved in the prior year period. The company also paid $23.85M in debt face value during the quarter and boosted its liquidity by $1.3M. The absence of $13.3M in debt financing and reorganization costs paid during the quarter helped offset $2.4M in increased interest expenses due to Lee's debt reorganization in the first four months of FY 2012. We were thrilled that Berkshire refinanced Lee's $94M in outstanding Pulitzer notes ensured that Lee would be able to eventually payoff and retire in full these notes on or before its final maturity. Now we hope that Lee will be able to refinance its 15% 2nd Lien Term Loans. If Media General can expect to refinance its debt and Lee has been making greater progress towards retiring its debt with free cash flows from business operations, we believe Lee should be able to prevail on Warren Buffett and Berkshire Hathaway to refinance its 1st Lien Term Loans and 2nd Lien Term Loans to a rate that is equal or lower than what Media General will be paying.
Source: Lee's FQ2 2013 10-Q
Although we have not included Lee refinancing its outstanding debt in our internal models for purposes of conservatism, we felt that Lee's management should be aggressively pushing to refinance its term loans with reduced interest rates in both bill since it has made significant progress in paying its debt down and has made a couple of timely asset sales (Lee sold the North County Times in October and The Garden Island in the middle of March. Lee's Q3 2013 period will begin to see declines in its interest expenses as Q3 2012 was the first quarter Lee incurred the weighted average interest expense rate of 9.2% on its reorganized outstanding debt and Lee will have a lower borrowing balance in Q3 2013 versus Q3 2012 due to its consistent debt repayments from its free cash flows. While Lee Enterprises' current Enterprise Value of $960M is well below the $1.46B Lee paid for Pulitzer Inc in 2005, at least Lee has made better progress in paying down its acquisition related outstanding indebtedness relative to its fellow community newspaper peer Gatehouse Media.
Source: Morningstar Direct
In conclusion, we can see why Warren Buffett has not given up on the newspaper business. Warren Buffett is not the only famous investor investing in the newspaper business as every major publicly traded newspaper chain has at least one notable value investor that holds a significant equity stake. Berkshire has its equity and debt stakes in three companies that publish newspapers and one company that used to publish newspapers. Berkshire has also purchased nearly six dozen newspaper publications outright. We are surprised that Berkshire has sold off all but 88K shares of its entire equity stake in Lee Enterprises considering that Lee's EBITDA margin is higher than its peers and because Lee has been making steady progress in paying down its debt even with the burden of higher interest rates. At least Berkshire reiterated its commitment to Lee by refinancing its legacy Pulitzer debt. Lee is also the only one of Berkshire's newspaper industry marketable security investments that is a pure-play newspaper company. WPO only gets 14% of its revenue from newspapers, Gannett's success in 2012 was due to its TV broadcasting operations and Media General sold off all of its newspapers to Berkshire. Although MEG's share price has outperformed LEE over the last twelve months, we reiterate our preference for LEE because of its sharply higher free cash flow yield as well as its stronger progress towards retiring its debt.
Source: Morningstar Direct
Disclosure: I am long BRK.B, LEE. I wrote this article myself, and it expresses my own opinions. I am not receiving compensation for it (other than from Seeking Alpha). I have no business relationship with any company whose stock is mentioned in this article. This article was written by an analyst at Saibus Research. Saibus Research has not received compensation directly or indirectly for expressing the recommendation in this article. We have no business relationship with any company whose stock is mentioned in this article. Under no circumstances must this report be considered an offer to buy, sell, subscribe for or trade securities or other instruments.